Democrat Jon Ossoff clinched victory in the second Georgia Senate runoff, US networks have projected, guaranteeing his party control of the body.
Mr Ossoff defeated incumbent Republican Senator David Perdue with a nearly 25,000-vote margin, or 0.56%, with 98% of the expected vote counted, NBC and ABC projected.
His win, after fellow Democrat Raphael Warnock defeated Republican Kelly Loeffler in a parallel runoff election, gave both parties 50 seats in the Senate.
With the chamber evenly split, Democratic Vice-president elect Kamala Harris will play the role of the tie-breaker, giving Democrats control of the Senate as well as the House of Representatives.
Raphael Warnock, a Baptist preacher from the historic church of Martin Luther King Jr, beat Republican incumbent Kelly Loeffler to become the first Black senator in the history of the deep south state.
Jon Ossoff, a documentary filmmaker, who at 33 is set to become the Senate's youngest member, has claimed victory over incumbent David Perdue in the other race.
"Georgia, thank so much for the confidence you have placed in me. I am honored by your support, by your confidence, by your trust and I will look forward to serving you," Mr Ossoff said in a televised statement.
The results were a repudiation of outgoing US President Donald Trump in a state his Republicans have controlled for decades.
Meanwhile, the US Capitol has been put on lockdown as swarms of protesters stormed the building as they sought to force Congress to undo Mr Trump's election loss.
Police fired tear gas and ordered several office buildings to be evacuated as protesters breached the Capitol and were seen marching through the halls of Congress, where lawmakers were meeting to certify Mr Biden's victory.
The chaotic scenes unfolded after Mr Trump, due to leave office on 20 January, addressed thousands of protesters, repeating false claims that the election was stolen from him due to widespread election fraud and irregularities.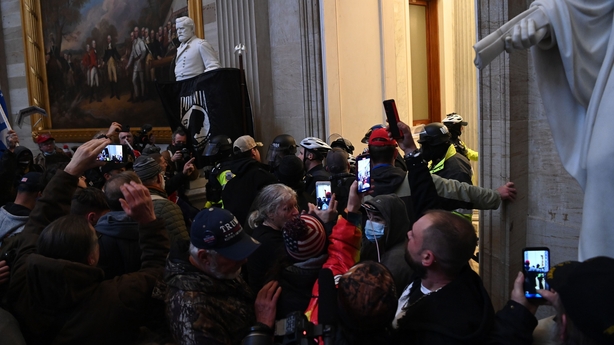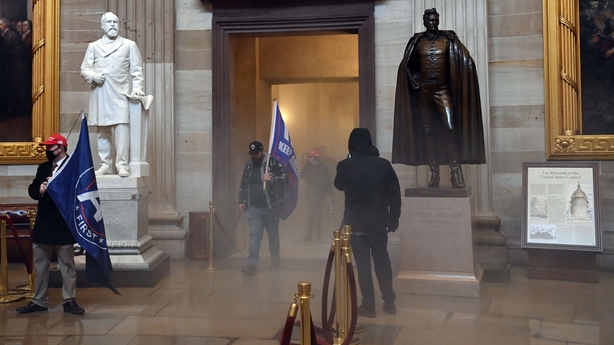 Police escorted House of Representatives members from the chamber where they had been debating after lawmakers aligned with Trump challenged the election results - an effort unlikely to succeed.
The Senate abruptly adjourned and Vice President Mike Pence, who had presided over a joint session of Congress, was escorted from the chamber.
Capitol Police told lawmakers in the House chamber to take gas masks from beneath their seats and prepare to put them on. Officers at the front door of the House chamber had their guns drawn as someone attempted to enter the chamber.
Officers ordered people in the chamber to drop to the floor for their safety.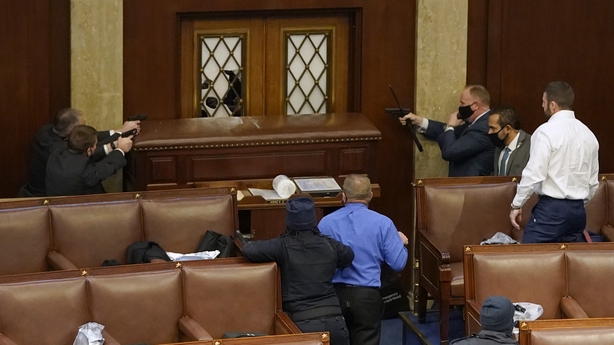 ---
Counting the Electoral College votes: What to expect
Who are the candidates in the crucial Georgia run-off votes?
Trump pressures Georgia election official to 'find' votes
---
Winning both contests in Georgia would give Democrats control of the Senate, creating a 50-50 split and giving Vice President-elect Kamala Harris the tie-breaking vote once she and Mr Biden take office on 20 January. The party already has a narrow majority in the US House of Representatives.
If Republicans hold the second seat, they would effectively wield veto power over Mr Biden's political and judicial appointees, as well as many of his legislative initiatives in areas such as economic relief from the coronavirus pandemic, climate change, healthcare and criminal justice.
Mr Trump's attacks on the November election split his party and drew condemnation from critics who accused him of undermining democracy.
Gabriel Sterling, a Republican and a top official in the Georgia Secretary of State's Office, told CNN that if Democrats won, the losses would "fall squarely on the shoulders of President Trump and his actions since November 3".
The victory by Mr Warnock was the first win by a Democrat in a US Senate race in the state in 20 years.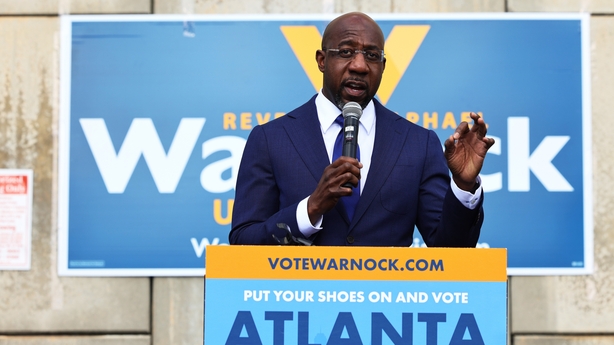 The result underscored the state's political transformation in recent years, made evident by Mr Biden's narrow statewide win over Mr Trump in the 3 November election - the first victory for a Democratic presidential candidate in Georgia since 1992.
Most of the votes remaining to be counted were in counties Mr Biden won in November.
Both Democrats, particularly Mr Warnock, won a larger share of the vote in county after county than Mr Biden won in November.
The critical races drew an estimated 4.5 million voters - a record for a runoff - along with nearly half a billion dollars in advertising spending since 3 November and visits on Monday by Mr Trump and Mr Biden.
Fresh Democratic control of the Senate could facilitate the smooth confirmation of Mr Biden's cabinet and federal judicial nominees.
After securing control of both chambers of Congress in 2010, Republicans thwarted many legislative goals of Trump's Democratic predecessor Barack Obama, under whom Mr Biden served as vice president.
Even if they manage to secure a slim Senate majority, Mr Biden and Democrats could find it difficult to advance some legislative priorities in the Senate, where most bills need to clear a 60-vote procedural threshold in the 100-seat chamber.