The parents of Cavan golfer Leona Maguire say they're delighted and relieved to see their daughter get across the line and secure a win at the Drive On Championship in Florida.
Leona became the first Irish winner on the LPGA Tour yesterday, after shooting six birdies to hold off the challenge of Lexi Thompson and card a round of 67 for a 54-hole total of -18 to take home the winner's cheque of $225,000.
"You always hope that it will happen but until it does you don't believe it," said Leona's father Declan Maguire today.
The family all gathered at their home in Ballyconnell last night to watch the competition.
"There was great excitement. We had a lot of friends and family calling over. Now it was hard to sit and watch it, we were hoping and praying and all of that but it was absolutely brilliant," added her mother Breda Maguire.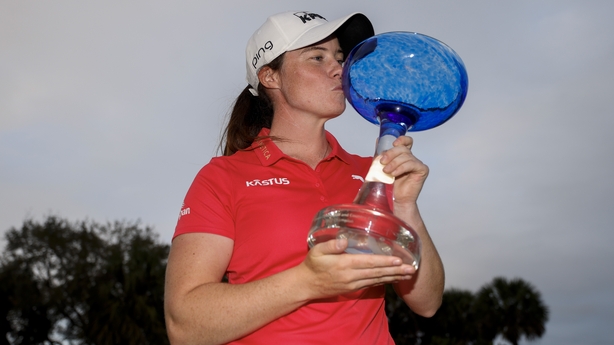 After Leona finished her media work last night she phoned her parents and they spent some time talking on the phone.
"She's so happy. She was over the moon when we were talking to her," said Breda.
"You knew by her, it was a relief. She paid tribute to Dermot her caddy, he kept her so calm and she kept hanging in there," Declan said.
Among those to pay tribute to the golfer was President Michael D Higgins, while social media has been alight all day with messages of support.
Congratulations to @leona_maguire for her historic achievement in becoming the first Irish @LPGA Tour winner at the Drive On Championship. Another fantastic Irish sportswoman leading the way internationally.

— President of Ireland (@PresidentIRL) February 6, 2022
"She really appreciates the support she gets. Last night she told us she had so many messages and she was trying to answer as many of them as she could".
There's no doubt there's more to come for Leona Maguire.
"Golf has been huge part of our lives. This is what we were building towards. Hopefully, this is just the start," said Breda.
"Leona doesn't do huge excitement. You don't see that side of her. She's very focused and driven so it's wonderful to see that too. It was really nice to see her so happy last night," her mother said.
Leona will return home before her next competition in Singapore. She's looking forward to seeing the family dog Simba.
"We are really looking forward to seeing her. She loves coming home. She doesn't get to spend as much time at home as she used to. It will be brilliant having her home," Breda explained.
Meanwhile, Golf Ireland's Chief Operations Officer Anne McCormack said Leona's achievement is massive for Irish golf.
She said female participation in the sport is growing year on year and currently stands at around 40,00 (between women and girls).
However, she said Ireland does lag slightly behind European averages in terms of female participation in the game.
Ms McCormack said schools and summer camps will be a big focus for Golf Ireland this year and in the years ahead, while there will also be a push to reach more teenage girls and get TY students involved.
She said golf clubs have really benefited from Government support over the last number of years.
Although a big wage gap remains between men and female players, she said that a shift in the right direction has begun and she believes that will improve over the next number of years.