The Scottish education minister has announced that exam results that were downgraded under the country's Calculated Grades system will be withdrawn, and affected students will receive reissued grades based solely on teacher assessments of their performance.
The significant u-turn follows controversy in recent days, after the country's Calculated Grades process was judged to have impacted unfairly on students attending schools in economically deprived areas.
Scotland's First Minister Nicola Sturgeon apologised yesterday and said the devolved government "did not get this right".
Like Ireland, final summer school exams in Scotland were cancelled and replaced with a system of predicted grades due to the Covid-19 pandemic.
The system applied is similar to the Irish one, where teachers mark and rank their students. Those results are then standardised and changed to fit a national "bell curve".
Here, the Department of Education has moved to reassure students following the controversy in Scotland.
The Department said that the Irish model of Calculated Grades "does not impose any predetermined score on any individual in a class or in a school".
In a statement to RTÉ News it said that "provided the school has accurately reflected the relative differences between students within the class, there will be no barrier to any excellent student achieving high grades in any school".
It says that no high-performing student within a class of low-performing students will be unfairly disadvantaged by the national standardisation process in use here.
"Provided the school has recognised the atypically high performing student, they will be correctly identified as an outlier student".
We need your consent to load this rte-player contentWe use rte-player to manage extra content that can set cookies on your device and collect data about your activity. Please review their details and accept them to load the content.Manage Preferences
The Scottish education minister, John Swinney, told the Scottish parliament that while three quarters of results remained unchanged by the national standardisation process, 134,000 teacher estimates had been adjusted.
He referenced the "clear anger and frustration" felt by many students and their families when it emerged that students from poorer areas were more likely to have had their results downgraded.
Saying it was "deeply regrettable that we got this wrong", Mr Swinney apologised and said the new results would be issued as soon as possible.
He also said that "due to the unique circumstances" of this year, the country will make provision for enough college places to ensure that no student loses out on a place that they would otherwise have attained.
He said that a current review being conducted by the Organisation for Economic Co-operation and Development (OECD) into the Curriculum for Excellence would be expanded to "include recommendations on how to transform the Scottish approach to assessment and qualifications, based on best practice globally".
Mr Swinney added that an investigation will be undertaken to look at how this year's awards were handed out.
A total U-turn on the position Nicola Sturgeon and John Swinney had doubled down on for days.

Welcome relief for pupils who've been put through the wringer.

But be in no doubt, this is a shambles & an honourable man would have offered his resignation. https://t.co/ujh6J2k0Rm

— Ruth Davidson (@RuthDavidsonMSP) August 11, 2020
Former Scottish Tory leaders Ruth Davidson and Jackson Carlaw have both called on Mr Swinney to resign.
Ms Davidson tweeted: "A total U-turn on the position Nicola Sturgeon and John Swinney had doubled down on for days. Welcome relief for pupils who've been put through the wringer. But be in no doubt, this is a shambles & an honourable man would have offered his resignation."
Mr Carlaw also described the decision as a u-turn and said Mr Swinney "has presided over a shambles in Scottish education over several years. He must resign".
The controversy in Scotland has led to questions being raised here over predicted Leaving Certificate grades, with results due to be issued on 7 September.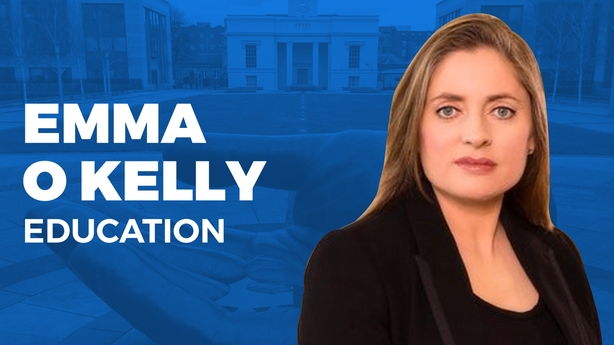 There are significant similarities between the Irish and Scottish Calculated Grades systems. Like Scotland, teachers in Ireland have already awarded marks to their student, based on how they think they would have performed.
The schools have also ranked students in order of their expected attainment. All that data has been submitted to the Department of Education and now a national standardisation process is underway, to award actual grades.
Just as in Scotland, that process is taking into account the historical performance of individual schools.
It is this process that is causing concern.
The worry is that strongly performing students in academically weaker schools could be placed at a disadvantage.
The Department says that no one pattern of expected results on its own will determine a student's final Calculated Grades, as the model will combine the range of patterns to generate the grades in a way which is "as reasonable, fair and accurate to students as possible".
It has advised that, while school-based estimates of the performance of individual students may move upwards or downwards as a result of the standardisation process, the class rank order, provided by the school will not be changed.
"The fact that the distribution of results is not based entirely on any one data set, but capitalises on the distinct strengths of each source of information, contributes to accuracy and fairness in the model", it says.
This year's Calculated Grades results are due to be published on 7 September. Across Great Britain and Northern Ireland, A level results will be published on Thursday.
There is likely to be close scrutiny of those results to see how students from disadvantaged schools are treated relative to their peers.
While there are similarities between the Calculated Grades process being applied across the UK and here, there are also differences.
Teachers in the UK are accustomed to providing predictions of how individual students are likely to perform in final exams because college places there are allocated initially based on teachers predicted results.
In Ireland, there is no such tradition.
Additional reporting PA
---
Read more:
Scottish pupils return to classrooms for first time since lockdown
Belfast school makes face coverings mandatory