One of Belfast's best known schools has become the first in Northern Ireland to make it mandatory for pupils and staff to wear face coverings when they return later this month.
Belfast Royal Academy emailed parents with details of its plans.
Yesterday it became mandatory for people to wear face coverings in shops and certain indoor settings, but the guidance for schools to date does not include this measure.
The grammar school said the nature of the school site and its large pupil and staff population were the reasons it would not be able to maintain strict social distancing and therefore face coverings would be necessary.
It said a number of precautionary measures will be implemented including the mandatory wearing of face coverings for all pupils, staff and visitors to the school for the health and safety of staff and pupils.
It added that provision will be made for pupils and members of staff for whom this safety measure presents a difficulty.
Those who cannot wear a face covering might be asked to wear a visor where appropriate.
Face coverings will not need to be worn when the pupils are exercising, eating or drinking or playing outside in the playground.
The School's Senior Leadership Team and the Health and Safety Committee, including governors and medical practitioners made the decision while planning for the safe return of pupils.
In a statement today it said: "We are aware that the Northern Ireland Chief Scientific Adviser, Professor Ian Young, has recommended to DE that there may be some benefit to the use of face coverings by older pupils where social distancing cannot be maintained."
Updated guidance in the Republic of Ireland now is that it is recommended that teachers and secondary school students wear face coverings, similar to those worn in shops or on public transport, when a physical distance of two metres cannot be maintained.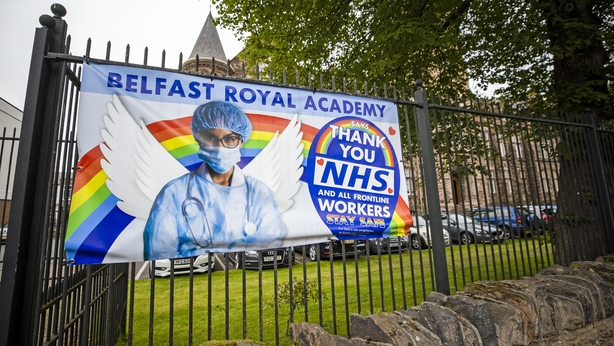 School Principal Mrs H Woods said they have also taken this in to consideration when making their plans.
"We also note with interest the decision taken by schools in the Republic of Ireland to make the wearing of face coverings there mandatory," she said.
The school will provide a reusable mask in school colours free of charge for every pupil and member of staff.  
It has also suggested that parents and staff purchase an additional face mask to facilitate the recommended regular washing.
Mrs Woods said the response from parents has been positive.
"We do not anticipate any discipline issues as feedback from our parent body since the communication was issued yesterday has been overwhelmingly positive. The school community is a genuinely caring environment. 
"We are confident that our students and staff will fully understand that these measures are designed to provide the best care, not just for those in school, but also for our families and this initiative will therefore be supported with the same generous spirit which typifies the attitude of those in this school.
"The risk assessments and all health and safety measures, including the mandatory wearing of face coverings, will be kept under regular review," she said.
Last week, Northern Ireland's Education Minister Peter Weir said he wants all schools to return to more normal patterns of operation and attendance from the week beginning 31 August.
Revised New School Day guidance is expected to be published setting out an updated approach to the full reopening of schools rather than a phased approach.  
The Belfast Royal Academy was the first school to make a public announcement on its move on face coverings.
It is not clear yet if other schools will follow suit, or if there will be any change in official guidance.
Meanwhile, the Department of Health in Northern Ireland has reported no new deaths due to Covid-19.
Another 48 people have tested positive for the virus, bringing the overall tally to 6,188.
Face coverings superior to visors - ICGP
The Irish College of General Practitioners is advising that a face covering is superior to a face visor when trying to limit the spread of Covid-19.
Speaking on RTÉ's News at One, Dr Nuala O'Connor, who is the Covid-19 lead for the ICGP, said that while a visor is better than wearing nothing, it does not offer as much protection from the virus.
She said that the virus comes out by cough, by breath and sneezing so wearing something that covers the nose and mouth snuggly gives the best protection and limits spread.
Dr O'Connor said that visors may be necessary in some situations, for example if a GP needs to communicate with someone hard of hearing, where hearing through a facemask might be a difficulty.
However, for shops and public transport she advised wearing a cloth face covering as per the Government guidelines.
She also said those who cannot wear face coverings should reconsider using public transport.
---