Tánaiste and Minister for Foreign Affairs Simon Coveney has described as "worrying" a reported plan by the Conservative Party that would prevent British soldiers from being prosecuted for crimes allegedly committed in Northern Ireland during the Troubles.
The British Conservative Party wants to end what it believes are unfair trials of veterans where no new evidence has been produced and the accusations have been questioned exhaustively in court.
The Tories say that if they win the forthcoming general election, they will amend the Human Rights Act so it does not apply to incidents, including deaths during the Troubles, which took place before the law came into force in the year 2000.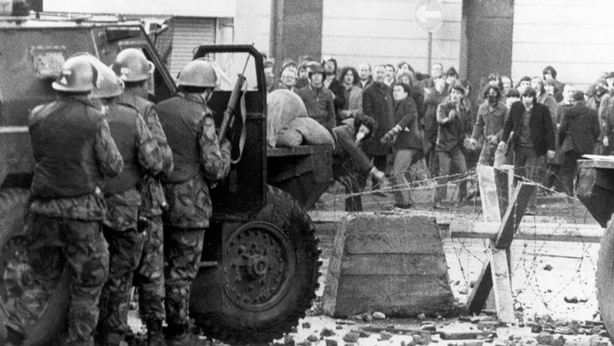 The pledge is among a package of measures the party is proposing to support military personnel, veterans and their families.
The Daily Telegraph reports that a draft version of the Conservative Party manifesto promises legislation that "draws a clear line under the past, bringing to an end all ongoing investigations, inquests and prosecutions from the Northern Ireland Troubles".
Speaking in Brussels, Mr Coveney said: "That is a worry. Perhaps this is just part of an election campaign, but we have an agreement between both governments and parties in Northern Ireland in how to progress, to manage very sensitive legacy issues, and to move the process of reconciliation forward.
"That was agreed in the Stormont House Agreement, and within that agreement there is no amnesty for any one sector within Northern Ireland or people who were involved in breaches of the law."
The Stormont House Agreement, reached between the two governments and the main political parties in Northern Ireland in December 2014, covered a number of legacy issues relating to the Troubles and created the Historical Investigations Unit to investigate outstanding criminal killings and alleged police misconduct that occurred during, and in connection with, the Troubles.
Mr Coveney said: "I think it is important that a process of reconciliation and legacy moves ahead in a way that is consistent with what is agreed."
He said he had yet to see any detail on what was being proposed in terms of election manifestos, adding there had been no consultation with the Irish Government on the issue.
He added: "From our perspective, we have an agreed approach. It's in the Stormont House agreement and we hope that's respected."
Speaking on the margins of a foreign ministers meeting, Mr Coveney acknowledged that the issue of prosecuting soldiers had been controversial, and that the current and previous secretaries of state for Northern Ireland had come under pressure at Westminster on the issue.
"There are those who are clearly advocating for a statue of limitations or an amnesty for the armed forces in Northern Ireland during the period of the Troubles, but that isn't consistent with what has been agreed in the Stormont House Agreement."
This, he said, should set the parameters for the way forward on the issue.
British Prime Minister Boris Johnson said his government would "always support" the armed forces.
"As we remember the ultimate sacrifice made by our brave men and women for their country just over a century ago, it is right that we renew our commitment to the soldiers, sailors, marines, airmen and veterans of today," he said.
"These measures will mean more childcare support for those who are currently serving. And it will mean that we harness the enormous contribution that veterans can make to our businesses and public sector organisations.
"If I'm elected on the 12th December, I want the message from my government to our armed forces to be louder and clearer than ever: we salute you and we will always support you."
British Defence Secretary Ben Wallace added: "In the days of advanced technology and automation it is easy to forget that the most important equipment in the armed forces are the men and women serving.
"This policy demonstrates our commitment to them and is a recognition of the pressures they face." 
Mr Wallace also said in a BBC interview that the move did not amount to an amnesty.
"This isn't an amnesty, because if people haven't been investigated and they haven't had an inquest, then of course, they won't be able to avail themselves of that," he said on BBC Radio 4's Today programme.
"This is about repeated and vexatious claims."
Labour's shadow foreign secretary Emily Thornberry said she supported the Tory plans but questioned the need to "change" the Human Rights Act.
She told the BBC: "Their main purpose is to stop vexatious and unfair actions - who could be against that?
"I don't think that, personally, you need to change the Human Rights Act about that."
Meanwhile, Michael Finucane, solicitor and son of murdered Pat Finucane, said Mr Johnson is "preaching to a constituency in the context of a general election campaign".
Speaking on RTÉ's Today with Miriam O'Callaghan, Mr Finucane said the terminology being employed by Mr Johnson is "completely misplaced".
He said to call prosecutions of members of the British Army, or other agents in the Crown Forces, "vexatious" was essentially to say that the police investigations underpinning the crown prosecution service reviews were not to be trusted and are "somehow motivated by less than pure motives".
Additional reporting PA