Students from a secondary school in the midlands are hooking up with an astronaut on the International Space Station this afternoon to try and find out how space travel is affecting life on earth.
Student Sean Brennan from Kiltoom outside Athlone is one of over a dozen young men and women taking part in this real-time earth to space project.
In order to carry out this real-time Earth-to-space radio contact, the Athlone Community College students set up a temporary amateur radio station on the school grounds, which will include a tracking antenna, and two-way radio system.
"I am going to ask the astronaut what she thinks is the lasting effect of space travel on our earth," Sean said this afternoon.
"It's a terrific opportunity for me to speak directly to somebody in space and I am looking forward to it."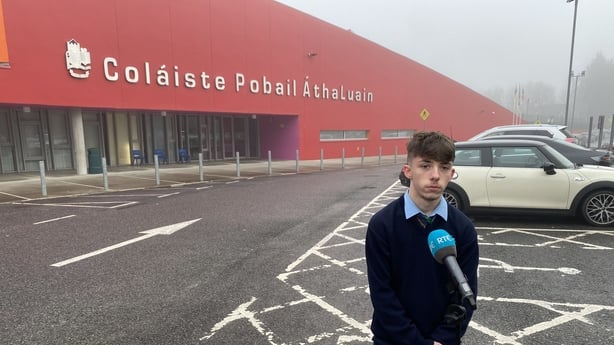 There were up to 300 questions submitted in total by Athlone Community College. Some of the questions include; 'Does your sense of smell or taste change in space?' and 'What is the most interesting thing you have seen on Earth from the space station?'.
Science teacher and co-ordinator, Ms Laura Donnellan said: "The whole school community are excited for this once-in-a-lifetime opportunity, that both staff and students will not forget. I am delighted to be part of such a tremendous school that is now being recognised nationally and globally.
"It is a massive opportunity for the students to see the possibilities and opportunities life has to offer and for all of us to see just how far technology has come. With all the mini-events we have planned as a science department prior and all the guest speakers on the day, it truly will make for a memorable experience. Students are getting inspired to 'Aim for the moon, even if you miss you will land among the stars," she said.
The International Space Station will be orbiting the earth at a speed of 27,600 kilometres per hour during the radio link up this afternoon.
The radio contact is being set up with the help of the local radio amateur club in Athlone, known as the 'Shannon Basin Radio Club'.
Students have been joined by officials from Longford Westmeath Education Training Board for the radio connection which will go on for over ten minutes.
It is believed to be the first time in three years that students at an Irish school have hooked up with a space station.
This afternoon, students will be speaking to US astronaut Shannon Walker aboard the International Space Station.