A Christmas tree tradition in a Midlands town - at risk of cancellation for the first time in 64 years due to the pandemic - has been rescued by a huge local community effort.
The people of Mountmellick, Co Laois have seen snow, high winds and even flooding threaten the annual ceremony for the switching-on of the Christmas lights since it began in the 1950s.
The two remaining members of the original Christmas tree committee, Brian and Ger Lynch, announced their retirement on 18 September last.
With Covid restrictions, the normal fundraising opportunities were closed to the committee and it appeared that members would be unable to commit to putting the tree and lights in place this Christmas.
"But by the end of September we had a new committee and launched our GoFundMe campaign," said local woman Cathy Bishop.
"We set a target of €20,000. Four weeks later, we had raised €25,000 and today, that figure stands at over €26,188!"
So this weekend, the festive dream of those volunteers from the 1950s came true again and the tree lights were switched back on.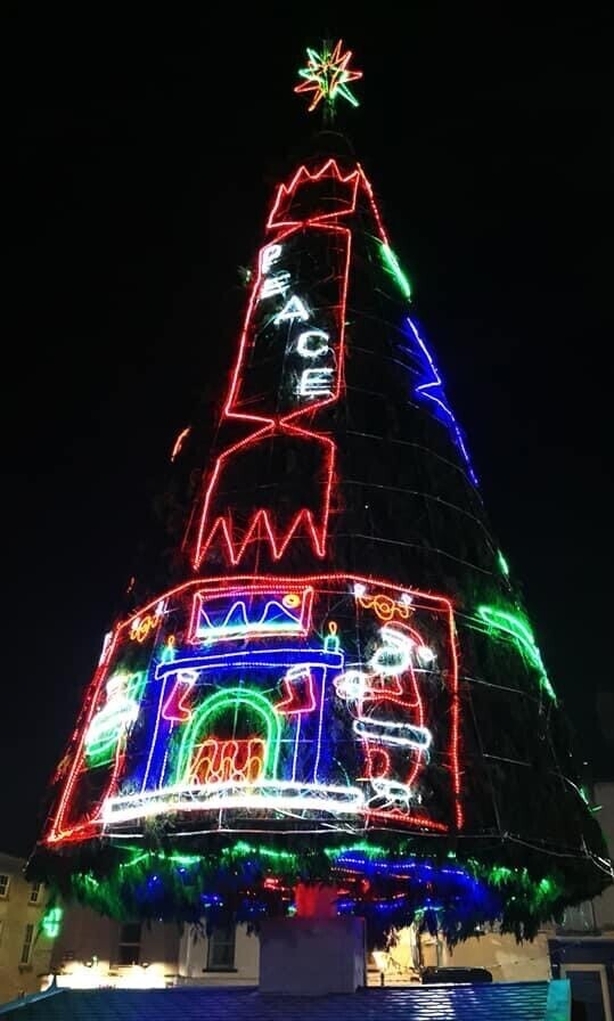 What has been a little different this year is the lighting-up ceremony. Normally, a large crowd gathers in the town square to experience the event and get the Christmas season into full swing.
"With the restrictions, the new committee had to design a different approach," explained Cathy Bishop.
"This year, we planned on a staggered and vaguely secretive approach to announcing the lighting-up."
The pressing of the button was performed by original committee members Brian and Ger Lynch.
A member of the Mountmellick Pipe Band was also on hand to perform Adeste Fideles on the bagpipes - providing a poignant and heart-warming end to the ceremony.