In any other March, in any other year, Olena Gnes would be acting as a tour guide right now, showing holidaymakers the sights and sounds of Kyiv.
Her YouTube channel also serves to promote the best parts of the city. As recently as Christmas, she posted a video about the top three festive locations in Kyiv. It featured her walking around brightly lit market stalls as shoppers enjoyed hot drinks and mingle under a luminous blue Ferris wheel.
But the nature of Olena's YouTube content has changed dramatically in the past week.
It now features daily updates from the bomb shelter where she is currently taking refuge along with several other families.
In almost every video, she is flanked by her three children – aged seven, five and a newborn. Their father is above ground waiting as a massive Russian convoy closes in on Kyiv.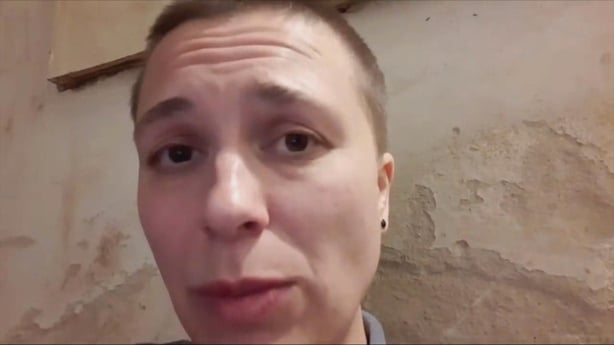 "My husband, he joined the local territorial unit. He is not a professional military man. He's just a civilian who joined the defence and received a weapon to protect his home and his family," Olena told Prime Time.
She is in communication with her husband via text message, but does not know when or if she will see him again.
When it is safe, Olena ventures back to the family apartment to feed her cat and stock up on supplies. A month's worth of diapers now forms part of her inventory – in case they are forced to live in the shelter for a long period.
"The number one thing that I needed was the diapers. I have enough for one month, so I hope the war will end within a month. I also took some clothes for the children and myself. I took all the drinking water from home, and I brought it here to the shelter," she said.
Most nights in the shelter she has been getting one hour's sleep. Her children, however, are sleeping fine despite the circumstances. They read books to keep themselves distracted during the day.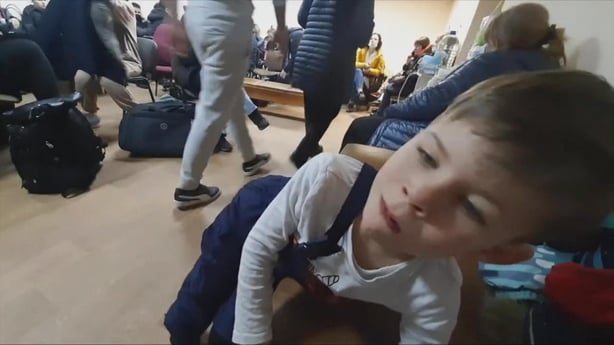 She said the shelter is cold but, with electricity still working, they can boil water and make coffee. There is also a toilet facility.
But with the situation becoming more precarious by the hour why is Olena choosing to stay in Kyiv?
"It is a question I keep asking myself, but I have one idea," she said.
"Today, when I visited my apartment, my neighbor opened the door. He helped me to bring down a big bag and I asked him 'why didn't you leave?' And he told me 'Why should I? This is my home.' This is the reason my family stay here."
Olena has relatives in a village north of Kyiv who invited her to come and stay with them, but she told Prime Time that it is hard to be certain about which village is safe.
"The risk is equal everywhere and it makes no sense to run away," she said.
We need your consent to load this YouTube contentWe use YouTube to manage extra content that can set cookies on your device and collect data about your activity. Please review their details and accept them to load the content.Manage Preferences
"I also do not want to leave my husband because, if I stay here, he will fight better because I will inspire him to be super strong, like he inspires me to be super strong."
Earlier today, five people were killed in a missile strike aimed at Kyiv's main television tower, one which also knocked out some state broadcasters.
Given the uncertainty around communications and internet coverage in the coming days, Olena posted a farewell video tonight from the shelter on her YouTube page, with the words "just in case".
Staring directly into the camera with her baby perched on her chest, she addressed her followers with a smile.
"I'd like to say goodbye. No, I'm not going to die. I want to live. But we expect the mobile connection will be out and I will not have a chance to talk to you for some time," she said.
"Goodnight, sleep tight, don't let the bed bugs bite. Bye Bye."