In 2013, the Northern Ireland executive announced a plan to remove all peace walls by 2023. But a decade on, they are still standing. So, the question now is, how long will they remain?
Samson and Goliath, the two Harland & Wolff cranes that overlook Belfast, are still the most instantaneously recognisable landmarks in the city. But much of what is visible from their perches has changed. Below them, a shipyard which once built ocean liners for White Star Line, is now home to Titanic Studios. It is one of Europe's largest film studios, hosting productions such as 'Game of Thrones' and 'City of Ember'.
Nearby, the Titanic Belfast museum has been visited by more than seven million people from 145 countries since 2012. Closer to the city centre, Victoria Square Shopping Centre bustles with activity as consumers come and go, chatter filling the air from the bars and restaurants which populate the nearby alleyways and streets.
In 1998, when the Good Friday Agreement was signed, the people of Belfast could scarcely have believed that 25 years on, this city would be a thriving metropolitan tourist destination. Yet, a short distance away from the new landmarks, a visual reminder of the Troubles stands firm. A giant so-called peace wall erected at Cupar Way, separating unionists and nationalists, shows no sign of coming down.
Graffiti and artwork on the wall communicate messages of peace and reconciliation, but those messages offer little comfort to those living in its shadow who say that while the wall is an eyesore, it is a necessary eyesore.
It is one of some 70-80 barriers across Northern Ireland which separate Catholic and Protestant communities - these include walls, metal fences, gates and derelict houses.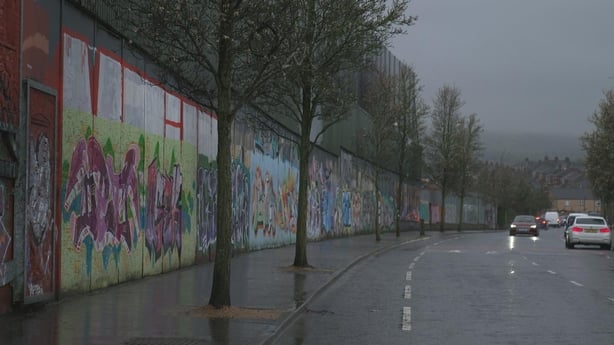 "I can't see it coming down in my lifetime but it's there to keep the peace," Lily Brannon says, standing beside the Springfield Road wall, one of the longest of its type in Belfast.
She lives on the unionist side of the division. Her friend, Michelle Bradley, has a home just yards away on the nationalist side. Yet, to meet each other on foot, they must walk around the wall.
"With my walk it would probably take half an hour. But if that wall wasn't there it would take me about two minutes," Lily said. While both she and her friend Michelle would like to see the structure come down at some point in the future, they accept it is not possible now.
"Ideally, you wouldn't want it there, but it's needed. Our communities have people who don't share the same views as us and aren't going to live and let live," Michelle adds.
The rapport between the pair evolved through their involvement with the Black Mountain Shared Space Project which deals in cross-community engagement to prevent violence occurring along peace lines.
It has worked to build relationships with people living on both sides of the wall through community-based initiatives and by conducting critical conversations with key influencers in both communities.
"They set up the neighbours group specifically for neighbours at both sides of the wall to try and bring us together and break down barriers. We've talked about the protocol, we've talked about a united Ireland, we've talked about the Troubles," Michelle explains, while she says no subject is out of bounds when they meet.
Despite building blocks being made here between communities, the prospect of interfaces being removed this year, as the Northern Ireland executive originally planned, has all but vanished. The interfaces form an integral part of the local landscape in some working-class areas of Belfast.
Initially, the peace lines came about in 1969 as a temporary solution to the outbreak of the Troubles. But as violence showed no sign of abating, the British Armed Forces replaced temporary barriers with more permanent structures.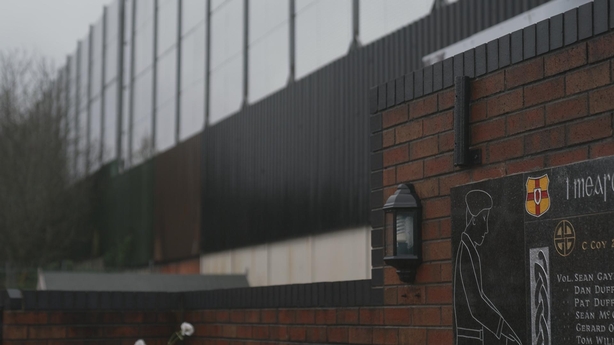 There are many reasons why the peace walls have survived a quarter of a century on from the Good Friday Agreement. Dr Jonny Byrne from Ulster University has been researching the walls' legacy and believes shifting demographics have played a part in their survival.
"In the last census the Catholic community became the largest community in Belfast and the fear is if the walls come down, the Catholic communities will move into the Protestant areas which will then impact on their ability to celebrate their community and their identity and runs the risk of them actually having to move out."
There has been some progress in recent years, with a number of barriers removed. In north Belfast for example, a brick wall at the Duncairn Gardens/Tiger's Bay interface was replaced with garden walls and decorative fencing. In addition, many peace lines are punctuated by gates which open during the day to allow the free movement of traffic. By 10pm every day, however, they are all locked.
According to Dr Byrne, the complicated and multifaceted nature of peace here, means Belfast was never going to have a 'Berlin Wall' moment, a reference to the 1989 tearing down by residents of the wall dividing communist east Berlin from the rest of the German city.
"Interestingly, when the conversations started around the peace walls and their removal around 2007/08 there was a sense we would have a Berlin Wall moment. People with sledgehammers would come out and start knocking walls down. That was very quickly knocked on the head and people realised it was going to be more complicated than that."
"Some walls have transferred into fences. Some gates have been opened and some gates have been taken away and roads have now become open and passable, so there's more normal forms of mobility between the two communities," Dr Byrne told Prime Time.
"But we haven't had the Berlin Wall moment and I think that symbolism is what people wanted. But the reality is it's going to be nuanced here, it's going to be more local and it's going to be more sensitive in terms of what the final peace looks like."
Over 50 years on from their erection, violence is another reason why mixed feelings persist over the removal of peace walls. In April 2021, trouble flared at the Lanark Way gate, as loyalists protested the Northern Ireland Protocol and what they saw as the effective creation of a border between Northern Ireland and the rest of the UK.
Tarlach Mac Maoláin lives close to where the recent violence broke out. His house overlooks Bombay Street, which in 1969 was burned by loyalists, forcing families to flee.
The 2021 flare-up of hostilities was a reminder that violence has not completely gone away.
"A couple of years back, I had aspirations for the walls to come down because, to me, looking at them causes conflict. But after what happened a couple of years ago in Lanark Way, I would say it's definitely not the right time to take them down. Not just yet, anyway."
In Bombay Street, some houses situated directly beside the peace wall have their gardens enclosed in steel cages. Mr Mac Maoláin and Sean Murray, who are both part of the local Clonard Residents Association, explain that although the days of the Troubles are long gone, these cages still serve a purpose.
"These were erected at the back of homes on Bombay Street because objects were still coming across the peace wall, and some were impacting on the roofs of the houses, breaking slates and some were going into the back of the homes," Sean told Prime Time.
"You may ask why are they still there? Because people still have that sense of insecurity. They see it as a form of protection. A form of insurance against any further attacks. It's only two years ago we had a riot 200 yards from here," he adds.
As day turns to evening in Belfast the walls fade from view. Gates are locked, cars and footfall disappear. Alternative routes must be found through the night. While there is hope that the walls won't be needed someday, Dr Byrne feels they will be there for at least another generation.
"The general consensus is people aren't ready right now to take the walls down. But they would like to see the walls down in 30 to 40 years' time. The reality is the walls provide a degree of safety, whether psychological or physical, to people who live closest to them.
"They're a comfort blanket and a way of separating the two communities. And in the absence of anything else, the walls stay."