Overlooking Kyiv is a 200ft victory column known as the Independence Monument. It was unveiled in 2001 commemorating the 1991 independence of Ukraine.
Christina Katrakis was the model for the iconic monument of freedom (her father was the sculptor).
Today she lives in a country where that freedom is in dangerous peril.
The family of Katrakis had a recent brush with Russian bombs. Last Saturday, on New Year's Eve, just as her seven-year-old son Mark went to the shop to buy bread with his grandfather, three missiles struck their neighbourhood. One landed in front of their house, another landed to the side, damaging a small hotel and Mark's school.
For a brief period Christina, who is Ambassador for the Foundation for United Nations SDG, didn't know whether her son and her father-in-law were safe. "That was the deepest fear and panic I have felt since February" when Russia invaded Ukraine, she said. "The panic and the anger was so overwhelming."
When her son finally returned, he went straight to the family bomb shelter.
Like many Ukrainian children, her son spends lots of time in bomb shelters. Even his school lessons are typically held in a bomb shelter, Christina says.
"One of the things that I will never forgive Russians for is stealing childhood," she said, "they stole the childhood from many children. I see that with my own child. I see that he cannot allow himself to live a normal childhood, to play, to enjoy things as he used to enjoy – even to go out and play in the playground."
Her son is resilient, she says, but every now and again, "he can start crying just out of the blue… sometimes he says 'mom I'm angry. I hate them, I hate what they are doing, why are they killing people.' "
As Russia stepped up attacks on energy infrastructure children have become so used to living without electricity and water that they value "simple things, like having light, like having water," she said.
The UN-affiliated group that Christina represents distributes clothing, food, and other supplies to people who are internally displaced. She has also recently secured a power generator so that the group's head office can continue communicating, running deliveries, logistics and distribution to those in need. She hopes to provide many more generators to Ukrainians on the frontline over the coming months, and has been aided in her fundraising effort by Hollywood producer Charles Wessler.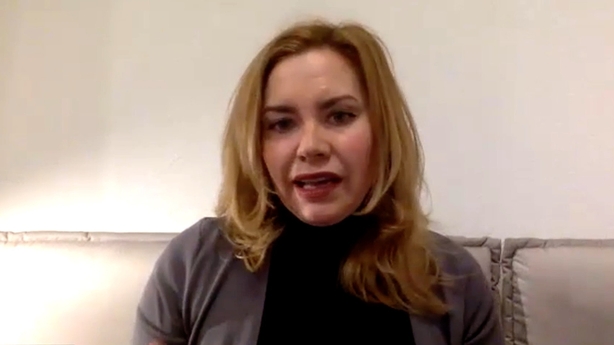 Amid the turmoil, Christina Katrakis – who is a US citizen, talks of resilience and defiance in the face of Russian attacks. She cites an attack that took place shortly after the missile blasts near her home, in the early hours of News Years Day, this time from so-called kamikaze drones.
"People started singing, they started singing the Ukrainian anthem. All our neighbours they just came out because people were not sleeping. It was New Year, it was right after 1am... People came out on their balconies, they were singing in the windows."
Singing is a form of defiance, but there is defiance too among ordinary Ukrainians in simply continuing to live life, despite the enormous challenges.
"They keep on working, they keep on living, they keep on functioning as much as possible as normal." Some restaurants are closed, she said, but, in general, supermarkets, barber shops, coffee shops stay open, using generators when the electrical supply is attacked. "It is similar to the resilience you saw, for example, in London during World War 2 when people still had their afternoon tea no matter what," she said.
And as Russia recoils from the loss of so many of its soldiers in Makiivka, Russia says 89, Ukraine claims 400, Christina is braced for what she expects will be heightened revenge.
"We are not afraid of it" she said, adding that "there is nothing that Russia can do" to change the course of Ukrainians' opposition to the invasion.
President Putin today offered a 36-hour ceasefire over Orthodox Christmas, but Ukraine rejected the offer, saying there would be no truce until Russia withdraws its invading forces from occupied land.