Before February 2022, Olena Gnes used her YouTube channel to promote Kyiv as a tourist destination. Then overnight the focus changed.
Once Russia declared war on Ukraine on 21 February, she posted daily vlogs from the makeshift bomb shelter where she took refuge along with her three young children and several other families.
Without asking for it, she became both a de facto war correspondent and a stark representation of millions of mothers across Ukraine who now worried for their family's safety.
Interviews with CNN, FOX News, BBC, ITV and almost any other Western media outlet followed, including RTÉ's Prime Time, meaning her image was beamed across the world every week, giving live updates to millions as events unfolded.
During interviews, she would often be flanked on either side by her children: Katya, Taras and baby Daryna, who would at various points stare down the lens in a childlike manner, unawares of the large audience watching.
At one point during a Russian attack on Kyiv, Olena even posted a farewell video titled "Just in case" with her baby perched on her chest, insisting she was not going to die that night.
We need your consent to load this YouTube contentWe use YouTube to manage extra content that can set cookies on your device and collect data about your activity. Please review their details and accept them to load the content.Manage Preferences
When Olena first spoke with Prime Time back in March of this year, she was spending most of her days in a Kyiv basement, only returning to her apartment above ground for short periods to shower and gather food supplies.
Meanwhile, her husband was fighting for the Ukrainian army, so he could only visit her and the children for short periods before he had to leave again.
"The basement became my home for four months. I spent every single night in this basement and it was always a risk to go back home. Back then the air raids were all the time. It was dangerous all the time."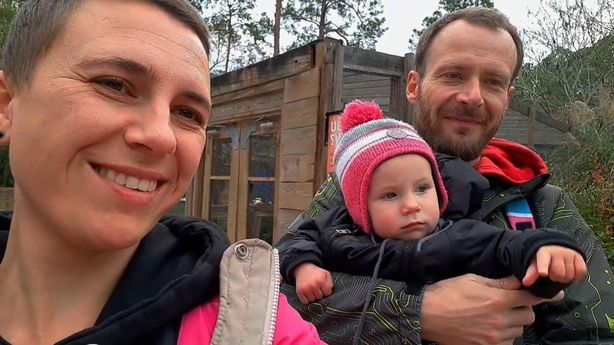 Today she's speaking from her adopted home for now in the state of Georgia in the US. She's been living there with her children and husband for over a month.
Despite being urged by her followers to leave Ukraine from the outset of war, Olena reported daily for ten months – right up until November. In the end, a combination of elements in the space of 24 hours precipitated her move to the US.
"My last weeks before I left were hard because of the mental condition of my children, especially my older one who is eight-years-old. She is diagnosed with Asperger's Syndrome. I found some grey hairs in her head. She stopped eating. She stopped talking, she was really bad."
"At the same time my husband was demobilised from the army as a father of three children, so he served there for, like, eight months. Also, I received a letter from a woman whom I never met before, and she invited me to her home in the United States, through the programme - Uniting for Ukraine. All this happened in one day. "
Olena is referring to 'Uniting for Ukraine', a humanitarian protection programme which allows Ukrainians to stay in the United states for up to two years with the help of a sponsor.
During our interview, Olena stresses how thankful she is to have a host in the United States. Her family now have safe beds to sleep in, and some respite from freezing cold conditions in Ukraine where power outages have impacted homes, following Russian missile strikes on the power grid.
Olena feels her children had taken enough after nearly a year living under siege.
"I felt like now I need to take care of my children. Before I thought staying in Kyiv will make them stronger. But at some point I understood that I am wrong. The war is very traumatising for children."
The impact the Russian invasion was having on her children crystallised when she asked them what they wanted for Christmas.
"Instead of asking for a toy, they were asking for Putin to be killed. They were asking for peace in Ukraine and for Russians to go away home. Their childhood was ruined basically. These children do not have that feeling that I had when I was a child, that the world is a safe place. That people are kind."
Since their arrival in the US, Olena has noticed some return to normality with her son Taras now asking for a Lego car at Christmas. She sees this as a sign his childhood is returning.
But the trauma of war has left a scar on her too. Olena is still haunted by regular notifications on her phone about bombings in Ukraine. Even though she is on the other side of the world, the attacks feel like they are happening on the next street.
The move to the state of Georgia is only temporary, and Olena plans to return home to Ukraine with her family in the near future.
"I don't know how long I will stay here. I really don't want to bring my children back to the war zone. My plan is next year."
"Taras will have to go to school next year, so I hope he will do it in Ukraine. Katya is still doing her classes online with her Ukrainian school. I expect next year she will come back to her teacher and classmates."
Meanwhile in Ukraine on Monday, Russia launched a series of drone attacks on Kyiv, bombing critical infrastructure. The tactic seems intended to damage Ukrainian heat, electricity and water supplies during a harsh winter.
A family of internally placed refugees are now living in the high rise apartment bloc in Kyiv where Olena once called home. Amidst the drone attacks outside, they are trying to keep warm while residing in Olena's flat.
Olena is pleased it is being used in her absence, but says the young mother staying there hides in the bathroom sometimes with her child, afraid of a Russian strike from the sky.
They keep in touch through Zoom calls, and she also minds the family cat – who was not able to travel to America with the family.
This Christmas in Georgia, Olena will celebrate the fact her family are all together and still alive, having managed to escape war and found safety in a foreign country. But she will also spend much of the holiday season remembering those close to the frontline.
"My heart is still in Ukraine even though my body is here."