On the 25th anniversary of the Srebrenica massacre, correspondent Paul Cunningham writes about his experience of reporting on the Bosnian War and the subsequent trial of Bosnian Serb commander Ratko Mladic.
I couldn't quite believe it: Ratko Mladic was sitting in court, facing charges of genocide and crimes against humanity, when he turned to the public gallery and drew his finger across his throat. He looked directly at a widow of the Srebrenica massacre when making his throat-slitting gesture.
Mladic's taunt drew immediate anger from the public gallery: "Butcher!" multiple women shouted at him through the glass. He replied with a second gesture: he made a short gap between his thumb and index finger and raised it to the women - suggesting that they were worthless.
The Bosnian Serb General, it was quite clear, was unrepentant and wanted to turn his trial into theatre.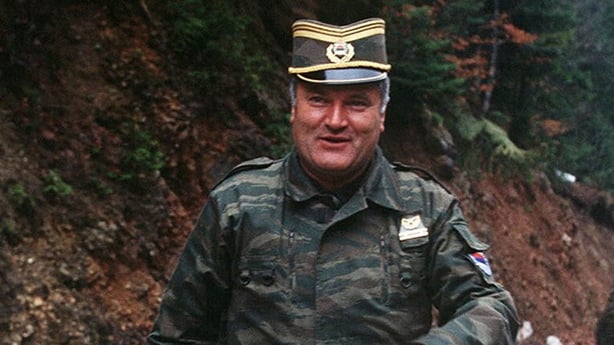 On his first day in court, he sarcastically applauded the judges when they entered. On his second day, he scanned the public gallery, raised his hat twice and smiled. When presiding judge Alphons Orie ordered him to stop communicating with the media and public - Mladic just ignored him and gave us a thumbs-up and broad grin a few minutes later.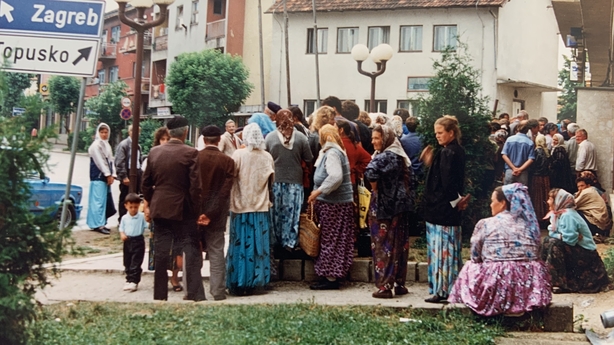 Watching this defiance were women like Kadefa Rizvanovic, whose husband was murdered at Srebrenica, along with 21 other male relatives. When I spoke to her after the second day of proceedings, she told me she believed that Mladic was attempting to re-establish hate in the minds of younger Serbs, and she hoped they would ignore what she called his "pathetic performance".
The Bihac pocket was regularly and randomly shelled. Snipers did their worst. The civilian population oscillated from moments of near normality to suddenly running for their lives.
The prosecutor at the International Criminal Tribunal for the former Yugoslavia, Dermot Groome, told the three-judge panel that Ratko Mladic had "assumed the mantle of the criminal goal of ethnically cleansing Bosnia". That was on the opening day of the trial in May 2012.
19 years earlier, I had witnessed that ethnic cleansing. With cameraman Ciaran O'Connor, I had reported from the town of Bihac in northwestern Bosnia. Like Srebrenica, the Bihac area - known as the Bihac pocket - had been declared by the United Nations to be a "safe-haven". It was nothing of the sort.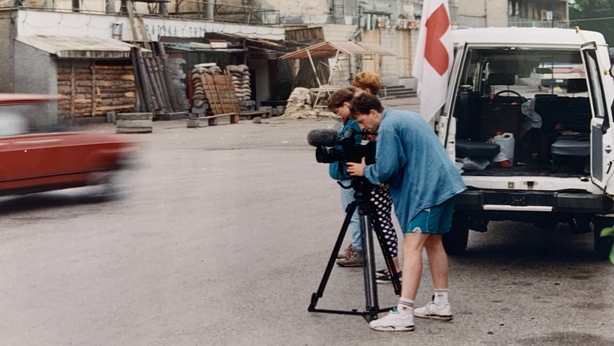 Surrounded on all sides by Serb forces, the Bihac pocket was regularly and randomly shelled. Snipers did their worst. The civilian population oscillated from moments of near normality to suddenly running for their lives. Schools had been given to other Bosnian Muslims expelled from homes beyond the pocket. Bosnian Serb forces had forced them out and then funnelled the refugees into an ever-expanding Bihac.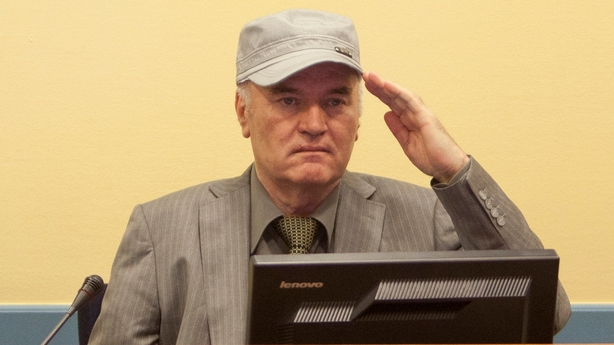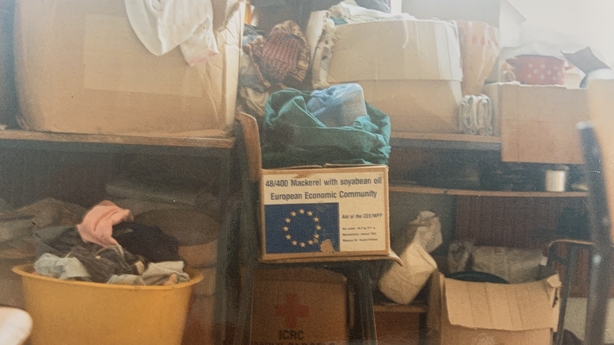 Two memories stand out. One was a UN-led operation in which children from Bihac were taken to the safety of neighbouring Croatia. The young kids were first separated from their distraught parents and then placed on buses. You could see the parents wondering if they would ever see their children again.
Another memory was going to a disco. It was held in a large basement in the town - low light, loud music and not much else. I noticed one girl who was dancing wildly. We were told that the girl's brother had been killed earlier that week. Our translator said the girl told her: the snipers may have stolen my brother, but I'm not going to let them take my Friday night.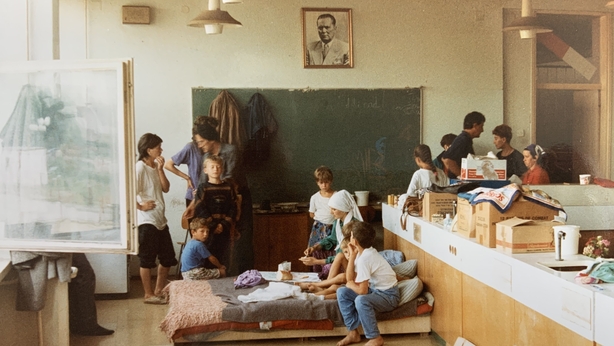 Mladic, the Bosnian Serb Army Commander, oversaw the assaults on the "safe-havens" as well as orchestrating a 43-month siege of Sarajevo. However in the The Hague courtroom, he denied that his actions were criminal. The charges were "obnoxious", he declared, and the words used to detail them were "monstrous".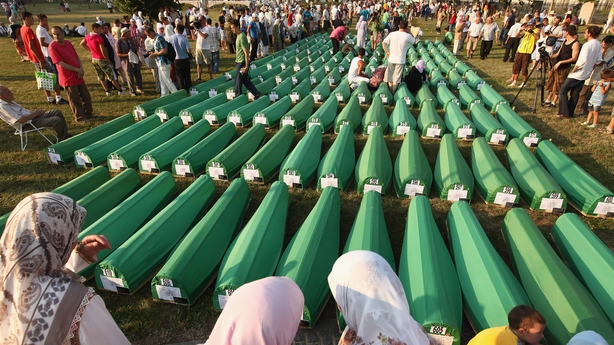 More than 100,000 people died in the Bosnian war between 1992 and 1995. However one incident, more than any other, has come to symbolise the horror of that conflict: Srebrenica. And it is General Ratko Mladic who was accused of orchestrating that massacre - the worst atrocity against civilians in Europe since the Second World War.
Video taken at Srebrenica, on the day the town fell, was shown to the court. Ratko Maldic, the head of Bosnian Serb military forces, was shown walking triumphantly through the streets on 11 July 1995. He can be heard describing the local population as "Turks" - an insult he regularly used against Bosnian Muslims.
But the context is chilling - Mladic says directly to the camera that " the time has come to take revenge on the Turks in this region".
---
Read more
Bosnians commemorate Srebrenica as newly-identified victims buried
Peace vigil in Dublin to mark Srebrenica anniversary
---
Shortly afterwards the women, children and elderly was bussed out of Srebrenica - ethnically cleansed. And then more than 8,000 men and boys were systematically murdered over the following ten days.
When Mladic was ultimately found guilty in 2017 for his role in the Bosnian war, presiding judge Alphons Orie declared that "the crimes committed rank amongst the most heinous known to human-kind - and include genocide and extermination". He was sentenced to life in prison.
It's now 25 years since the Srebrenica massacre. Mladic remains in jail. The Bosnian war is slipping out of people's consciousness.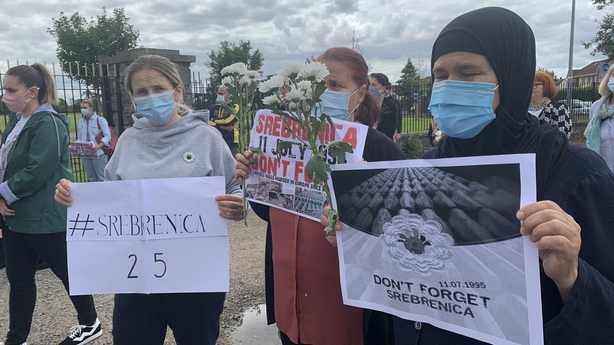 At a commemoration event at Blanchardstown this weekend, the chair of the Bosnia Herzegovina Association of Ireland Mirza Catibusic reminded the crowd that most Bosnians who arrived in Ireland in the 1990s had direct experience of wartime atrocities.
He added that while Srebrenica may have happened a quarter of a century ago, it still holds "many lessons for Europe today - at a time of increasing racism, Islamaphobia and genocide denial". Mr Catibusic expressed concern that some people continued to try and deny or diminish what took place at Srebrenica.
Tánaiste Leo Varadkar bluntly described Srebrenica as a "shameful" event in European history - and that it most certainly was.
He declared that Ireland will use its UN Security Council seat next year to try to ensure genocide does not happen again.