Tánaiste Leo Varadkar has described the 1995 Srebrenica massacre as a "shameful" event in European history, and said Ireland will use its UN Security Council seat to ensure such genocide does not happen again.
He was speaking at an event in Blanchardstown to mark the 25th anniversary of the Bosnian Serb capture of the so-called UN safe-haven, after which more than 8,000 men and boys were killed.
Minister for Children, Disability, Equality and Integration Roderic O'Gorman told the same event that the "world failed Bosnia, and the world failed Srebrenica".
He said Ireland has to take its new UN role "so seriously" in light of what happened 25 years ago in eastern Bosnia. Ireland's two-year term on the UN Security Council begins in January.
Minister of State Jack Chambers said the genocide at Srebrenica was of such a horrific scale that it is "hard to comprehend".
He added that one of the lessons of the massacre was that people needed to take a conscious decision to actively promote tolerance.
The event was organised by the Bosnia-Herzegovina Association of Ireland at the Millennium Park.
---
Read more: Srebrenica remembered
---
Minister for Foreign Affairs Simon Coveney has said: "Today marks the 25th anniversary of one of the worst atrocities to take place on European soil, when 8,000 unarmed men and boys were systematically murdered at Srebrenica in July 1995.
"A quarter of a century later, the psychological wounds remain, particularly for the families and communities directly affected."
"Although the Covid-19 pandemic prevents us from physically gathering together in commemoration here in Ireland, it is important that we remember this event for what it was: an appalling act of genocide."
The killings at the hands of Serb forces have been recognised as genocide by the International Court of Justice and the International Criminal Tribunal for the former Yugoslavia and Ireland has, in the past, joined with other European countries to condemn any attempts to minimise or deny the genocide.
Today is the 25th anniversary of the Srebrenica genocide, when 8000 unarmed Bosniaks were murdered on the basis of their identity. It is one of the worst atrocities to take place on European soil.

Today we remember them. pic.twitter.com/F1cc4kZI12

— Irish Foreign Ministry (@dfatirl) July 11, 2020
Mirza Catibsic, Chairperson of the Bosnia-Herzegovina Association of Ireland, who helped to organise today's peace vigil in Blanchardstown, said: "Most Bosnians arrived in Ireland through a refugee resettlement programme in the 1990s and many have had direct experience of wartime atrocities, some are survivors of Srebrenica.
"The majority of Bosnians in Ireland now live in Dublin 15 which is why we're holding today's event in Millennium Park."
He said that what happened 25 years ago "holds many lessons for Europe today, at a time of increasing racism, Islamophobia, and genocide denial".
He says many commemoration events today have been held online due to the pandemic, but he said social distancing, in line with the Covid-19 regulations had been put in place for the Blanchardstown event.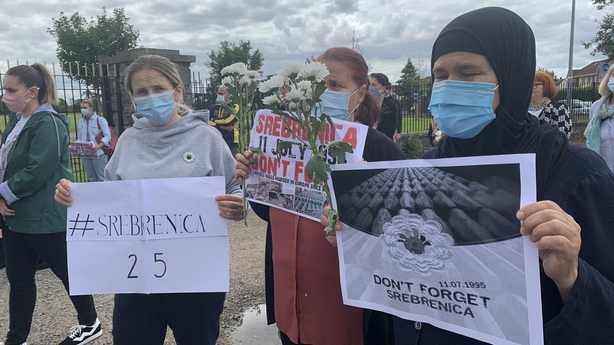 Earlier this week ahead of Leaders' Questions, members of the Dáil stood for a minute's silence to remember those who had died.
In a statement, the Ambassador of Bosnia and Herzegovina to the United Kingdom, Vanja Filipovic said: "A quarter of the century has already passed since Srebrenica's perils and persecutions, but our memories don't fade and never will. Our memories are especially alive, fresh and painful for families who, so many years after the tragedy, are still searching for the remains of their loved ones."
The Ambassador said there are over a thousand events being held throughout Ireland and the UK this week to remember what happened 25 years ago, adding: "We are not alone in our fight against oblivion, in the fight for truth ... We must not respond to hatred with hatred. We will defeat it with our humanity, arguments and truth."
Tánaiste @LeoVaradkar and Minister @rodericogorman attending event in Blanchardstown marking 25th anniversary of the #Srebrenica @rtenews pic.twitter.com/3y4Clhv62K

— Paul Cunningham (@RTENewsPaulC) July 11, 2020
In Srebrenica itself, today's commemoration was low-key with those attending the Srebrenica-Potocari memorial and cemetery wearing face masks and maintaining social distancing.
Nine newly-identified victims were buried at a flower-shaped cemetery near the town, where tall white tombstones mark the graves of 6,643 other victims.
Former US President Bill Clinton said in a video message during a ceremony: "It's been profoundly moving for me at every time, every opportunity to continue to add my voice to those across the world who grieve for the family of those killed.
"To support the ongoing effort to seeing justice for those lost and recover their remains and bring them home, to a final resting place."
Britain's Prince Charles also delivered a video message in which he said: "By remembering the pain of the past and learning its lessons, we can together resolve that it must never happen again."
Additional reporting Eleanor Burnhill