Following the election of Fianna Fáil Leader Micheál Martin as Taoiseach yesterday, the Cabinet last night formally adopted the Programme for Government at its inaugural meeting.
Earlier, President Michael D Higgins presented seals of office to 14 ministers, the Chief Whip and three Ministers of State at a socially-distanced ceremony at Dublin Castle.
The Cabinet then held a brief meeting, which included a number of formalities such as the adoption of the Programme for Government.
A far more detailed meeting is slated for tomorrow - and among the issues to be discussed then is expected to be the planned investment programme for businesses, which it is hoped will ease some of the economic consequences of Covid-19.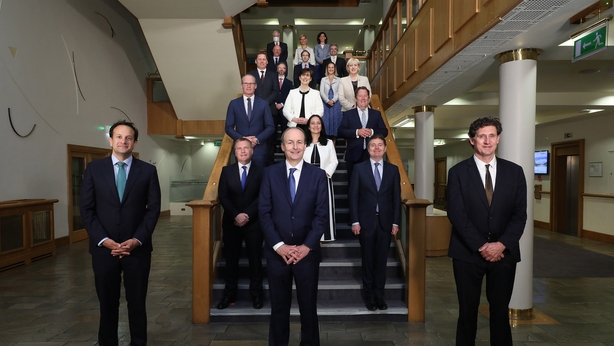 ---
Read:
Micheál Martin becomes Taoiseach in historic coalition
Revealed: new Cabinet and Taoiseach's Seanad nominees
Some TDs had to lose out as three political parties became one
---
Ministers will also go to their departments tomorrow - a big moment for new TDs like Fianna Fáil's Norma Foley in Education and the Green's Roderic O'Gorman in Children and Equality as well as a big step-up for Fine Gael's Helen McEntee in Justice.
Taoiseach Micheál Martin will meet his family in Cork city today, before returning to Dublin for his first full week holding the top political office in the country.
His family and friends did not travel to the capital yesterday because of Covid-19 restrictions.