It has been a day full of milestones for Irish politics, as Micheál Martin of Fianna Fáil was elected Taoiseach with the support of his party's historic rival Fine Gael, as well as the Green Party.
The Dáil sat from 10.30am at the Convention Centre in Dublin, an unprecedented location for the parliament which was chosen for its vast auditorium which would allow adequate social distancing.
Mr Martin was nominated by Fianna Fáil's Norma Foley and seconded by the party's 22-year-old James O'Connor - the Dáil's youngest TD.
For the first time, every Fine Gael TD voted for a Fianna Fáil taoiseach. Third coalition party, the Greens, as well as nine Independent TDs, also backed Mr Martin's nomination.
There were 93 votes in favour of Micheál Martin, 63 against, and three abstentions.
His elevation marks a historic realignment in politics as Fianna Fáil and Fine Gael for the first time abandoned their traditional enmity and partnered with the Green Party to form a new administration.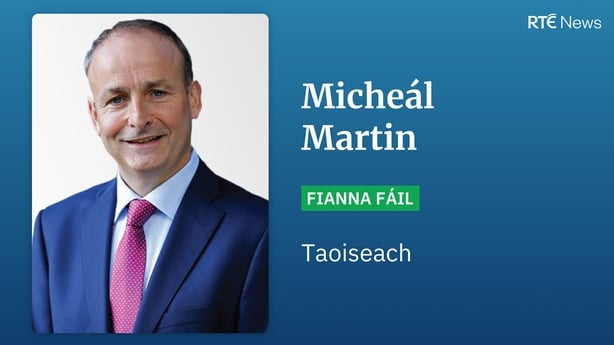 At lunchtime, Mr Martin - who was first elected to the Dáil for Cork South Central in 1989 and later held the ministerial portfolios of Foreign Affairs, Enterprise, Health and Education - attended Áras an Uachtaráin to receive his seal of office, and officially become Ireland's 15th Taoiseach.
This evening, the new Cabinet was unveiled, with six new ministers each from Fianna Fáil and Fine Gael, plus three from the Green Party. They have all received their seals of office from President Michael D Higgins at Dublin Castle.
Two so-called "super juniors" - Ministers of State - will also sit at the Cabinet table.
Priorities for new coalition
Taoiseach Micheál Martin said that the new Government's first priority is continuing the fight against Covid-19, and moving decisively to recover from its devastating social, economic and cultural impact.
In his first Dáil speech as Taoiseach, Mr Martin said that work would begin immediately on preparing an investment-led jobs and recovery initiative which will be brought to the Dáil next month.
Mr Martin, Fine Gael leader Leo Varadkar and Green Party leader Eamon Ryan will lead that process through a Cabinet sub-committee on economic recovery, which Mr Martin said would have a wider membership.
He said there was no time for quietly settling in, and every minister had a substantial role to play.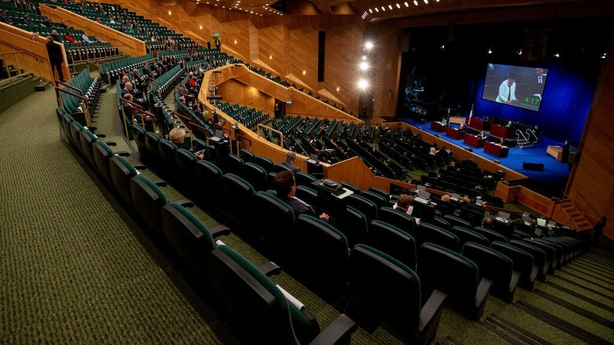 The shaping of a fair and inclusive recovery, said Mr Martin, would be an absolute priority.
"Our three parties come from very different traditions. We do not and could not be expected to agree on everything. However, we have been able to agree on core democratic principles and on a balanced and comprehensive programme," he said.
The Department of Finance will split again into two departments, one handling finance and the other public expenditure.
The Dáil was told that climate change was the defining challenge of human history, and that action on climate change would form part of the work of every part of Government.
Mr Martin said this was a challenge which must not just be overcome, but which must be turned into a new opportunity.
Taoiseach Micheál Martin outlines restructuring of some Government departments. | Follow live updates: https://t.co/CjTmfEOVQH pic.twitter.com/EnURqez8Ea

— RTÉ News (@rtenews) June 27, 2020
---
Read:
Latest politics stories
Read Micheál Martin's speech in full
New govt's 'marriage of convenience' lacks ambition - McDonald
The next chapter in politics: How today will unfold
Micheál Martin set to become Taoiseach

---
Meanwhile, Fine Gael leader Leo Varadkar said the new Government will be one of action, that would deliver the change that people demanded in the last election.
"A change not defined by one party but rather defined by the policies, priorities and actions we take as a new Government," he said.
"I believe Civil War politics ended a long time ago in our country, but today, civil war politics ends in our parliament," he said.
Mr Varadkar said the country had been through a "terrible emergency" in which many people had lost their lives, jobs had been lost and the economy upended.
He said the Government would rebuild what has been swept away and renew what has been lost.
He congratulated Mr Martin on his election as Taoiseach, and said that when a new taoiseach does well, the country does well too.
He also paid tribute to the Green Party on their return to Government, which he said was an extraordinary comeback.
Green Party leader Eamon Ryan said Micheál Martin was calm in a crisis and was good humoured and had a value of social justice at his very core.
---
Reporting: Sandra Hurley, Aisling Kenny, Maggie Doyle, David Murphy