Sinn Féin leader Mary Lou McDonald has said that should a government of Fine Gael, Fianna Fáil and the Green Party "come to be", then her party was "ready for business" and to provide what she called "the most coherent and effective opposition in the history of this State".
The final programme for government has been agreed between Fianna Fáil, Fine Gael and the Green Party.
If passed by the parties' memberships, it would see Micheál Martin serving as Taoiseach until December 2022.
The role would then rotate and Leo Varadkar will become taoiseach again.
Ms McDonald said that a government led by Fianna Fáil and Fine Gael did not represent the change people voted for in February, and was "in fact an attempt to deny that change".
Ms McDonald said that it would "continue the same broken politics that had so badly failed workers and their families".
Ms McDonald said that this "agreement for more of the same" was not the only deal possible, and that Leo Varadkar and Micheál Martin had excluded Sinn Féin from government talks and in doing so "excluded the demand for change coming from the people".
She added that grassroots members of the Green Party and Fianna Fáil knew this.
Ms McDonald said that she did not think anyone wanted a general election "in the grip of a global pandemic", but what she wanted was "Sinn Féin in government" and for the mandate of the people to be recognised and delivered on.
Ms McDonald said that she recognised many of her party's policies and "even Sinn Féin language" within the text of the agreement, but she said the real question was whether anyone believed that Fine Gael and Fianna Fáil would deliver on issues such as affordable housing and public health.
---
Read more:
Rotating taoiseach role in next government, says Varadkar
Timeline: How the government formation process unfolded
'A watershed moment in the evolution of Irish politics'
---
"The question isn't so much what is written in a very long programme for government, the question is whether or not you can trust Fianna Fáil and Fine Gael to deliver the change that is so evidently required across Irish society, and the answer to that question is that no you can't," Ms McDonald said.
Ms McDonald said they would study the document in some detail but that her initial impression was that it was very long and wordy and she said that some of it was very vague.
On the matter of Northern Ireland, Ms McDonald said you had to "wade through endless text to get to a mention" of the "national politics of developing the peace process, reconciliation and the pathway to the reunification of the island".
The Labour Party has said it welcomes the significant movement by the two main parties on environmental issues, but expressed disappointment at the lack of costings among other issues.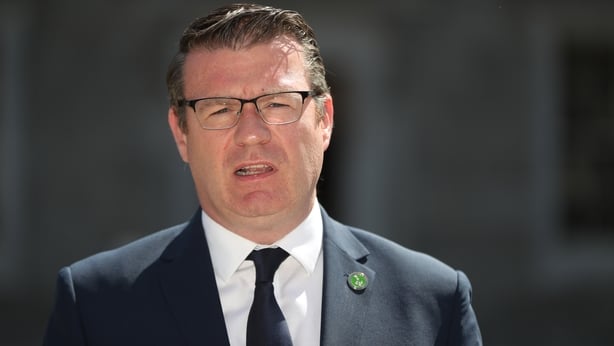 "I do welcome that significant environmental concessions have been made to the Green Party but there was already cross-party consensus on the level of action required to meet our carbon emission reduction targets," said party leader Alan Kelly.
"What has been published is full of rebranded and repackaged commitments, and the language is deliberately vague on far too many policy areas.
"I am very concerned that this is a programme for government with no costings contained within it, put together by three parties, two of which bankrupted the country the last time they were in government together," he said.
Meanwhile, the Social Democrats have reiterated their call for a clear outline of how it is intended to fund the measures included in the programme for government.
Party co-leader Róisín Shortall said: "The document has a lot of good aspirations but there are no indications of any timelines or indeed any indication of how it's going to be funded and that is the critical question - what are the financial underpinnings of this document?
"It's all well and good to have lots of aspirations but unless there is a clear timeline and identified sources of funding then the reality is the measures are unlikely to be delivered," said Ms Shortall.
Richard Boyd Barrett of Solidarity-People Before Profit said that the programme for government contained "a lot of the same or similar promises" which Fine Gael of Fianna Fáil had failed to deliver on in the past.
Mr Boyd Barrett said that the document contained "no real radical change in policy".
"Given their failure on housing, on health, on decent pay and proper job conditions for working people, I wouldn't be terribly confident that there is going to be any marked improvement from this latest programme for government from Fianna Fáil, Fine Gael and the Green Party," Mr Boyd Barrett said.
He said that this was a "PR and spin document" and he said there were some things that were "just missing from it".
"There's absolutely nothing in terms of improved pay and conditions for workers and it's pretty vague on issues like childcare," Mr Boyd-Barrett said, "but even the promises that sound good, I'd be sceptical if they were actually delivered upon".
Independent TD Michael Fitzmaurice said there was no good "knocking" the proposed programme for government.
Mr Fitzmaurice said that now was a time to sit down and read it page by page.
However Mr Fitzmaurice raised some concerns about the carbon tax. He said that there were a lot of things that farmers would have to do in relation to carbon and carbon sequestration, and he said that that would be a worry.
He said there were no real solutions in relation to rural transport, and he did not think the document contained "much in relation to balanced regional development".
However Mr Fitzmaurice said there were good things in relation to health and there were things that he would welcome, but he said "the devil would be in the detail".