Four months after General Election 2020, Fianna Fáil, Fine Gael and the Green Party have reached an agreement on a draft programme for government this weekend.
It's been a long few months with many ups and downs in the government formation process.
Here's a look back at how the process played out.
February/March
It is 128 days since the country went to the polls on Saturday 8 February.
Tight election results set the scene for lengthy government formation negotiations, but nobody could have predicted it would take this long.
The story of the election was Sinn Féin's success as the party celebrated its best ever result securing 37 seats.
Sinn Féin TDs said the party represented the change people were looking for.
In the days after the election, the government formation dance began and speculation about who would talk to whom.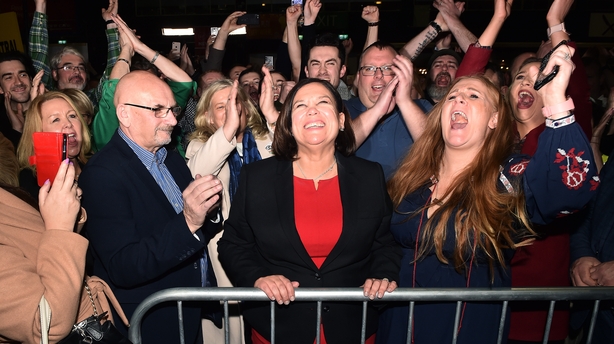 Sinn Féin's hopes of entering government were dashed, after Fianna Fáil and Fine Gael refused to join forces with the party.
Sinn Féin leader Mary Lou McDonald expressed her anger.
"I do not accept the exclusion or talk of excluding our party that represents almost now a quarter of the electorate. I think that is fundamentally undemocratic," she said.
Fine Gael Leo Varadkar insisted that it was the responsibility of parties other than his to form a government.
"I relish the challenge of leading the Opposition providing good, robust, detailed and forensic analysis to the next government.
"It's very much our view that Sinn Féin, as the largest party, the onus is on them to form a government with parties on the left and Independents."
In the weeks that followed, Fianna Fáil and Fine Gael agreed to begin exploratory talks as the Covid-19 crisis took hold and increased pressure on parties to form a stable government.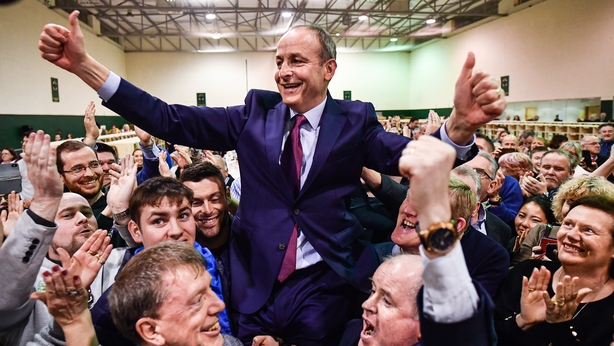 Speaking to RTÉ News, Fianna Fáil leader Micheál Martin said he was prepared to enter into coalition with Fine Gael. "Yes, depending on a programme for government that works and that represents a new direction in terms of housing, health and climate change," he said.
April/May
Smaller parties, including Labour and the Social Democrats, ruled themselves out of the running for government early on.
New Labour leader Alan Kelly said: "We'll do whatever is in the national interest but as regards a government I believe a majority government is needed for a number of years from the parties that I have just stated."
Co-leader of the Social Democrats Róisín Shortall said: "A government has to last and the parties need to be reasonably compatible in their policies. The other thing of course is that there needs to be reasonable relative strength in terms of the numbers of the parties in the government otherwise the things can fall apart."
In a historic agreement in April, against a backdrop of Covid-19, Fianna Fáil and Fine Gael agreed to leave their fractured past behind.
The two Civil War parties swapped their century-old enmity for a shared vision as they released a joint policy document.
It outlined a number of pledges on areas including health, housing and childcare.
Fianna Fáil and Fine Gael have 72 Dáil seats between them, but need more than 80 to form a stable administration.
Attention turned to the Green Party as possible kingmakers and it tentatively agreed to enter into talks but laid out 17 key demands.
These included a commitment to an average annual reduction of greenhouse gas emissions of at least 7%.
On the plinth outside Leinster House, Green Party leader Eamon Ryan expressed his hope of entering talks.
"We think it can be green, we think Europe is looking in that direction for a European green deal. We think that is where the funding, where the investment, where the money is going to be available for us to lift the country out of this incredibly severe recession that we are experiencing. So we hope it is possible for us to get into those talks," he said.
The idea of the Green Party entering government with Fianna Fáil and Fine Gael was not without its critics.
Independent TD Denis Naughten said the Green Party's target of a 7% reduction in carbon emissions annually was unrealistic.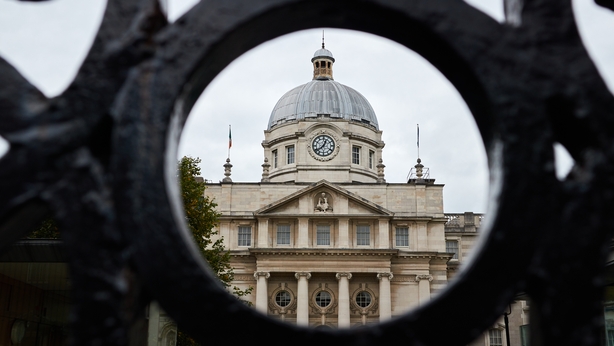 "If we actually culled every single farm animal in this country, sheep, cattle, horses and pigs we still wouldn't reach the overall target for the five years. So 7% per annum just is not attainable," he said.
Meanwhile, Independent TD John Halligan voiced his concerns.
He said: "Fianna Fáil traditionally can't stand Fine Gael. Fine Gael traditionally can't stand Fianna Fáil and both Fianna Fáil and Fine Gael can't stand the Greens so you're going to have some mismatch of a government put together."
June
After 128 days of shadow boxing and talks, finally a deal between Fianna Fáil, Fine Gael and the Green Party took shape over the weekend.
Nothing is certain in politics and party leaders will be hoping that any deal agreed will be supported by their membership.
All eyes will be on the outcome of that process, which will pave the way for a new coalition government for the next five years.