The final programme for government has been agreed between Fianna Fáil, Fine Gael and the Green Party.
If passed by the parties' memberships, it would see Micheál Martin serving as Taoiseach until December 2022.
The role would then rotate and Leo Varadkar will become taoiseach again.
The result of the vote on the programme for government by the members of Fianna Fáil, the Green Party and Fine Gael will be announced on Friday 26 June, it has been confirmed.
If passed that would mean that the Taoiseach would be elected on either Saturday 27 June or Monday 29 June in the National Convention Centre.
Fine Gael leader Leo Varadkar says a priority in the draft programme for government is around the economy, jobs and economic recovery | https://t.co/vFM9Hy33Br pic.twitter.com/grUtJzgj2i

— RTÉ News (@rtenews) June 15, 2020
Mr Martin said that his party's fingerprints are on the programme for government, and this evening the Fianna Fáil Parliamentary Party endorsed the document.
Micheál Martin described it as a constructive meeting which delivered a "strong endorsement" by the "overwhelming majority" of the parliamentary party.
A postal ballot of Fianna Fáil members will now be carried out.
Speaking heading into a meeting of the leaders of the three parties earlier, Mr Martin said that if you compared the Fianna Fáil manifesto with the programme for government there was "a lot of overlap".
However, Mr Martin said that it was collective engagement of the three parties and if a new government is formed "it has to go forward in a collective spirit as well".
"It is a detailed programme and there has been a lengthy negotiation process, so it is the sum total of three parties and all the different spokespeople on different issues coming together," Mr Martin said.
"Every party doesn't win everything", but he added that "the Green Party input was certainly there".
Mr Martin said that a number of "voices" during the meeting had reservations, and some had queries and sought clarifications.
Mr Martin said that some reservations were not necessarily about the programme for government, rather concern about the political strategy.
When asked about grassroots members who may campaign against this deal and remain opposed to going into government with Fine Gael, Mr Martin said that this was a challenge, but he felt there was an obligation to the country.
"We have a much more fragmented political system in the aftermath of this general election and we have to deal with that," Mr Martin said.
He said that he had also received messages of support from members around the country, and that the idea of putting the deal to a ballot was so that all party members could have their say.
Mr Martin added that after this evening, TDs and senators wanted to go out and engage with party members and persuade them "of the strength of this document".
When asked about an Irish Times poll that showed support for Fine Gael up 17 percentage points and Fianna Fáil down nine, Mr Martin said that he had never been governed by polls.
However, he said that we were in a very unusual and surreal situation with Covid-19, and that the government had "enormous visibility" because of the crisis, which Fianna Fáil did not have.
Mr Martin said his relationship with Leo Varadkar over the last number of weeks was "very professional" and that he and Mr Varadkar and Eamon Ryan had dealt with the negotiations and difficult issues as they arose in a "very pragmatic and constructive way", and he believed that would continue.
Asked if he ever thought he would be the Fianna Fáil leader entering into government with Fine Gael, he said "no" but he said that "politics is always full of surprises".
---
Read the final programme for government
---
Mr Martin said that there was a "good section" in the programme for government on the empowerment of local councillors and on greater support for them.
"Local democracy is important and it needs to be underpinned and that is reflected in the programme for government as well," Mr Martin added.
Earlier, Green Party leader Eamon Ryan said that "rural Ireland is going to be good at going green". 
Speaking on his way into the meeting, Mr Ryan said that the programme for government was going to be "good for rural Ireland".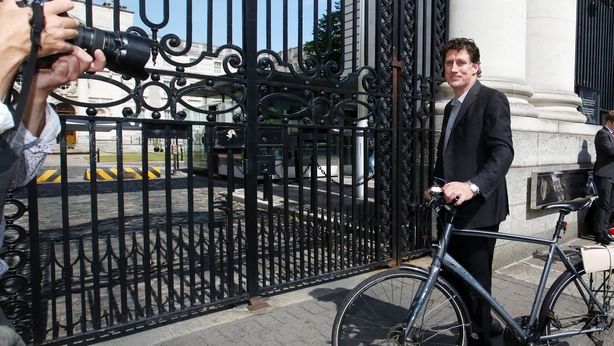 He said that it contained a lot of things which, if delivered on, would be a huge achievement. 
"You've got to actually deliver it," he added. 
In relation to the selection of ministries, Mr Ryan said no decisions had been made on this, describing it as a "complex jigsaw" that the three leaders had to work out.
This evening, the Green parliamentary party voted - by a majority - in favour of the programme for government. The vote of TDs was 9 in favour with 3 abstentions.
Confirmed - @greenparty_ie statement pic.twitter.com/MblBnjoLIV

— Paul Cunningham (@RTENewsPaulC) June 15, 2020
Fine Gael leader Leo Varadkar said he did not know what post he would assume in the new cabinet.
Fine Gael Deputy Leader Simon Coveney says the draft programme for government document was not "written for any one party" | https://t.co/vFM9Hy33Br pic.twitter.com/OtUpzM2aLr

— RTÉ News (@rtenews) June 15, 2020
Fianna Fáil won the most seats in the election with 38, to Sinn Féin's 37 and Fine Gael's 35. The Greens won 12.
Sinn Féin won the popular vote but its efforts to form a left-wing coalition government foundered, as it was unable to secure the requisite 80 seats to secure a majority in the Dáil parliament.
Speaking today, Sinn Féin leader Mary Lou McDonald said her party was "ready for business" and to provide what she called "the most coherent and effective opposition in the history of this State".
Fianna Fáil and Fine Gael, parties that have been historic foes since their formation from opposing sides of Ireland's Civil War of the 1920s, are now set to enter government together for the first time.
The Greens have been persuaded to be the third party in the coalition, thus securing a working majority, after negotiating a number of environmental concessions in the programme for government.
"This is an agreement that, from my point of view and certainly from the point of view of the country, [it] is going to be a good one and one that is very much in line with Fine Gael's values and principles," Mr Varadkar said this morning.
The document sees a plan to increase the state pension age to 67 deferred pending the outcome of a commission to examine the issue.
There will also be no increase in income tax or the Universal Social Charge in the next Budget.
The Greens have demanded a commitment to cut carbon emissions by 7% annually over the five years of the government and also a ban on the importation of gas extracted by fracking.
An earlier draft of the programme for government included a commitment to ban imports from occupied territories in the Middle East.
However, the parties did not include the pledge in the final document.
Mr Varadkar, who has continued as Taoiseach since the election, added: "It's a good package overall. Now we need to make it happen."