The General Election is to be held on Saturday 8 February after President Michael D Higgins dissolved the 32nd Dáil this afternoon.
Taoiseach Leo Varadkar briefed the Cabinet and opposition leaders this morning, before travelling to Áras an Uachtaráin to hold a short meeting with the president.
This is the first time since 1918 that there will be a general election on a Saturday.
The logic it seems is based on a effort to encourage more young people to vote and to make it easier for working families who might have to pay childcare if the election was held on a weekday.
Speaking at Government Buildings before that meeting, Mr Varadkar said now was the best time to hold an election with a deal in place on Brexit and the restoration of power-sharing in Northern Ireland.
Mr Varadkar said it had been a privilege to serve the country and as a nation we had every reason to be positive about the future.
However, he said the progress that had been made was not enough and many people do not feel the strength of the economy in their pockets or in their town.
Mr Varadkar added that many may be frustrated about progress on housing and in health.
He said: "I feel that frustration too and I look forward to sharing with the public what has been done and to focus on what can be done in the future."
Earlier, Fianna Fáil leader Micheál Martin highlighted the issues in housing and health as he reacted to the calling of the election.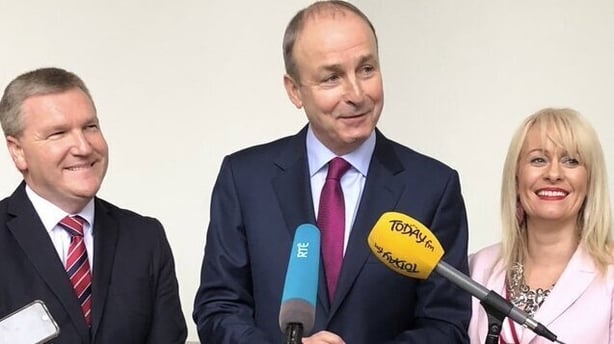 Mr Martin said "Fine Gael has failed" in those areas and he said "it clearly is time for a change of government".
"For us and the Irish people in particular this is a vital election in terms of their future because we are facing enormous challenges," he said outside Leinster House.
"Particularly in terms of housing - the inability of people to afford houses, housing prices and housing rents are simply far too high and there is a deep, deep crisis of homelessness right across every level of housing.
"In health, again, we have a very serious crisis in terms of emergency departments and in terms of people waiting far too long for operations and procedures and for out-patient departments."
It is understood that the new Dáil will be summoned on Thursday 20 February.
Minister of State with special responsibility for disability issues Finian McGrath has confirmed that he will not be standing in the election.
The Independent Alliance Minister successfully contested four Dáil elections and had been a member of the Cabinet since 2016.
The Sinn Féin leader Mary Lou McDonald has said she is confident she can retain all of the party's seats in this election but that she does not underestimate the challenge involved.
Speaking following the declaration of the General Election, she said delivering a council housing programme, the recruitment of more gardaí and nurses, ensuring people can retire on a state pension at 65 and taking on the insurance industry were among the pledges Sinn Féin would be making.
Labour leader Brendan Howlin said people were telling the party that they were annoyed at money being wasted when housing and health needed greater investment.
He said his party had a new array of exciting candidates and he predicted a double digit number of Labour TDs in the next Dáil.
---
Read More:
---
Co-leader of the Social Democrats Catherine Murphy urged people who were "dissatisfied with the approach" taken by the Government to "vote for change".
She told the same programme that her party was optimistic that it would gain additional seats in this election.
People Before Profit's Richard Boyd Barrett said people would "welcome the prospect of passing judgement" on the Government and on Fianna Fáil "for propping them up".
Solidarity's Ruth Coppinger said: "We have three major crises - in health, housing and the climate - and radical action is needed to tackle those."
Green Party leader Eamon Ryan said the next Government needed to think about "substantive ways" to change the transport system, energy system, food system and industrial system.
Mr Ryan said: "We've a good team of people, we're all over the country, we're going to give it our all."
Independent TD Michael Healy-Rae said that this election had "long been put off" and that the Taoiseach "has fudged this".
Former minister Denis Naughten said that if he is reelected, he will "talk with everyone and anyone" about the formation of a new government.