Minister for Health Simon Harris has said that extra resources have been given to a dedicated helpline to deal with a high volume of calls in the wake of the cancer screening controversy.
On RTÉ's Six One, he said that up to 40 nurses have been assigned to the CervicalCheck helpline.
Mr Harris repeated the State would pay the fees involved for any woman who wants a repeat smear test, and whose GP agrees that she needs one, as part of the reassurance process.
He said this guidance will be issued to GPs tomorrow and, once this is done, the information will be published on the website cervicalcheck.ie.
The minister said he is "mad as hell" about the information that has come to light in recent days about the controversy, and the impact it has had on women across the country.
Mr Harris said that people who were in important positions in the health service have let people down and he wants a statutory inquiry to get answers.
Meanwhile, it has emerged that a scoping inquiry followed by a commission of investigation looks set to be established into the cervical smear controversy. 
The dual approach was the preferred option following a meeting this evening between the political parties and the Minister Harris. 
It's understood that the scoping inquiry will be led by an international expert and would have a central role in setting the terms of reference for the commission of investigation. 
Mr Harris said he is happy to see Director General Tony O'Brien finish out his time with the HSE, and he expects him to put in place a structure that will provide assurances for women.
Health Minister Simon Harris has told RTÉ's Six One he is "mad as hell" over the CervicalCheck controversy. pic.twitter.com/vWaO37RSiY

— RTÉ News (@rtenews) May 2, 2018
Meanwhile, Mr O'Brien was among several witnesses appearing before a special sitting of the Oireachtas Health Committee on the cervical screening controversy.
He described the recent revelations as a "personal blow" to him, given he had started his career in Breastcheck.
"I do not have many months left in my role .. consequently I intend to devote the greater part of those weeks to addressing these issues," he said.
Mr O'Brien also said that, of the 17 women whose smear tests were the subject of a review and who have since passed away, two had the results of their review communicated to them before they died.
The numbers relating to the 208 women whose smear tests were the subject of review who have been informed remain at 46, while 162 have not been told, Mr O'Brien confirmed to the committee.
He said hospital groups were required to ensure that each of the 162 women who had not been told of the review outcome would be phoned on Monday 30 April and Tuesday 1 May and would be offered an appointment to meet the appropriate senior clinician during the week ending Saturday 5 May.
There are a further 10 cases with the State Claims Agency, the committee was told. 
Mr O'Brien said the SCA has listed 10 cases as active, with a further one potential case.
He also said he had appointed Senior National Director Damien McCallion to take charge of the National Cancer Screening Service form tomorrow, reporting directly to him.
"I will take a very close personal interest in every aspect," he said.
Fine Gael TD Kate O'Connell told Mr O'Brien that the women of Ireland had been let down by the health service - and by him.
"You said at the end of your statement that this was a personal blow to you - I'd like to make it clear that this is not about you - you are the last person this is about".
"It's about the women of Ireland who have been let down by the health service and by you".
In response Mr O'Brien said: "Of course its not about me - but when one comes in here and gives an opening statement, it is pretty much expected that one expresses one's own views".
FG's @campaignforkate -"Do you think you should continue out the rest of your contract MrO'Brien?"TOB-"Yes.I have already indicated that I intend to use the remainder of my time to focus specifically on this issue."KO'C-"With respect, its a pity you didn't focus on it before now" pic.twitter.com/UHBP2FoA7I

— RTÉ Politics (@rtepolitics) May 2, 2018
At the end of the five hour meeting of the Oireachtas committee, Tony O'Brien said he recognised that he was the head of an organisation that had made mistakes. 
But he said he didn't personally "cock up" so he would not take responsibility for it. 
He was responding to the Sinn Féin TD Louise O'Reilly who asked Mr O'Brien whether he agreed with the Taoiseach that there had been a "cock up". 
BREAKING: HSE Tony O'Brien @dghealthservice to @loreillysf -"As the head of the organisation,I have to recognise that those who cocked-up, to use the Taoiseach's phrase,were in that organisation but I didn't personally make that cock-up so I can't take full responsibility for it" pic.twitter.com/KuA5RrA4ka

— RTÉ Politics (@rtepolitics) May 2, 2018
Earlier in the Dáil, Sinn Féin Leader Mary Lou McDonald said Vicky Phelan's solicitor has described the case as a "cover up" and she is now convinced that is what we are facing by the HSE.
Ms Phelan was diagnosed with cancer three years after her smear test results of 2011 were incorrectly reported as clear of abnormalities.
By the time she had another smear test in 2014 she had cervical cancer.
Ms McDonald said that last night Minister for Health Simon Harris told the Dáil that a potentially considerable number of cases were not subject to audit and another 1,500 more women were left in the dark just as Vicky Phelan was.
She said "this is breathtaking Taoiseach. It's increasing evidence that this is not simply a case of catastrophic dysfunction.
"It is a case study of deceit of the gravest nature. Simply put Taoiseach this is a national scandal."
She said there has to be accountability and wide-ranging change in the HSE and this must start at the top.
Ms McDonald said it is the product of toxic leadership. She said that Tony O'Brien should be removed from his post.
The Taoiseach said that "in my experience cock-ups are more common than conspiracies and incompetence more common than collusion. But nonetheless we need to restore confidence in CervicalCheck."
An International cytology review will be conducted of all of the women - about 3,000 - who were diagnosed with cervical cancer since 2008, Mr Varadkar told the Dáil.
He pointed out that we should not forget the 50,000 women who have benefited from CervicalCheck. He stressed that women should not stop getting smear tests.
Ms McDonald said it was some "cock-up" that left women without information that put their lives in danger and she said that withholding of information was not accidental, it was the policy of the HSE to keep it from women and their families.
We know this because Vicky Phelan established this through the courts, she said.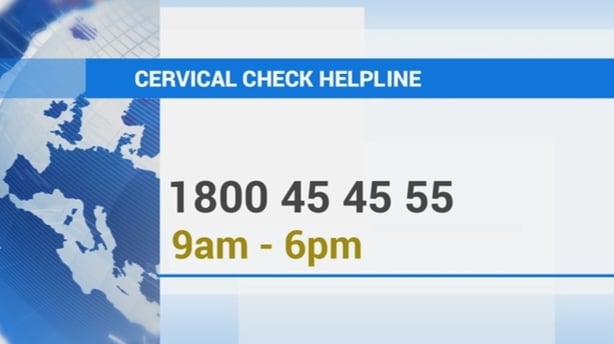 Meanwhile, Labour's health spokesperson said any inquiry into the CervicalCheck controversy led by the Health Information and Quality Authority is a waste of time, because the authority does not have powers of compellability.
Alan Kelly said a Commission of Inquiry is needed in order to deal with what is, a national scandal, adding that he is "sick and tired" of no accountability.  
Mr Kelly said that the political sideshow surrounding the CervicalCheck controversy also has to come to an end.
---
Read more:
What was minister told ahead of Vicky Phelan case?
Significant number of cervical cases not in audit - Harris
What is the CervicalCheck controversy about?
---
Elsewhere, the General Secretary of the Irish Nurses and Midwives Organisation Phil Ni Sheaghdha said the INMO was very disappointed that the CervicalCheck controversy had occurred.
She said the INMO has written to the HSE seeking guidelines for nurses to enhance the reassurance they can give to affected patients.
Asked whether Mr O'Brien should resign, she said the issue has to be dealt with but everybody is entitled to fair procedures.
She said the INMO was more interested right now in having the Statutory Inquiry do its work to find out what had caused the situation, and to put in place measures to ensure it did not happen again.
Additional reporting Fergal Bowers, Justin McCarthy and Conor McMorrow