It has emerged that more women may have been affected by the CervicalCheck controversy.
Minister for Health Simon Harris told the Dáil that new information had emerged that a number of cases of women with cervical cancer have not been audited.
It means that more than 208 women may have been affected by the controversy.
The minister said: "Whilst I had previously been advised, and it had been commonly understood that CervicalCheck clinical audit covered all cases notified to the National Cancer Registry, I have been informed this afternoon that this is not the case.
"While CervicalCheck has audited all cases notified to it, I have been informed that a potentially significant number of cases will not have been subjected to an audit of their screening history.
"These are not new cases of cancer, nor is it a group of women wondering if they have cancer.
"These are women who have already been diagnosed with cervical cancer and treated as such, but their cases have not been included in a clinical audit."
Health Minister says more than 208 women may have been affected by cervical cancer controversy pic.twitter.com/P0Pdx3snsi

— RTÉ News (@rtenews) May 1, 2018
The HSE confirmed yesterday that the majority of the women affected by the cervical smear controversy had not been told about the audits or their outcome.
It said 17 women had died although the causes of their deaths have not been established.
Tonight, Mr Harris said: "Having now identified the issue, steps will be taken to identify any additional cases of cervical cancer which occurred during this time period and which were not audited.
"The screening history of these additional cases will be established and if any of these women were screened through the CervicalCheck programme their case will be reviewed. This is an evolving situation."
---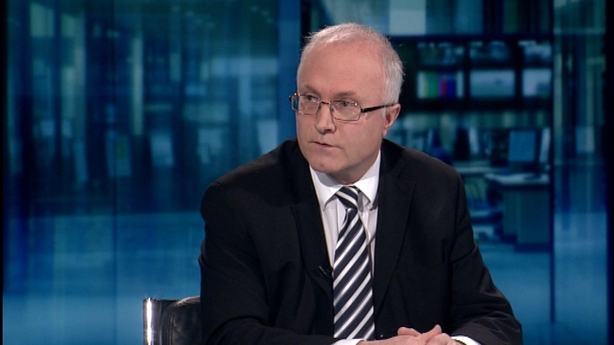 Analysis by Fergal Bowers
The exact figure of the number of unaudited cases has not been revealed.
But potentially around 1,500 cases of cervical cancer may not been audited, based on what we know now from various statements at this point.
All of these cases will now be audited by CervicalCheck.
All of these women know they have cervical cancer, they are being treated but no audit was done to see if their cancer was diagnosed in good time.
The 1,500 figure is arrived at in the following way.
Around 300 new cases of cervical cancer are diagnosed each year.
It means about 3,000 cases have been recorded since screening began in a decade ago.
CervicalCheck audited more 1,480 cases notified to its programme up to around 2014, but did not audit all cases reported to the National Cancer Registry.
In the Dáil tonight, Fianna Fáil's Stephen Donnelly asked Minister Harris if the number of women involved in the cervical scandal "could be double the number of cases that CervicalCheck has stated".
Minister Harris said he believed Mr Donnelly's figures sounded "about right", but that comes with a major caveat that he had not been supplied with any specific data.
He said these are cases that were known to the National Cancer Registry but not known to CervicalCheck.
---
Fianna Fáil health spokesperson Stephen Donnelly said "witholding of important information from patients is completely unacceptable". 
He said: "What we have seen so far is nothing short of an outrage" and has happened constitutes a breach of trust  between patients, their doctors and the HSE and it has led to widespread fear and anger across Ireland." 
Sinn Féin's health spokesperson Louise O'Reilly said it was "outrageous" that the scale of the problem was not yet known.
She said: "There are women watching us this evening that are not aware of their own medical records - that is outrageous." 
Labour's Alan Kelly described the minister's revelation this evening as a "bombshell".
"What volume of women have not had their cases audited? Are these recent? And if they are not recent, what was the basis for not selecting them in the first place from the National Cancer Register?" he asked. 
Solidarity/People Before Profit TD Brid Smith demanded accountability for what had happened. 
"Heads have to roll in this Dáil for what happened. It's not good enough to pass the buck. There is something rotten in the state of Denmark and ultimately somebody has to bear responsibility and the consequences," she said. 
Independent4Change TD Clare Daly said it was "not new" to see the State Claims Agency taking people to war and the HSE "drip feeding" information.  
"Even tonight," she told the Minister, "You have been put in the unenviable position of coming in here with new information, drip feed, reclarifying information." 
Earlier, the Government published a briefing note for Minister Harris from his department on the Vicky Phelan case.
It said the issue was not considered to be a patient safety incident, but rather a reflection of the known limitations of the current screening tests.
Ms Phelan was given incorrect smear test results and is now terminally ill with cervical cancer.
The 43-year-old settled her High Court action against a US laboratory for €2.5m last week.
The document was given to Minister Harris three days before the court case began and was published in redacted form this afternoon.
It stated that the National Screening Service and the head of the National Cancer Control Programme, Jerome Coffey, had advised the department in writing that they do not consider this to be a patient safety incident, but rather a reflection of the known limitations of the current screening tests.
It stated that the outcomes of the audits of women's smear tests were used for "educational and training purposes only" in 2014.
Two years later, it suggested that the audits were to be passed on to the women "as appropriate".
---
The 16 April memo to the Minister for Health has revealed
In 2014, the outcomes of the audits of women's smears were used for "educational and training purposes only" by CervicalCheck
In 2015, the HSE decided that the audits of women's smear tests should be passed on to the women's treating doctors
Treating doctors got these audits in 2016 to be passed on to the women "as appropriate"
The memo says the CervicalCheck test may only pick up six out of ten abnormalities and so has a high level of false negative results.
It said the National Screening Service had advised that the Vicky Phelan case was "not a patient safety incident" but rather a reflection of the limitations of testing
It said no quality issues had arisen in relation to the US lab and all the labs have to meet quality assurance standards
It said the department "is in contact with the HSE" in regard to their preparation of a press statement on the matter
Fergal Bowers
---
The matter was the main issue dominating proceedings at Leaders' Questions in the Dáil this afternoon.
Taoiseach Leo Varadkar confirmed that Mr Harris got the briefing document in the week before Ms Phelan's case was settled.
He said he was determined to establish the facts, restore confidence in cancer screening and make sure such controversies did not happen again.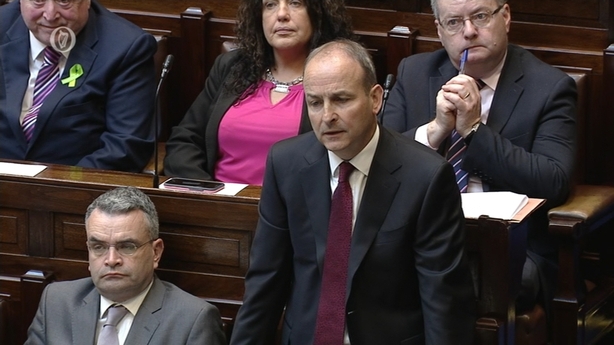 Fianna Fáil leader Micheál Martin said that some of the information in the memo was inaccurate and false.
He said it was shocking that the Minister for Health was only informed in a memo on 16 April.
Mr Martin said that somebody senior in the HSE and in the Department of Health must have known about the case.
He said the Irish public and the women of Ireland have been "genuinely shocked" at the failure to inform Ms Phelan of her false negative smear tests and the way she was forced into fighting a legal battle with the State. 
The Sinn Féin leader called for resignation or dismissal of HSE Director General Tony O'Brien.
Mary Lou McDonald said Mr O'Brien ignored advice from experts who advised that the outsourcing of screening tests to laboratories in the United States would cost lives. 
She said the government at the time was told of the dangers of this move but it went ahead anyway.
Mr Varadkar said Ms McDonald's claims were not supported by the facts and "everyone, including Tony O'Brien, deserves a fair hearing before they are condemned".
Mr O'Brien said again today he was not told about the case until he learned of it on RTÉ News last week.
Sinn Féin leader @MaryLouMcDonald  calls for the resignation of the HSE chief Tony O'Brien pic.twitter.com/IRhXAMAUEc

— RTÉ Politics (@rtepolitics) May 1, 2018
Labour leader Brendan Howlin called for a Commission of Investigation to be established.
He said HIQA had "limited power to demand production of relevant documents, no power to direct the attendance of witnesses, to direct the witnesses to answer questions or to demand or receive sworn evidence".
Mr Varadkar was also asked whether he was informed about any potential issue around CervicalCheck when he was minister for health.
"I was never informed about the outcome of any audit, but I've asked the department to check that for me in case my recollection is incorrect," he said.
---
Read more:
'No question' of CervicalCheck withholding diagnoses
What is the CervicalCheck controversy about?
What Simon Harris was told ahead of Vicky Phelan case
17 women affected by CervicalCheck controversy have died
Misdiagnosed cancer patient critical of minister
---
Meanwhile, Mr Harris brought a memo to Cabinet today outlining his plans for the Health Information and Quality Authority to carry out a statutory investigation into the cervical smear controversy.
The Cabinet meeting was the first opportunity for ministers to discuss the issue.
Mr Harris has written to HIQA to undertake a statutory investigation into the controversy.
It will be up to HIQA - after it considers the request - to set the inquiry's terms of reference and this will be done within weeks.
The Irish Patients' Association has said a mechanism should be put in place for the women affected to contribute to the terms of reference.