A look back at key moments that led to train stoppages at Iarnród Éireann.
---
Luas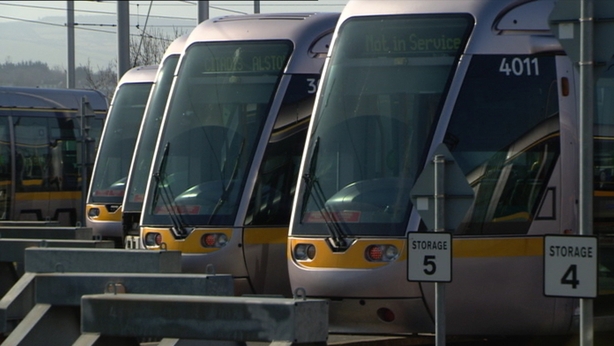 In early 2016, a four-month pay dispute by Luas drivers led to the shutdown of the tram service for 12 days.
The bitter dispute disrupted over 1,000,000 passenger journeys, and cost Luas operator Transdev €1.2m in fines, while workers lost pay.
It ended when drivers accepted a Labour Court recommendation, which included wage increases of up to 18.3% and the reversal of cuts to drivers' benefits.
Industrial observers then braced for the extent for which the Luas settlement would be relied on as a precedent for claims mounting in the CIÉ group.
The big fear in the economy was knock-on claims from others in the transport industry.
---
Dublin Bus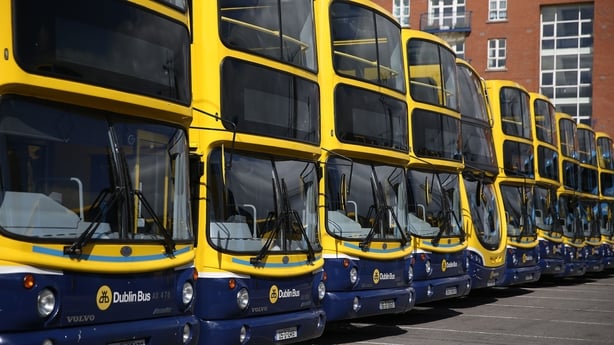 Just months after the Luas strike, a dispute on workers' pay at Dublin Bus paralysed bus services for six days in September 2016.
Further strikes were suspended pending a ballot of staff following talks between management and unions at the Workplace Relations Commission.
The deal saw staff receive pay rises totalling 11.25% over three years, which equates to 3.75% a year - around the same as the Luas deal but significantly higher than average awards elsewhere, in the private sector.
It represented a significant improvement on the 8.25% (2.75% per year) increase on offer under a Labour Court recommendation previously rejected by the workforce.
The deal was not linked to additional productivity.
But when SIPTU and the National Bus and Rail Union voted to accept the pay proposals, they warned that they still had pay claims in at other CIÉ Group companies – Iarnród Éireann and Bus Éireann.
SIPTU at the time said it would be building on the achievement of the Luas and the Dublin Bus outcomes – seeing those settlements as the benchmark as far as the unions were concerned.
---
Bus Éireann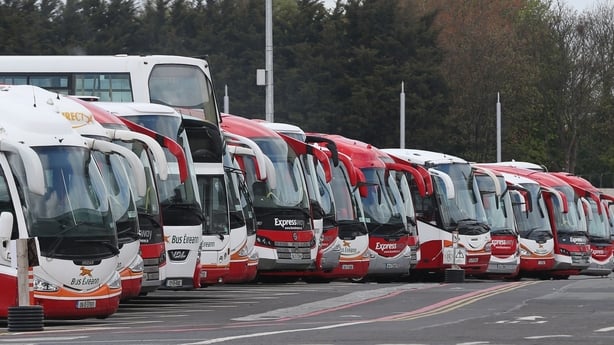 In early 2017, Bus Éireann services came to a standstill for 21 days.
A few months earlier, Minister for Transport Shane Ross had given a stark briefing to his Cabinet colleagues on the financial position of the company.
He said it was at a crisis point and if it continued as it was going it could become insolvent within two years.
As management and unions attended the Labour Court to address a union pay claim of up to 21%, Mr Ross said the company could not afford pay rises.
In stark contrast to the pay rises for Luas and Dublin Bus drivers, this dispute ended when unions accepted Labour Court recommendations which included 200 job losses, pay cuts and freezes on increments.
---
Iarnród Éireann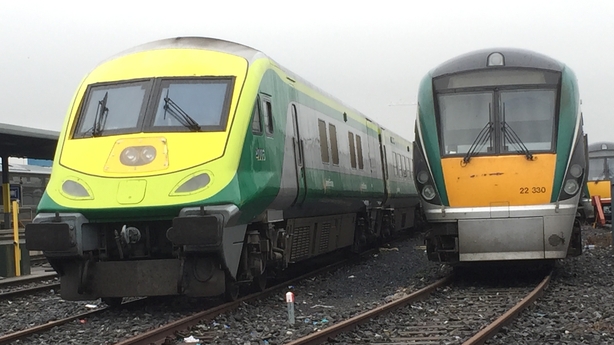 Last month, unions at Iarnród Éireann announced five 24-hour strikes after talks on their dispute over pay collapsed.
Staff who have not had a pay rise for almost a decade want a "no strings attached" increase of 3.75% per year – in line with the increases secured by Luas and Dublin bus workers.
Iarnród Éireann warned that it was "dangerously close to insolvency" and that industrial action would make matters even worse.
Management at the company have also accused the unions of rejecting a deal offering 1.75% for one year, with further improvements possible subject to productivity.
The first of five planned one-day stoppages was held last week. Others are planned for 14, and 23 November, and 8 December.
The action on 14 November coincides with the Republic of Ireland v Denmark World Cup play-off at Lansdowne Road, while further stoppages have not been ruled out if the dispute is not resolved.
The strike will disrupt the travel plans of 155,000 people and cost the company €900,000 per day.
It will hit 70,000 Dart users, 45,000 users of commuter services, and 40,000 Intercity customers.
---
Funding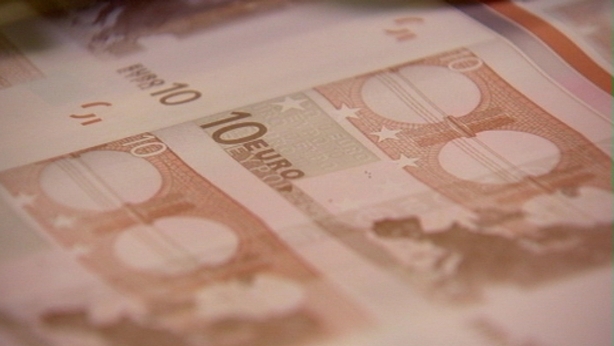 A key theme running through all these disputes in the transport sector is Government funding.
When the Dublin Bus dispute ended unions warned that the simmering dispute about the level of State subvention that goes to public transport was unresolved and that they would be continuing to campaign on that.
It is also a key issue in the Iarnród Éireann dispute with unions arguing the company is underfunded by around €100m per year. They are calling on the Government to make that funding available.
They believe that given the lack of pay increases, they are subsidising an underfunded company.
But Minister for Transport Shane Ross has previously said he will not "ride in on a white horse in shining armour" with a chequebook to solve industrial disputes.