Union representatives at Iarnród Éireann have written to the national public transport provider calling for a credible pay proposal to end industrial action at the rail company.
The Iarnród Éireann Trade Union Group has written to the Group Secretary of CIÉ saying it is "long since passed time that leadership was provided" to end the dispute.
A spokesperson for the CIE group has said that it is a matter for each subsidiary company like Iarnrod Eireann to manage its own industrial relations issues.
Will the Iarnród Éireann industrial action get worse before there's a resolution? Read more: https://t.co/4DqQDem7Pj pic.twitter.com/mVaANN491F

— RTÉ News (@rtenews) November 1, 2017
Iarnród Éireann staff are taking part in a 24-hour strike in the pay dispute, causing disruption to the travel plans of more than 150,000 people.
The first of five 24-hour strikes has shut down Dart, commuter, and Intercity rail services.
The company has written to staff, warning that each employee could lose thousands of euro in pay, if the five day-long strikes proceed as planned.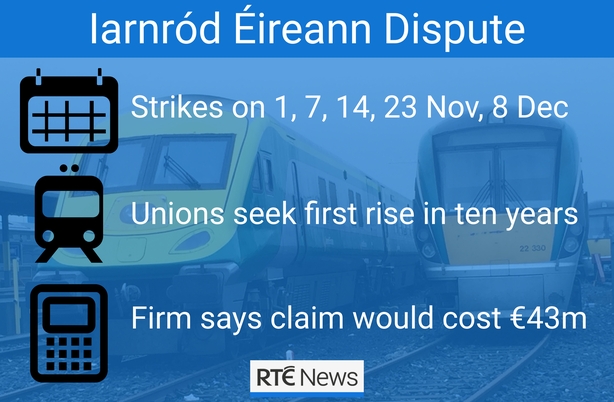 More than 155,000 people who normally travel on Iarnród Éireann services have made alternative arrangements, caught in the crossfire between unions and management in a bitter dispute over pay.
Unions say they have not had a pay rise in ten years, and want 3.75% a year with no strings attached. They have warned that strikes could drag into next year unless they get a credible rise.
They say they are effectively subsidising the company for underfunding by the Government and the National Transport Authority.
SIPTU Divisional Organiser Greg Ennis accused Minister for Transport Shane Ross of being "absent without leave".
NBRU General Secretary Dermot O'Leary said that under no circumstances were unions prepared to fund their own pay rises through productivity.
---
Read more
---
@rtenews @morningireland striking rail workers at Ceannt Station Eyre Sq Galway take to picket 5.30 am pic.twitter.com/REoN4zrWV0

— TERESA MANNION (@TeresaMannion) November 1, 2017
However, Iarnród Éireann points to its €160 million in accumulated losses and says conceding the union claim would cost an extra €43m over three years and push the company into insolvency.
Talks broke down a fortnight ago and there is no sign of any intervention to break the deadlock.
Taoiseach Leo Varadkar has said that the current rail strike will be resolved.
Speaking in Seattle where he is on a trade mission, Mr Varadkar said he was certain the strike would be resolved after an engagement with the WRC and possibly the Labour Court.
"And the deal that comes out at the end of that process will probably be no different than if there'd been no strike at all", he said.
He added that it was unfortunate that in the transport sector it appeared to be impossible to reach agreement without a strike.
"This is inconveniencing 150,000 people every day", he said, adding that it is strike that affects people who have very few alternatives.
Early start as rail passengers  take to the buses to get to #Dublin @rtenews pic.twitter.com/IwDrNc0CvT

— JennïeØSullivân (@OSullivanJennie) November 1, 2017
Four further 24-hour strikes are scheduled, including on 14 November - the day of the Ireland-Denmark World Cup playoff.
If the dispute is not resolved with five stoppages, unions are not ruling out an escalation in the run-up to Christmas.
Barry Kenny, Corporate Communications Manager with Iarnród Éireann, said the Labour Court had the best chance of resolving the dispute.
Barry Kenny, Corporate Communications Manager with Iarnród Éireann, says the Labour Court has the best chance of resolving the rail dispute pic.twitter.com/oTvfMiLOeY

— RTÉ News (@rtenews) November 1, 2017
Speaking to RTÉ News, Mr Kenny said both parties attended the Workplace Relations Commission at the request of the Labour Court.
With the WRC unable to end the impasse, he said the solution was to go to the Labour Court for a recommendation.
He also said that people who hold season tickets for rail services would be refunded in a single process once the industrial action was over.
Pickets placed at stations around country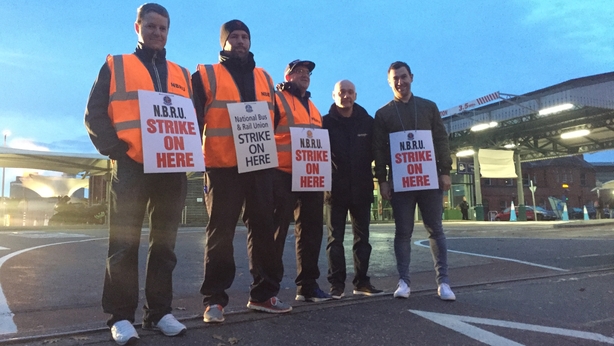 Pickets have been placed at Kent Station, the biggest railway station in the south of the country, and at the stations in Cobh and Mallow.
31 journeys to and from Dublin, with connections countrywide, have been cancelled.
Gardaí say there has been no perceivable increase in traffic due to the strike, with the lack of school traffic because of the mid-term break soaking up any increased commuter traffic.
155,000 people affected by one-day strike at Iarnród Éireann - @cian_mccormack reports from a quiet Connolly Station in Dublin pic.twitter.com/Rrqo2YcY6V

— RTÉ News (@rtenews) November 1, 2017
Extra inter-city buses have been put on, with Aircoach doubling its 7am and 8am services, while Bus Éireann says it has a number of private bus contractors on standby.
In the midlands, private bus operators have put on auxiliary services on some of the busiest routes.
Martleys Coaches, who operate daily services to Dublin from Mountmellick and Portlaoise, have provided additional buses on early morning routes.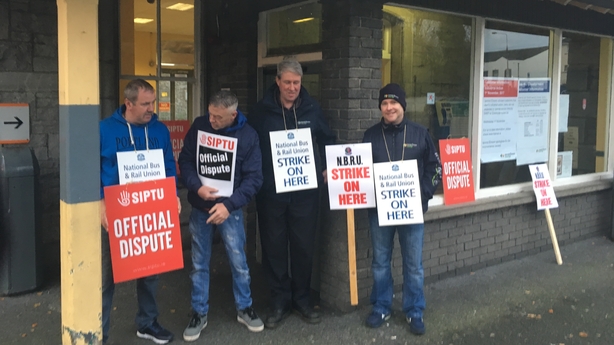 Bus Éireann services in Athlone, Sligo, Tullamore, Mullingar and Longford are all coping with extra demand.
In the west, a picket is also in place at Ceannt Station in Galway. Private coach operators in the city have reported significant increases in passenger demand.
Citylink and Go Bus both reported a surge in ticket sales over the past 24 hours.
In Dublin, AA Roadwatch reported that traffic had increased "noticeably" on some routes this morning.
However, a spokesperson said traffic levels on outer routes across the M50, such as the M3 and M4, were not any busier than usual.