The pay dispute between Iarnród Éireann and its staff has boiled over into industrial action this morning - but the economic circumstances that have led to this situation have been building for some time.
That includes increased competition from a number of sources - as well as a loss of what would have previously been some very important revenue streams.
According to Trinity College Dublin economist Sean Barrett, one of the biggest single factors hitting Irish Rail has been the rise of independent bus operators - which, in less than a decade has gone from nothing to a major player in the public transport scene.
"Cork used to have one bus a day to Dublin as a monopoly - it's 43 now and you've a choice of Bus Éireann, GoBus, Dublin Coach and Air Coach," he said. "And that's replicated right throughout the country."
According to his analysis, Galway has gone from having one bus to Dublin a day to now having 57; Limerick has gone from one to 62, Belfast from nothing to 58, Waterford 2 to 32 and Wexford 2 to 34.
"They're more frequent, their fares are typically lower and in some cases they're actually faster since the motorway network has been constructed."
However private bus companies are not the only area where Iarnród Éireann has lost out - as many of its non-passenger revenue streams have dried up considerably over the past few years.
"Previously, particularly in the early years of the century, about two-thirds of the freight disappeared in about three or four years and it's stuck now at about 1% of the market," Mr Barrett said.
"So there's nobody waiting to see if the goods from his or her factory be leaving by train today; it just doesn't happen any more.
"Also gone are newspapers, the post and parcel service called FastTrack - so railways are really losing out to road competition particularly since Mr Justice Brian McMahon opened up the bus market in a High Court decision in 2010."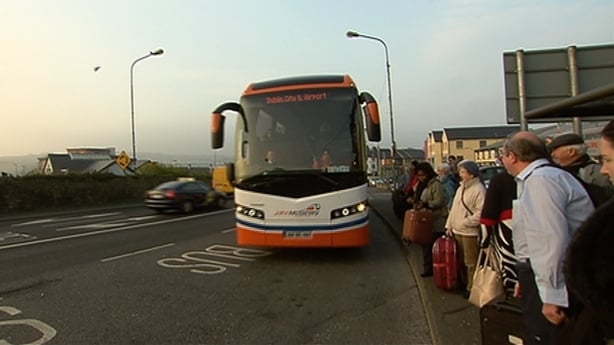 Despite that, Iarnród Éireann has managed to grow its passenger numbers consistently since the crash - with close to 43 million people making journeys via rail last year.
Mr Barrett says that they are still somewhat shy of pre-crash levels of around 45m - and the growth of rail is being far out-stripped by what is being enjoyed by bus operators.
The vast majority of those operate without a subsidy, he says, while the rail network is heavily subsidised by the Government at present.
It also suffers from an inherent lack of flexibility - with huge sunk costs coming as a result of its infrastructure.
If a particular rail route is not proving popular there is little that can be changed - however, Mr Barrett points out that a bus company can simply re-route its vehicle, or even cancel the lease on the bus altogether.
All of this makes it a difficult thing to fix, he says, meaning there is no easy answer for making rail a less financially demanding form of public transport into the future.
"It's going to be very difficult because they require quite a large subsidy per passenger and only three of the 344 routes require a subsidy at all," he said. "It will have an input from the Department of Finance and also from Industry, Commerce, Enterprise and Innovation because this is an innovation.
"Nothing has happened that I've seen anywhere else where small businesses have grown a bus business and developed majorly both inside and outside the greater Dublin area in the last two years... [Irish Rail] will find it very difficult to be flexible against these new competitors."