A freighter, which was shipwrecked off the coast of Cork last year, has begun to break up.
Recent storms have taken their toll on the wreck of the MV Alta, whose future remains uncertain.
Large sections of her portside have been torn away, decks have collapsed and mid-ship an enormous fracture has appeared on her starboard side.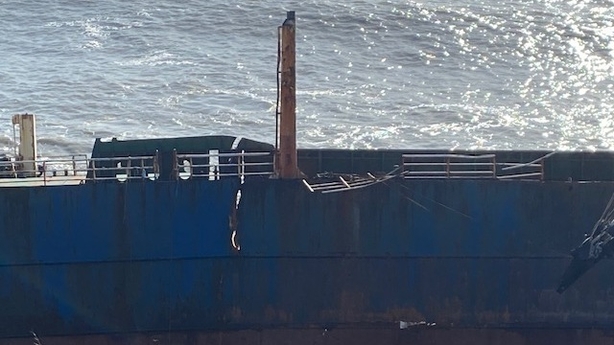 The Receiver of Wreck has confirmed that the one-year time period to claim the vessel has expired.
Despite contact being made by an individual claiming to act on behalf of the owner in the days that followed her grounding, no valid claim of ownership has been received.
The Receiver of Wreck is consulting with the National Museum, which has 30 days to decide whether or not the wreck has any value - historic, archaeological or artistic.
It the National Museum decides the vessel or any part of her has no worth, the State becomes entitled to the unclaimed wreck.
What happens next to the MV Alta will then be a matter for Minister for Transport Eamon Ryan.
We need your consent to load this rte-player contentWe use rte-player to manage extra content that can set cookies on your device and collect data about your activity. Please review their details and accept them to load the content.Manage Preferences
One year on #MVAlta - storm damage has taken its toll as a question mark still hangs over her future - large fractures mid-ship and huge sections port side have been tore away. More @rtenews pic.twitter.com/gzTKeo5Ram

— JennïeØSullivân (@OSullivanJennie) March 2, 2021
Built in Norway in 1976, she was abandoned by her crew at sea in August 2018 ahead of Hurricane Leslie.
Almost a year later she was spotted by the Royal Navy vessel HMS Protector drifting off the coast of West Africa and five months later, on 16 February 2020, she washed ashore near Ballycotton in the wake of Storm Dennis.
Cork County Council has spent over €200,000 on mitigating any pollution risk from the wreck, which lies on rocks near Ballyandrine, which is a difficult and dangerous location to access.
In the days that followed the grounding of the 77-metre vessel, some 90 oil barrels were removed by contractors. No cargo was found on board.
As recently as the beginning of this year, an inventory of hazardous materials was carried out by a team of international consultants on behalf of the local authority.
In a statement, the council said their findings will inform what the happens next to the vessel, warning it will have to seek funding from central government in the event of "a significant intervention being required."
Marine salvage and wreck experts have estimated it could cost over €10m to remove the wreck, with little or no value in its remaining metal structure.
Marine commentator and Deputy Editor of the Marine Times, Tom MacSweeney, said he believes the most likely outcome is that the wreck will remain grounded in Ballycotton.
"She will stay there, that's the most likely outcome. If you think back to wrecks like the Ranga on Slea Head (1982), the Kowloon Bridge on the Stag rocks, they all went eventually, wore away by the sea."
Mr MacSweeney said he does not believe anyone would be prepare to spend €10m on removing a 'worthless' wreck.
"Where would you take the wreck? Who would accept her? What value is that kind of metal anymore? Not a hope," he said.
Covid-19 travel restrictions have seen the numbers of sightseers visiting the wreck fall off significantly, which has been welcomed by locals.
John Morrison, a local farmer whose land lies close to the wreck, said locals have had no peace and are keen to see the vessel gone.
"I know she is breaking up, but she isn't breaking up fast enough for me because I was just hoping she would be gone out of it and we could get back to our normal lives," he said.