An 80-metre cargo ship, which had been abandoned and adrift in the Atlantic for more than a year, has run aground near Ballycotton in east Cork.
There was nobody on board and the ship is described as derelict.
The Alta was built in 1976 and was flagged in Tanzania.
A pollution risk assessment will be carried out, but given the length of time the vessel has been adrift, it is not believed to pose an immediate risk.
The Alta was high and dry on rocks at low tide at 5pm.
The crew of the Irish Coast Guard helicopter, Rescue 117, has conducted an inspection of the vessel from the air.
However, it was deemed too dangerous to put anyone on board in today's weather.
There were severe gusts of up to 120km/h along the Cork coast as Storm Dennis moved up along the western seaboard.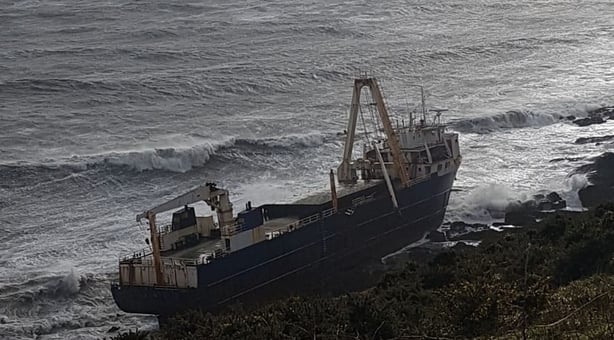 The cargo ship has a colourful history.
On 1 October 2018, a request was made for assistance in the middle of the Atlantic, 1,500 nautical miles west of the African coast.
At that stage, the ship was reported to be disabled for a fortnight and drifting slowly in a northerly direction.
During #StormDenis this 80 metre vessel 'The Alta' washed up 3 miles west of #Ballycotton. It was cargo vessel that was abandoned in South East Bermuda in October 2018.

The vessel last spotted off the coast of West Africa in September 2019 and has been wandering seas until today pic.twitter.com/6jUsdpbzy9

— Ballycotton Sea Adv (@BCSeaAdventures) February 16, 2020
She was said to have been en route from Greece to Haiti and was due to arrive in Haiti at the end of September.
The crew members were said to have abandoned ship.
The ship is reported to have been subsequently hijacked twice. On the first occasion, it was reported to have been towed to Guyana.
Two days ago @hmsprotector discovered this apparently abandoned Merchant Vessel whilst mid-Atlantic. We closed the vessel to make contact and offer our assistance, but no one replied! Whilst investigations continue we're unable to give you more detail on this strange event.🌊🚢🇬🇧 pic.twitter.com/x29sB5IF06

— HMS Protector (@hmsprotector) September 2, 2019
On 3 September last year, the Royal Navy's ice patrol ship, HMS Protector, posted on Twitter that its crew had spotted Alta in the middle of the Atlantic.
The tweet said there was nobody on board and the ship looked like she was derelict for some time.