The Taoiseach has said the Government will give strong consideration to joining any EU- or NATO-led mission to enhance the protection of undersea cables in the light of suspicions over Russian mapping of the seabed off the Irish coast.
He was speaking as he arrived at the European Political Community summit of 46 continental leaders in Moldova, which is being dominated by the war in Ukraine.
Leo Varadkar said: "We will give it deep consideration, because we are an island nation, our seas are seven times greater than our land area and going through those seas are a lot of really important infrastructure [and] communications cables that connect Ireland to the world and Europe to North America."
Given the Nord Stream gas pipeline explosion, and alleged incidents of suspicious activity involving Russia naval and research vessels off the southwest coast of Ireland, there has been a sudden focus on the vulnerability of undersea data cables connecting Ireland and Europe to North America.
Ireland is part of the EU's military cooperation policy known as PESCO.
Last month the EU approved an Italian-led project to develop new underwater assets that should give member states an edge in monitoring underwater cables.
Ireland has not yet signalled an interest in joining the project either as a full member or as an observer, but the Taoiseach has suggested that could change.
"I don't think we can protect these [undersea cables] on our own," Mr Varadkar said.
"Therefore, it makes sense for us to cooperate with our neighbours and allies, both in the European Union and under NATO to make sure that those cables are secured no matter what happens.
"But we have to know the detail of any European led cooperation on that or any NATO led cooperation before we can make a decision on whether or not to participate."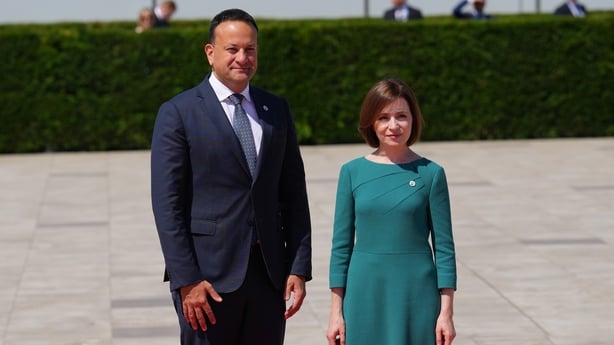 PESCO, the EU's structured defence cooperation policy, facilitates member states wishing to collaborate on defence and security issues.
The Taoiseach said that it was important to ensure that when fibre optic data cables were designed and planned, and when they were replaced, they had to be more secure than in the past.
"Another part of it is monitoring, making sure that we're able to keep an eye on vessels that pass through our economic zone," Mr Varadkar said.
"Another aspect to it is what would you do if there was information about potential interference? And how would we act?"
He told reporters: "As a small country, five million people, no matter how much we spend on our Defence Forces, our Navy, we wouldn't be able to do this on our own.
"So we do need to cooperate and that means cooperating, potentially, with NATO allies through the Partnership for Peace, which have been members for over 20 years now, or through the European Union's PESCO arrangement."
Asked if he had received specific intelligence confirming Russian naval activity around subsea cables off Ireland's Atlantic coast, Mr Varadkar said he was limited in what he could say in terms of national security.
However, he said the risk of a hybrid attack on Ireland was higher than it was in recent decades.
"We live in a different world now and security threats are hybrid," Mr Varadkar said.
"We've already had a cyber attack on our health service. We need to make sure that nobody's in a position to take down the IT systems around our critical infrastructure, like, for example, our electricity grid.
"It's fair to say that because of the instability in the world at the moment, the risk of us being a victim of an attack or collateral damage in attack, is higher than it would have been ten or 20 years ago, and we need to be realistic about that."
This is the second gathering of the European Political Community, with Moldova, a small EU candidate country hosting no less than 47 heads of government.
Ukraine's border is just 20km, and with perennial accusations of Moscow trying to destablise the country, which has a Russian-speaking minority, Moldova regards the gathering as sending a big signal to the Kremlin.
Meanwhile, Minister for Housing Darragh O'Brien told the Dáil that "there is no prejudged outcome to the consultative forum on international security policy" which the Government is convening "in three locations across four days".
Mr O'Brien said that "it's not an excuse to abandon neutrality. There's no question of Ireland joining NATO or anything like it. It's about cooperation".
He was responding to Matt Carthy, Sinn Féin spokesperson on defence, who called for historic underinvestment in the defence forces to be addressed and for a Citizen's Assembly to discuss the triple lock and neutrality.