Hundreds of people are taking part in a protest outside Leinster house to oppose the deal Coillte has done with an investor fund to buy up land and forestry.
The Save our Forest, Save our Land campaign involves more than 20 groups including community and forestry groups and opposition politicians.
The protest takes place ahead of a three-hour debate due to take place in the Dáil this afternoon.
Save our Forest Save our Land….the chant from protestors at Leinster House opposing #coillte deal with #greshamhouse pic.twitter.com/Ej4vWELFfv

— Joe Mag Raollaigh (@joemagraollaigh) January 26, 2023
The Government said it is working with Coillte to enable its afforestation ambitions.
Speaking on RTÉ's Morning Ireland, Minister for Agriculture, Food and the Marine Charlie McConalogue said the deal with Gresham House is not the planned way forward but that it has been agreed.
It will see Coillte purchase land, plant and manage forestry, while the Irish Strategic Forestry Fund (ISFF) will own the land and be able to draw down millions in establishment grants and yearly forestry premia.
The State will support the agency, Mr McConalogue said.
However, he said the deal involves just 1% of the total ambition.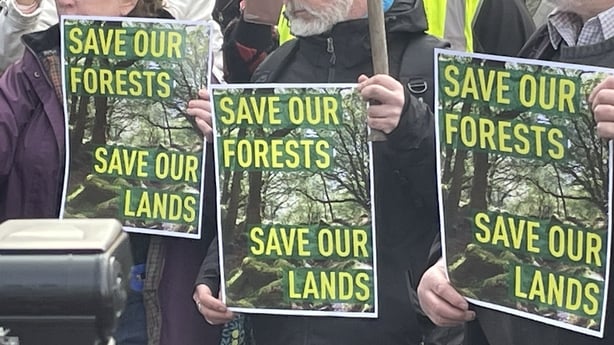 The new Government programme for forestry puts family farmers at the centre of the plan, the minister said, adding that famers are being incentivised to plant more native trees through an annual premium rate.
Forestry has a key role to play in Ireland plans to tackle climate change.
The Government's long-term ambition is to have 18% of Ireland covered in forestry by 2050, which will require the planting of an additional 450,000 hectares of trees.
Coillte will be planting on State land and exploring investment partnerships to achieve significant afforestation, McConalogue explained.
---
Read more: Coillte's controversy: A UK-based investor fund and a ministerial summons