The grieving mother of a Co Cavan teenager who died by suicide has appealed for help in having her son's image removed from an anti-vaccine publication.
18-year-old Diego Gilsenan is among 42 photos of young people on the front page of freesheet 'The Irish Light' - with the paper's editor, former journalist Gemma O'Doherty, claiming their sudden deaths were somehow linked to receiving the Covid-19 vaccine.
Mr Gilsenan's grieving mother Edel Campbell told RTÉ's Drivetime how she has not been able to sleep since learning of the publication on 26 November - which a family friend discovered "by pure coincidence" in a shop near the Gilsenan family home.
Ms O'Doherty further posted a video online on 1 December in which she held up a copy of the newspaper's front page - in front of an open van full of copies that she said were "ready for distribution in the 32 counties of Ireland".
Ms Campbell said this video made her pain worse than at any stage since her son's passing on 25 August 2021.
Mr Gilsenan's family, who said he was "adored by everyone", were never aware of his mental health issues prior to his death.
We need your consent to load this rte-player contentWe use rte-player to manage extra content that can set cookies on your device and collect data about your activity. Please review their details and accept them to load the content.Manage Preferences
"It's just turned my life completely upside down. I can't think of anything but it," his mother said.
"To think someone could use my son - and so many other children - to push the reason why she thinks they died.
"It's devastating to think someone could hate me and 41 other parents to do this to them," Ms Campbell added.
Other deaths used by the former journalist to advance her argument include the death by suicide of Sligo footballer Red Óg Murphy and the death of Galway camogie player Katie Moran in a tragic accident during a club match.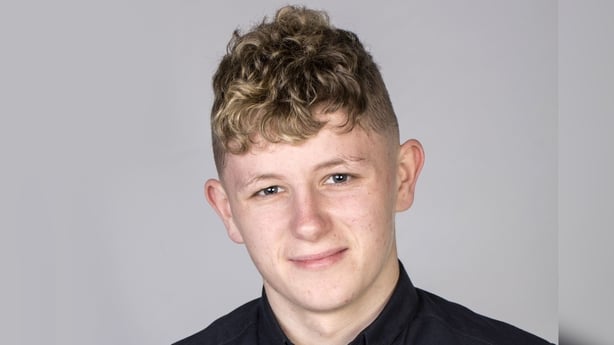 'Disgusting'
Ms Campbell said it was "horrific" and "disgusting".
"She took Diego's picture off RIP.ie and used it. She never contacted me. She never asked me. She doesn't know Diego's circumstances. I doubt she even knows his name," she said.
"What if one my children (aged 10, 11 and 13) walked into a shop and saw their brother on the front page?
"Everywhere I look it's there. She ripped the heart clean out of me again."
Ms Campbell said some people she knew queried whether the freesheet's story about her son was true.
The Kingscourt mother has also made several efforts to have the content removed online and for Ms O'Doherty to stop the paper's dissemination.
"Diego didn't deserve this, nobody deserves this"
"All I want for her is to say sorry - just to apologise to me and the other families - and take it off her paper. Take pictures of my son off all her social media. And for her to stop using him, please."
Ms Campbell said she has exhausted all avenues and now does not know what to do to stop Ms O'Doherty using her son's image as "nobody wants to listen, nobody seems to care".
"If that was your son or daughter, would you be happy about it? Would you let her away with it? It's not OK. She can't get away with this - you cannot harm 42 families and get away with it.
"The system can't work like that," Ms Campbell said.
"I know this will be online forever and that's something I'll have to live with for the rest of my life. I have had sleepless nights for the last 16 months, but more so for the last month.
"It's hard - it makes a hard situation even wore. Diego didn't deserve this, nobody deserves this," she added.
Ms O'Doherty was unavailable for comment, while a series of questions to the Irish Light's website went unanswered.
Call for legislation
Ms Campbell is also critical of the failure of social media companies to tackle content similar to that which has caused her upset in recent weeks.
She believes legislation is needed soon "before anyone else is harmed".
A spokesperson for the Department of Media said that while it cannot comment on individual cases "intrusions in our personal lives, whether offline or online, are damaging and the use of anyone's personal information, particularly children, to spread disinformation about public health matters is wrong".
The Online Safety and Media Regulation Act 2022 was recently signed into law and tougher sanctions and regulations around social media content will apply in the new year - alongside the appointment of an Online Safety Commissioner.
The Department of Justice also hopes to bring hate speech proposals into law early in 2023.