The Ukrainian President has said Russia's decision to ban 52 Irish officials from their country is propaganda that "doesn't really affect anything".
Volodymyr Zelensky was speaking during an address to students at Dublin City University at which the Ukrainian Ambassador to Ireland also said that she's not sure if the message about the shortage of accommodation in Ireland is getting through to Ukrainians.
During the event, which was organised at the request of Ukraine, President Zelensky also said the move to ban 52 Irish officials was due to Ireland's decision to support European efforts to stop what he described as Russia's "terror" in his country.
He said the decision was "propaganda" which allowed Russia to "pretend that its capable of something" in terms of diplomacy.
In his speech and questions and answers session, which last about half an hour, he also that while Ireland was neutral, it was not neutral in its assistance and its support for Ukraine.
He said he hoped that Ireland could help with the rebuilding of his country in the future.
President Zelensky also said Ukraine needs Europe to impose a new package of sanctions against Russia.
The event was attended by almost 1,000 students at DCU's Helix venue and was broadcast to students at 20 other third-level institutions throughout the country.
Among those watching were some of the 500 Ukrainians registered at higher-level in Ireland and some of the 15,000 who are pursuing further education in Ireland.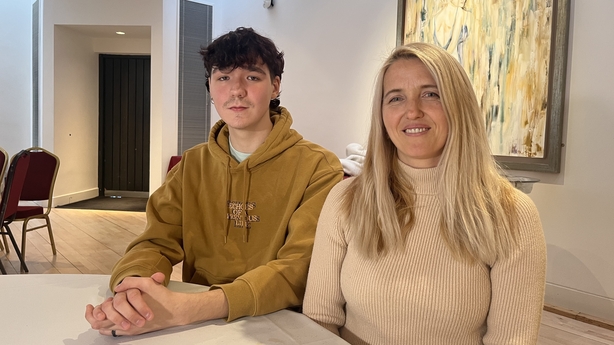 Maksym Drozdovskyi, who is originally from Lviv, Ukraine and is now living in Howth and studying Journalism at Cólaiste Dhúlaigh in Dublin said he was inspired by the speech.
"Oh he was deadly, I absolutely love him as a President and seeing him here, far away from home, is so relieving and inspiring".
Halyna Kovalchuk, who is from Ternopil in western Ukraine and who has been living in Clontarf in Dublin since March and studying English in Ireland said her President appeared strong in his address.
"I didn't note any fear in his every and he spoke very strict. He was great".
The Ukrainian ambassador to Ireland said events like the one in DCU help Ukraine to counter Russian disinformation with younger generations who she said are the future.
Larysa Gerasko also said that as winter sets in she expects more refugees to come to Ireland from Ukraine and that she's not sure if the message about the accommodation shortage is getting through.
---
Read more:
Coveney to discuss size of Russia's diplomatic mission in Ireland
Russian ambassador summoned to Iveagh House over entry bans
Ambassador told Russian behaviour 'absolutely unacceptable'
---
She said: "We started an information campaign in Ukrainian media and mass media and social media. We cannot guarantee that all Ukrainians will read the mass media because many of them, they haven't electricity and they haven't internet of course and especially those people who are fleeing the occupied territories but we are doing our best to inform Ukrainians what to expect".
The event is DCU had one light moment when a student asked President Zelensky how he was coping with the psychological pressure he was under
He smiled and said he was "perfectly normal."
"It's not pressure for me" but he said he had "different days and different moments".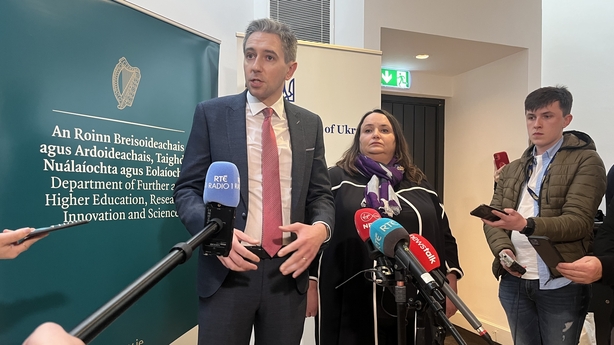 DCU Professor Politics at the School of Law and Government, Dublin City University Donnacha Ó Beacháin who introduced President Zelensky concluded the event by appealing to people to not lose interest in whats happening in Ukraine.
He said: "The world has been in awe of Ukrainians heroic defence of their homeland. But Ukraine needs allies who will help them preserve their freedom. We can all acknowledge with pride that Ireland is such an ally.
"However, Vladimir Putin's biggest potential weapon is our indifference The longer Russia's war continues, the greater the risk of apathy – that too many atrocities will make a stone of the heart. So we have to stay the course.
"If we can show a fraction of the determination, courage and heroism that the Ukrainian people have shown during these last 9 months Ukraine will prevail. As it must."
Minister for Higher Education Simon Harris described the address by the Ukrainian President to DCU as a momentous and historic occasion and paid tribute to the students who attended
He said: "Our demonstration of our outrage at the plight of Ukraine and our rejection of Putin's war against the Ukrainian people matters.
"By joining the international condemnation of the war we are sending a signal, not only to the people of Ukraine but to Putin and others who would act like him, that violence and war will not be tolerated by the free peoples of the world."