European Union Brexit negotiator Maroš Šefčovič has said he hoped the EU and UK could "turn the page" in their relations in a new era, in which Britain had a new monarch and a new prime minister.
He told a news conference in Brussels that he was "ready to work in an open, constructive, and intensive way with my new UK interlocutor, Foreign Secretary James Cleverly, in order to find practical solutions to the issues that matter most to the people of Northern Ireland".
"We need legal certainty and predictability around the [Northern Ireland] Protocol, as the protocol can bring tangible advantages in terms of business and investment.
"In fact, the 25th anniversary of the Good Friday Belfast Agreement will soon be marked. I'm convinced that while appreciating the achievements of the past 20 years in terms of peace in Northern Ireland, we could and should make the next 25 years about peace and prosperity, working jointly to encourage investments from the UK, the EU and the US and beyond."
Mr Šefčovič said: "I truly hope that the new UK government will be able to re-engage with us constructively on substance and we can turn the page in our relations."
Earlier today, Minister for European Affairs Thomas Byrne said there is a "good moment" for a reset of relations between the European Union and UK.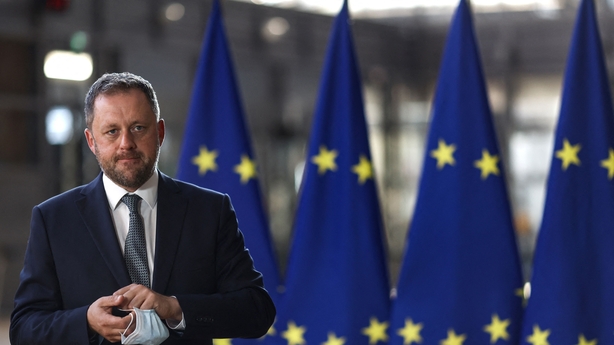 Speaking on his arrival at the meeting of EU Europe ministers, Mr Byrne said: "The European Union has shown a very open approach, and we hope that this can result in a finalisation of discussions which have been starting and stopping since last year in relation to the Northern Ireland Protocol.
"Everybody understands the need for stability, the need for certainty in Northern Ireland, and the need for excellent relations between the UK and the EU, and between the UK and Ireland."
Speaking at the Ploughing Championships in Co Laois today, Northern Ireland Agriculture Minister Edwin Poots said the European Union must behave in a way that respects the Good Friday Agreement if progress is to be made on the impasse over the Protocol.
"They haven't respected the Good Friday Agreement and whenever they wake up and realise there won't be a government in Northern Ireland while they show that disrespect to the Good Friday Agreement, and take down the barriers between Great Britain and Northern Ireland, then there will be real progress happening," said Mr Poots.
Mr Byrne also said Ireland was open to changing the EU's treaties, but cautioned against a fresh discussion on changing EU rules in the sphere of foreign policy.
Ministers will discuss a proposal to remove or limit the unanimity rule in foreign policy discussions as a way to prevent one or more countries from blocking sanctions packages against Russia.
Currently, the EU's foreign policy decisions are reached through unanimity, meaning every member state can wield a veto.
Hungary has increasingly been using its veto to limit or frustrate EU policies on Russia following its attack on Ukraine.
Last week the Hungarian government, which has maintained the closest relations with Russia's Vladimir Putin, blocked the EU from calling for a UN Rapporteur on human rights violations by Russia in Ukraine.
While there are discussions about moving some areas of foreign policy to what is called Qualified Majority Voting (QMV), some member states are said to be considering greater use of so-called passarelle clauses, which allow capitals in certain circumstances to circumvent the unanimity rule without Treaty change.
However, Mr Byrne argued against a prolonged discussion on changing EU rules.
"Ireland has always said we're open to treaty change, we're open to examining all of these issues, but quite honestly our priority is to make sure our people can stay warm for the winter at a reasonable price and that we can keep the lights on right across Europe, and that has to be our solid focus," he told reporters in Brussels.
"If we get sidetracked into issues of procedure, issues of inter-institutional relations our citizens won't thank us for that."
He added: "We have extraordinarily broad sanctions against Russia. Yes, it has been difficult at times. Make no mistake, if we're to start having a discussion on QMV at this moment it will have no impact on sanctions discussions over the coming months.
"It will be a procedure that will take a long time and would distract us from very important issues that are at hand."