President Michael D Higgins has criticised the international "monetisation" of food at the opening day of the National Ploughing Championships in Ratheniska, Co Laois.
A veritable tented city has been constructed on the 900-acre site over recent weeks, with 1,700 trade stands fully stocked and staffed, along the site's 37km of trackway as the event returns for the first time since 2019.
Ploughing competitions, trade stands, livestock, food and fashion all feature in this year's event.
The event was officially opened by President Higgins, who said it is very important to be protective of farming in Irish society.
He said there is an opportunity to revive rural towns and criticised "services who have departed Irish rural towns having been supported by generations of Irish people".
Mr Higgins was also strongly critical of the international "monetisation" of food.
The UN avoids dealing with the structural issues behind food crises year after year, he said, and said in 2020 food was allowed on to the futures markets of the stock exchange.
"We speculate on the food that is necessary to stop people starving, we have allowed incredible dependencies on three crops, wheat, maize and rice."
He said we refuse to face facts about a small number of companies controlling fertiliser from Russia and the supply of grain from Ukraine.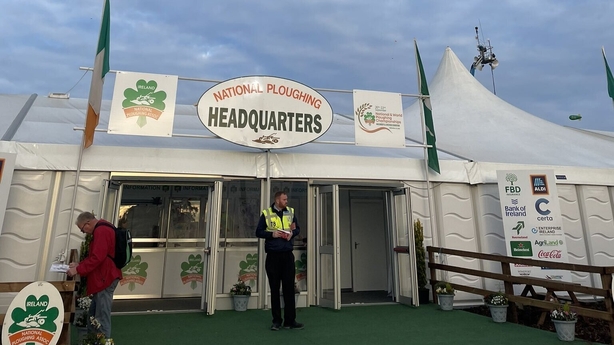 Up to 300,000 people are expected through the gates over the three days of the event.
Gardaí have appealed to drivers to follow signage and colour-coded routes when travelling to the venue, and not to follow directions on satnavs or other in-car navigation devices.
After a Covid-19 intermission, 'the ploughing' is set to be an unrivalled exposition of farming, agribusiness and rural life.
Traditionally, the event has allowed farmers and rural people to come together and relax, catch up with friends and reflect on life and the state of Irish agriculture at the end of the summer.
We need your consent to load this rte-player contentWe use rte-player to manage extra content that can set cookies on your device and collect data about your activity. Please review their details and accept them to load the content.Manage Preferences
Northern Ireland Agriculture Minister Edwin Poots spent a couple of hours at the Ploughing Championships, meeting with Minister for Agriculture Charlie McConalogue and members of the public.
Taoiseach Micheál Martin said it is "a significant day," since the event "reflects the central role that agriculture, farming and food production has in our country, at the heartbeat of rural Ireland".
Mr Martin said the sector is also "a significant contributor to food security across the world, in a very uncertain world".
He added that the return of the ploughing "is a further sign that we're coming out of the pandemic in a robust and resilient way, notwithstanding the very severe pressures brought about by the war in Ukraine and the cost-of-living crisis".
Managing Director of the National Ploughing Association Anna May McHugh said it means a lot to be back after three years, adding that people have missed the event.
Speaking on RTÉ's Morning Ireland, she said the support from the patrons and exhibitors has been enormous.
"We have about 1,700 exhibitors. The variety is tremendous," she said.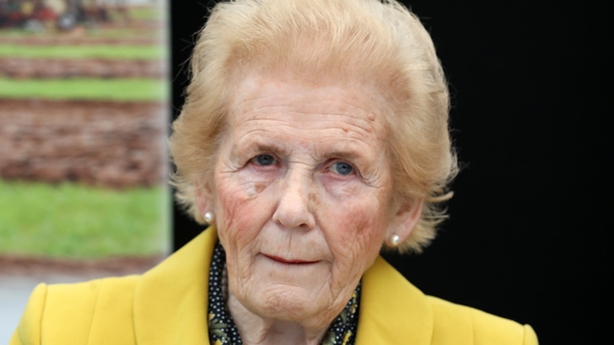 Ms McHugh said the growth of the event was never anticipated, adding that it has gone "beyond all expectations".
Inflation and conflict adding to farmers' concerns
Speaking on the same programme, IFA president Tim Cullinane said there are always challenges for farm families but that the war in Ukraine as well as rising inflation were adding to concerns.
There is huge debate around energy recently and the new energy support scheme, he said, which he added excludes agriculture. This, he said, he "can't understand".
"We should be included in that scheme, I think it's a massive mistake by our Government to exclude farmers from them."
ICMSA president Pat McCormack said in the upcoming budget it is "absolutely critical that there's fairness for the primary producer ... and around the energy support scheme".
---
Read more: Inflation, CAP and Budget 2023 a cause for concern at 'The Ploughing'
---
He said farmers want acknowledgment that the dairy sector is a "huge contributor to the stimulation of rural economies." But the ability to competitively produce milk is going to be hit by rising costs, he said.
"So, there's a huge degree of anxiety out there. There's a huge degree of frustration out there as well about the way farmers were perceived in the public domain over the last six-month period."
"We've become the villains of the nation," he said, adding that farmers are not responsible for that perception.
"There's a challenge out there and agriculture can be part of the solution. But the opinion that's out there is that we're 100% the problem".
Minister for Agriculture Charlie McConalogue has said he is engaging across government to ensure a package of supports for farmers.
He said that farmers need to be paid for the work they are doing, adding that there have been increases in prices paid across most sectors of agriculture this year.
However, he acknowledged that much of this has been eroded by the increase in cost pressures for farmers.