Taoiseach Micheál Martin has said he sees the election of Liz Truss as leader of the British Conservative Party, and her confirmation tomorrow as British Prime Minister, as an opportunity to reset the relationship between Britain and Ireland post-Brexit.
Speaking in Cork, Mr Martin also said it was an opportunity to reset the relationship between the European Union and the United Kingdom.
"There is an opportunity there. We are hopeful that that opportunity will be taken up," Mr Martin said.
He said all sides should do everything they can in the coming weeks to break the deadlock between the EU and the UK over the Brexit protocol, adding that it was his "earnest wish" that progress would be made on that front.
The Taoiseach has said he sees the election of Liz Truss as an opportunity to re-set the relationship between Britain and Ireland post-Brexit. "There is an opportunity there. We are hopeful that that opportunity will be taken up," Micheál Martin said. @rtenews pic.twitter.com/ficKCIFX2B

— Paschal Sheehy (@PaschalSheehy) September 5, 2022
Mr Martin said he looked forward to engaging with Liz Truss as Prime Minister "in the next coming while", to get a process in place to facilitate the resolution of the outstanding issues over Brexit.
"It's extremely important that we do that," Mr Martin said.
Asked if he expects a different approach under Ms Truss, Mr Martin said he would have to wait and see.
"This is not about personalities and individuals, it is about serious issues between Europe and the UK and the relationship between Ireland and the UK," he said.
He said the spirit in which the government here is approaching the coming period is a constructive one.
He said earlier he was looking forward to working with Ms Truss, "as PM of our nearest neighbour, on important issues we face together, both bilaterally and globally."
Congratulations @trussliz on your election as Conservative party leader.

I look forward to working with you, as PM of our nearest neighbour, on important issues we face together, both bilaterally and globally.

— Micheál Martin (@MichealMartinTD) September 5, 2022
Minister for Foreign Affairs Simon Coveney said he was hoping for a "change in the direction for travel" in relations between Ireland and Britain.
Speaking on RTÉ's Morning Ireland, Mr Coveney also said he does not expect Ms Truss to trigger Article 16 of the Northern Ireland Protocol.
"The honest answer to that is no. Liz Truss has had the opportunity to trigger Article 16 before and she hasn't done it.
"She has of course instead pursued this route of unilateral legislation, which is even more problematic than triggering Article 16," he said, adding that the "last thing we need now is another election in Northern Ireland," which would be "potentially more polarising" than the election earlier this year.
"Leaders across the EU want to improve their relationship with the British prime minister because we've been through a period of some strain," Mr Coveney said.
He said he has known Ms Truss for "a long time", and said she is "a talented, very energetic politician. She is going to be the next prime minister and we will work with her".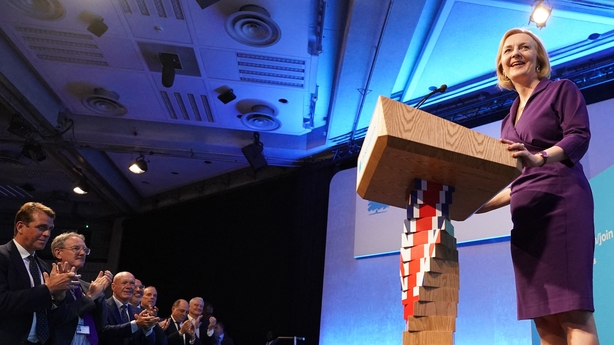 ---
Read More:
Liz Truss wins Tory poll and will be next UK Prime Minister
Tough challenges for Truss, but people are worried
Treading an unconventional path to No 10 - Truss has a Herculean task ahead
---
He added: "From an Irish Government perspective, we will be very busy working to improve relations between Dublin and London."
Sinn Féin leader in Northern Ireland Michelle O'Neill said the first task for Ms Truss as prime minister should be to work to restore the Northern Ireland Executive and Assembly "so we can help people who are struggling with rising costs".

Ms O'Neill said that: "Sinn Féin is ready to form an Executive today to put money in the pockets of workers and families and invest an extra £1 billion in our health service.
"Liz Truss should stop feeding the DUP's ridiculous boycott of government, she should end her sabre-rattling and reckless threats to break international law and get back to the table for talks with the EU to find solutions and give certainty to our businesses.
"The fact that she is the fourth British prime minister in ten years, is a reminder that the Tory chaos at Westminster has failed ordinary people and put its own interests first.
"We need a change of tack from this British government. One that honours international agreements and respects the outcome of the Assembly election in May when people voted for real change."
DUP says 'firm action' needed
DUP leader Jeffrey Donaldson said he wanted to see Liz Truss deal with the Northern Ireland Protocol as a priority.
He said he had already written to the incoming prime minister setting out what his party believed her priorities should be.
He said: "Chief among those is taking forward the bill which will provide a basis for a solution to deal with the protocol, to remove the barriers to trade between Northern Ireland and Great Britain, to fully restore Northern Ireland's place within the UK internal market.
"We have seen recently the consequences, yet again of those barriers to trade with 25% tariffs on steel products moving from Great Britain to Northern Ireland, all of that has an impact on our economy.
"This is the consequence of a protocol which harms our economy, which drives up the cost of living in Northern Ireland every day, adding to the cost of food and other products in our supermarkets."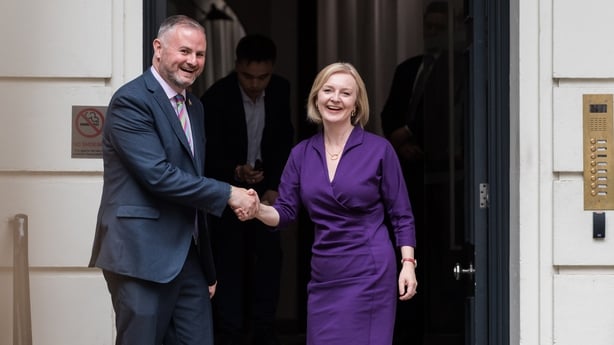 SDLP leader Colum Eastwood said there will be no honeymoon period for the new prime minister as the cost of living crisis continues to hurt families, pay disputes mount and the absence of an Executive in Northern Ireland builds pressure on public services.
Colum Eastwood said: "This must also be a moment for a change in policy toward Northern Ireland. The age of prime ministers dancing to the tune of the DUP must now be over.
"Sabre rattling with the European Union must give way to honest dialogue in the interests of all our people. And there must be a return to the politics of consensus through the restoration of devolved government. These will be early tests of the integrity of the new prime minister."
Ulster Unionist Party leader Doug Beattie said he wants to see Liz Truss opt for negotiation with the EU and not confrontation, saying the protocol bill going through the British parliament won't fix the issue.
In a message to the incoming British prime minister, the European Commission said they would be expected to honour the Northern Ireland Protocol in full.
Commission spokesman Eric Mamer said Brussels' position on the protocol had not changed "one iota".
Speaking in Brussels he said: "We are always looking for new beginnings. Obviously anything that can help move forward in our relationship with the United Kingdom will be very welcome.
"As to what we expect it is very clear, it has not changed one iota: We expect the full implementation of the Withdrawal Agreement, the Trade and Co-operation Agreement we have signed and, of course, the Irish and Northern Irish Protocol."
The British Irish Chamber of Commerce urged Liz Truss to reset UK-Irish relations and revive the EU-UK negotiations, in the wake of her election as new Tory Leader.
Paul Lynam, Director of Policy of the British Irish Chamber of Commerce, said: "With businesses on both sides of the Irish Sea operating at a time of great uncertainty and unprecedented challenges, the Chamber and its members now urge the incoming prime minister to seize the opportunity to reset UK-Irish relations and provide much needed clarity for business communities."
Additional reporting: PA