After 42 years, Gearóid Grant conducted his final concert with the National Youth Orchestra of Ireland before stepping down yesterday evening.
He began conducting the orchestra in 1980 and generations of young musicians have learned from him.
After two-and-a half years of pandemic hiatus, the 115-strong orchestra played three venues over the weekend, which served as a final farewell to the conductor.
Last night, former members, tutors, colleagues and parents going back over four decades joined Mr Grant at the National Concert Hall to celebrate with him.
During the tour, the orchestra performed at The Tinteán in Ballybunion, Kerry, on 5 August, WIT Arena in Waterford on 6 August and the National Concert Hall in Dublin last night, with a full symphonic programme, including works by Tchaikovsky, Sibelius and Anderson.
Mr Grant has been musical director and conductor of the Rathmines and Rathgar Musical Society since 1978.
He devised, presented, and conducted the Irish Times series 'Music in the Classroom' and has also worked with all the RTÉ orchestras and the Ulster Orchestra and the Irish Chamber Orchestra.
Former students described him as a force of nature and an inspiration to generations of young musicians in this country.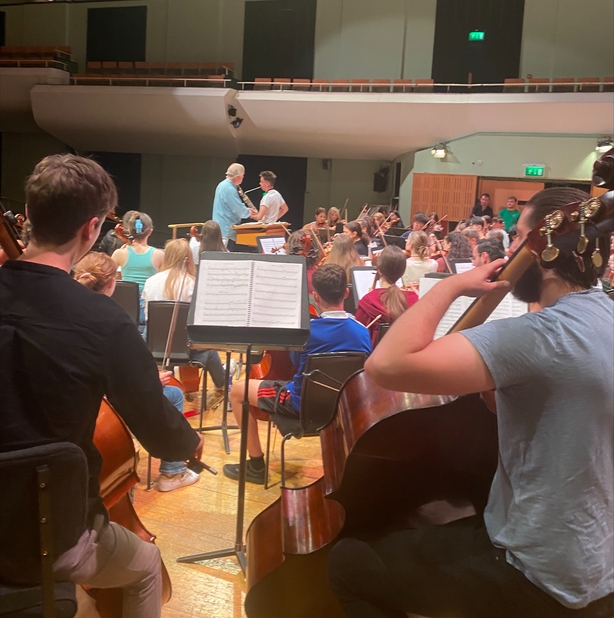 "He was a conductor who refuses to see the players as children - he sees them as professionals and treats them accordingly," said NYOI manager Eimear O'Brien.
"It's hard to find a professional musician in this country who hasn't come through the National Orchestra and worked with Gearóid Grant."
Ahead of his final performance with the NYOI, Mr Grant was relaxed and cracking jokes and said he is looking forward to the next chapter of his life and spending more time with his grandchildren.
Numerous gifts were presented to after the final rehearsal by students and staff members of the orchestra, including a golden cast of his hand holding a baton.
Some of the young performers also said they would be working extra hard and playing their best, knowing this was his final concert.