The number of people in Ireland vaping is on the rise, with new research also indicating the average age of young people starting to vape is between 13 and 15.
Katelyn Benson, a contributor with the youth information website SpunOut, said the youngest vaper she has heard about is an eight-year-old child.
This is a more unusual case however as, according to her, and to researchers from the Irish Tobacco Free Research Institute, younger people usually start vaping at secondary school at around 14 or 15.
"They're just going in, vaping in the bathrooms blowing away the smoke and then coming out and the teachers can't say anything because there's really no smell," she said.
"A lot of vapes are disposable so after a certain amount of drags from the vapes, you can just throw them away, which means that a lot of them can actually do them in secrecy without their parents knowing," she added.
There are other things about vapes that attract teenagers.
According to Ms Benson, they taste a lot like sweets and are not as expensive as a standard packet of cigarettes.
Vapes also have really colourful packaging and each vape has its own colour.
Vaping amongst teenagers increased from 23% in 2014 to 39% in 2019, according to research carried out in secondary schools by the Irish Tobacco Free Research Institute.
Director General of the institute Luke Clancy said the main reasons the teenagers gave were curiosity and because their peers smoke.
"The time of teenage smoking has reversed in Ireland and we think that the influence of e-cigarettes in that is likely to be great," he said.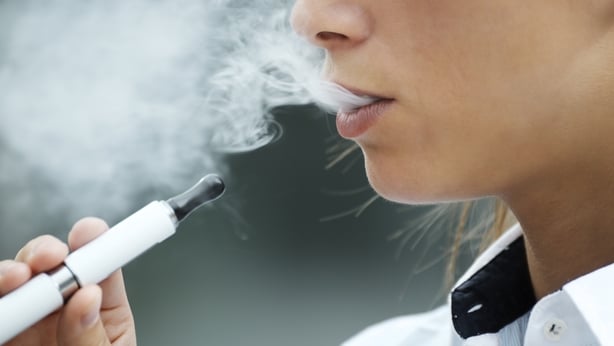 Nearly 70% of the teenagers that participated in one of their most recent surveys said they had never used tobacco products before trying e-cigarettes.
Vaping poses a number of possible dangers to teenagers, according to Professor Clancy.
"Developing brains – immature brains – are affected adversely by nicotine, no matter what the strength is. Nicotine acts directly on the brain and with immature brains has a deleterious effect on them," he said.
Prof Clancy also warned of the dangers of inhaling flavours.
"It's: 'Oh well strawberries, they can't be doing any harm'. They can't if they're eaten but they can if they're sucked in, or smoked in or vaped into your lungs - and the consequences are unknown and they may well be directly harmful to the lungs," he said.
Age restrictions and a more informed perception of the risk vaping products could pose are among the solutions he proposes for dealing with teenage vaping.
Head of Addiction Services at Saint John of God Hospital Colin O'Gara said there is a psychological reason behind the trend.
"Teenagers have been exposed to new behaviour ultimately and whenever there is a new behaviour, I think teenagers will be curious and will want to take part in that," he said.
"In Ireland, we have a combination of lack of regulation and availability, and natural teenagers' curiosity which, in my view, has led to an increase," he added.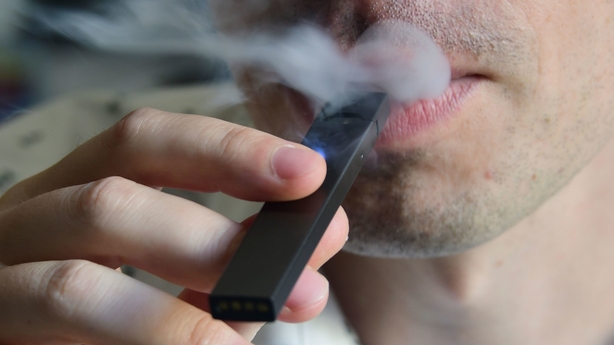 The Government is currently drafting a Bill which aims to prohibit the sale of nicotine-inhaling products to minors.
Earlier this summer, an Oireachtas Committee recommended a ban on flavours and bright packaging, a move Vape Business Ireland, a trade body which represents vape shops, said will delay the crucial under-18s ban on vaping products.
VBI spokesperson Eoin O'Boyle said it has been calling for a ban on all underage sale to young people since 2015.
When it comes to the proposed ban on all flavours with the exception of tobacco, Mr O'Boyle said it would be his preference to keep those products as a tool for those looking to quit, "just not on display as much as other products".
Mr O'Boyle said packaging and advertising is heavily controlled in Ireland and the EU.
"We have pretty much no advertising allowed in vaping products in general media or social media or paid advertisements," he said.
Despite these restrictions, vaping videos feature prominently on platforms like TikTok where the hashtag '#vape' has more than 10 billion views, suggesting social media is playing an important role in the promotion of vaping here.
"A lot of celebrities that young people would look up to, a lot of them are really caught onto vaping and stuff, so I think that social media has a massive influence," Ms Benson said.
"It's kind of seen nearly as like a norm for young people, and I think the Government needs to tackle the issue because it's something that's genuinely becoming more of an issue over time," she added.