Farmers are to be asked to reduce carbon emissions by 25% by 2030, compared to 2018 levels, under new Sectoral Emissions Ceilings announced by the Government today.
The Minister for Agriculture, Charlie McConalogue, told RTÉ's Prime Time that no farmer will be forced to cut their herd as a result of the carbon emission reduction plan.
He denied that 25% agriculture sector target would entail a 13% decrease the beef herd and 11% in dairy cattle, as reported in the Irish Farmers Journal.
The minister said that he had already worked with farm organisations on a "detailed plan" for a 22% reduction in emissions.
He vowed to continue to work with farm representatives to figure out how to "stretch" that plan to a 25% reduction.
Mr McConalogue said farmers will be able to make a significant contribution to energy supplies, in areas such as solar and biogenic methane.
This could contribute 15% of Ireland's national gas requirement by the end of the decade.
The minister said that he would work to put measures in place to improve farm family incomes and back work to reduce emissions.
Earlier, he told a press briefing: "This 25% target reflects a very challenging but achievable ambition for the farming sector."
Minister for Agriculture Charlie McConalogue has said the decision to agree a 25% target for emissions reductions in the agriculture sector reflects a 'very challenging but ultimately achievable ambition for the sector' | Read more: https://t.co/lSeM86elvw pic.twitter.com/gprvkOal3y

— RTÉ News (@rtenews) July 28, 2022
The Irish Farmers' Association had warned the target was a "potentially devastating blow for Irish farming and the rural economy".
Minister McConalogue said: "Our Ag-Climatise roadmap will be updated as soon as possible, which will incorporate new recommendations from the Food Vision Dairy and Beed committees.
"The sector needs a clear roadmap going forward and my ambition is to progress this process this autumn."
He added: "I have already configured our supports, such as the CAP strategic plan and support in areas such as for Low Emissions equipment and for on-farm energy production towards achieving these targets. This will continue and farmers will be supported in their ambition."
We need your consent to load this rte-player contentWe use rte-player to manage extra content that can set cookies on your device and collect data about your activity. Please review their details and accept them to load the content.Manage Preferences
---
Read more:
Explainer: The changes sought to tackle climate change
IFA warns of 'potentially devastating blow' to farming
'The worst news I have heard in 49 years of farming'
---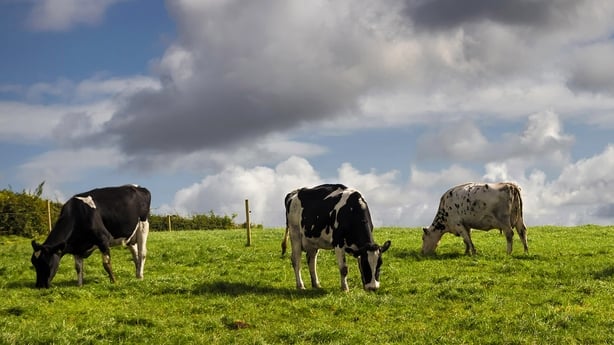 Finalising the Sectoral Emissions Ceiling for the Land-Use, Land-Use Change and Forestry (LULUCF) sector has been deferred for 18 months to allow for the completion of the Land-Use Strategy.
Mr McConalogue said: "This decision has not been taken lightly, but reflects the complexity and uncertainty associated with the quantification of emissions arising from this biological system.
"I have invested heavily through the National Soil Carbon Observatory and the Soil Sampling scheme in better knowledge of what is happening across our soils."
The Land-Use strategy will include an examination of the latest developments in scientific knowledge relating to the sector's emissions.
A new Anaerobic Digestion for Nature programme will be a key part of this.
'25% agricultural cut is a kick in the teeth'
The Rural Independent TDs group described the Government's decision to mandate farmers to cut agricultural emissions by 25% by 2030 as a "real kick in the teeth".
Group leader Mattie McGrath said: "It will, as we have consistently warned, lead to a cull of the national cattle herd at a time when other countries are drastically increasing herd sizes.
"For instance, Brazil plans to increase its national herd by 24 million cattle or four times the size of Ireland's total herd size by 2030."
He added: "The full-frontal attack on the rural way of life by this government, dressed up in glossy climate change lingo and without any consultation, is callous and cruel."
Sinn Féin spokesperson on Climate Action Darren O'Rourke said the Government needs to move away from the "divisive, punitive approach to climate action to have any hope of achieving emissions reductions".
The Meath East TD also called on the Government to honour its commitment to publish all of the analysis which informed the ceilings negotiations.
Social Democrats TD Jennifer Whitmore said the deal was a "shocking lack of leadership by Government and clearly demonstrates they are not prepared to, or capable of, making the tough decisions required to deal with climate change."
People Before Profit TD Bríd Smith said the 25% ceiling for farming was an "enormous blow to the climate goals and environmental movement in this country".
"This figure is not in line with the science or Paris.
"This Government was failing to address the climate crisis before this fiasco and it is clear now that it won't and can't take the radical measures we need."
Farmer Padraig Mulligan milks 700 cows at his farm in Templeboy in west Sligo. He said the news today about a 25% reduction in emissions is "the worst he has heard in 49 years of farming".
Mr Mulligan said the impact will mean he will have to reduce his herd by at least 150.