The Climate Action Plan allocates €125bn to cut emissions of greenhouse gases (GHGs) by 51% by the end of 2030.
The main GHGs are carbon dioxide (CO2), nitrous oxide (N2O) and methane (CH4).
Emissions are calculated in terms of tonnes of CO2 (or 'CO2 equivalent') so they can be presented as a single figure. Hence, cuts to all GHGs are referred to as carbon reduction, and the goal of net-zero emissions is also referred to as carbon neutrality.
To achieve these cuts, a handful of countries have introduced legally-binding carbon budgets, including the UK, Japan, and Ireland.
Two five-year carbon budgets aim to deliver that reduction of 51%.
A third budget will continue the move towards net-zero emissions by 2050, but for this decade, the focus is on the first two.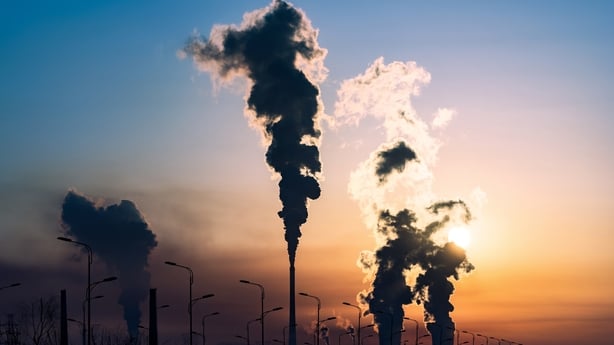 The first cuts emissions by 4.8% annually (2021-25); the second is more ambitious, with annual cuts of 8.3% (2026-30).
Some of the measures introduced during the first budget will only begin to deliver during the second five-year term, hence the more substantial rate of cuts in the latter part of the decade.
Each sector will have to deliver cuts of a specific magnitude. The carbon budgets included a possible range of cuts for each sector. Since their publication in April, negotiations have been taking place between Government and stakeholders.
Once exact targets have been agreed for each sector, Minister for the Environment Eamon Ryan will announce these sectoral emissions ceilings.
Agricultural targets
For agriculture, a 25% reduction in emissions has been agreed, subject to being signed off by the Cabinet.
This is a comparatively low figure when put beside the cuts that electricity suppliers will be told to deliver, of between 62% and 81%.
Those who build and operate buildings must cut emissions by between 44% and 56%.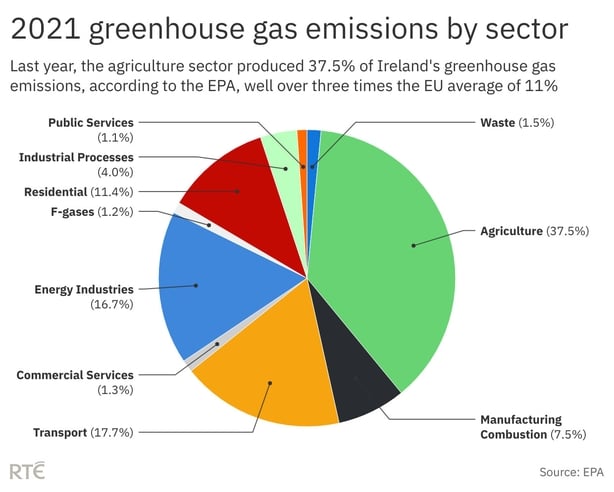 The first two carbon budgets contain some specific measures each sector will need to adopt in order to deliver these cuts. However, they are essentially working documents, and much additional practical detail will need to be hammered out once the specific targets have been announced.
The agri-food sector is Ireland's largest indigenous industry; it is also by far the largest emitter of GHGs, accounting for more than the next two largest sectors (energy and transport) combined. It also accounts for a larger proportion of national emissions than in any other EU, or even European, country.
Last year, agriculture produced 37.5% of Ireland's GHGs, the Environmental Protection Agency has found. That's well over three times the EU average of 11%.
This is an increase of 3%; over the past decade, the increase stands at almost a fifth (19.3%). However, overall, EU agricultural emissions remained steady.
85% of Ireland's agricultural GHG emissions are associated with cattle, of which there are 6.5 million.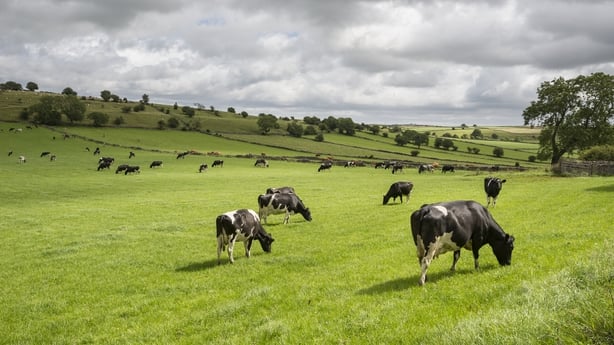 By far the single largest source for agricultural GHGs is methane, mostly cattle (60%). The second largest source is nitrous oxide from spreading fertilisers and slurry (21.8%).
Last year saw increased fertiliser use (up 5.2%) and a massive rise in liming (adding calcium and magnesium-rich materials to soil), which increased by almost 50%.
The size of the dairy herd continued its decade long increase, up 2.8% in 2021, and milk production continues to increase, up by 5.5%.
EU milk quotas - which restricted production - ended in 2015. Since then, the dairy herd has grown by more than a fifth (22.6%) and milk production has risen by more than a third (36.9%).
The question of whether and by how much to reduce the number of cattle in Ireland is a hotly contested one.
The Climate Change Advisory Council gamed various scenarios to determine how best to cut agricultural emissions.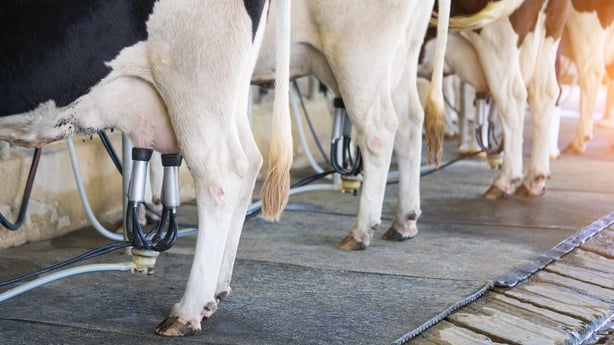 One scenario found that a cut of 30% would require an 80% reduction in the suckler herd, from 1 million to 200,000, by 2030.
A report by KPMG, commissioned by the Irish Farmers' Journal, maintained that a 22% cut in emissions would necessitate a reduction of 325,000 cattle. A 30% cut would require a reduction of 1.3 million cattle, it claimed. The Government dismissed this as "scare-mongering".
Minister for Agriculture Charlie McConalogue has insisted that herd reductions are not being considered.
A 3% reduction in methane emissions from the herd over the decade would prevent additional global warming from this activity, Bill Callanan, Chief Inspector at the Department of Agriculture, recently told an Oireachtas committee.
He said that carbon targets can be achieved with "a herd of approximately seven million animals".
The big picture
Ireland's Climate Act follows the 2015 Paris Agreement, the world's first comprehensive and legally binding international treaty on climate change, and last year's follow-up Glasgow Climate Pact.
The Paris Agreement committed 189 countries to slow global warming, so that it peaks at below 1.5C or 'well below 2C' above pre-industrial levels.
In Glasgow, a global carbon market was established, allowing countries to trade carbon offset credits.
The European Commission runs the Emissions Database for Global Atmospheric Research. This reveals that China is by far the world's largest emitter of GHGs, accounting for almost a third of global emissions. It emits the same amount as the US, the EU and India combined.
However, a per capita calculation puts China in 51st place (with #1 being the highest per capita emitter). Strong agricultural economies score far worse, including Australia (10), Canada (15), the US (19), New Zealand (21), and Ireland (26).