Padraig Mulligan milks 700 cows at his farm in Templeboy in west Sligo. It's a family business he has been building up with his wife since the early 1970s.
The news today about a 25% reduction in emissions is "the worst he has heard in 49 years of farming".
Mr Mulligan said the impact will mean he will have to reduce his herd by at least 150.
He fears the resulting loss of income will mean he will be unable to meet the repayments on the significant investment he has made in the farm, including a new milking parlour built four years ago at a cost of almost €1 million.
Dairy farms take a long time to build up, he explained, and they have made huge investments in it down the years.
Their plan was to milk 700 cows and there was no plan to cut that by over 150.
If they have to do so, then the "numbers won't add up".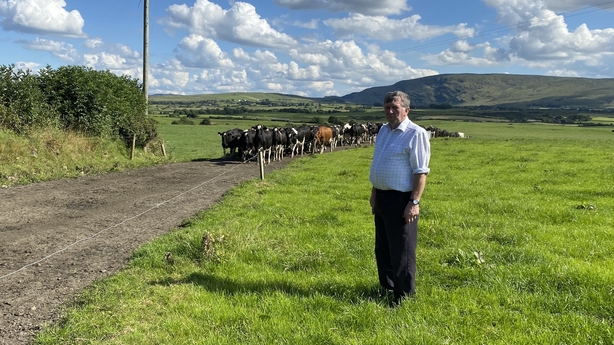 Farming has been the love of our lives, Mr Mulligan said, but he now fears for the future of the family farm he works with his wife, son and two grandsons.
He had hoped that his grandchildren would take over the farm but following this development, he "does not know where they are going to from here".
The impact of the decision will go beyond the Mulligan family, he added, because their enterprise has a big spin-off locally in terms of employment, spend and the milk they supply to the Aurivo co-op.
Describing the emissions cuts as "terrible", Mr Mulligan criticised the Green Party saying "we can't allow them to walk on us".
The various farming representative organisations and the government have to "step in now and work to compensate farmers if this is going to happen - it's terrible and very serious," he added.