Former US president Bill Clinton has said people today are leading better lives because of the sacrifices made by David Trimble.
In a statement Mr Clinton said: "Hillary and I are deeply saddened by the passing of Lord David Trimble, a leader of courage, vision and principle whose lifetime of service helped bring peace to Northern Ireland.
"Time after time during the negotiations that led to the Good Friday Agreement, he made the hard choices over the politically expedient ones because he believed future generations deserved to grow up free from violence and hatred."
Mr Clinton said that David Trimble's faith in the democratic process allowed him to stand up to strong opposition in his own community, persuade them of the merits of compromise, and share power with his former adversaries.
"His legacy will endure in all who are living better lives because of him today," Mr Clinton said.
"Hillary and I send our thoughts and prayers to his wife, Daphne, his entire family, and all the people who loved him and were inspired by his service," he added.
Meanwhile, former British prime minister Tony Blair praised the "immense" contribution of David Trimble to ending conflict in Northern Ireland.
Tony Blair said the peace process could not have been achieved without Mr Trimble's "masterclass of leadership".
"David was highly intelligent, very courageous," he told BBC radio.
Asked to summarise his contribution, the former UK leader said it was "immense".
"The hardest thing in leadership is to say no to your own supporters. He did it and he carried it. He paid a political price, but he never complained," Mr Blair added.
No Good Friday Agreement without Trimble
Former taoiseach Bertie Ahern has said that if David Trimble had not entered peace talks in Northern Ireland in 1997, they would never have been agreed.
Mr Ahern said the Good Friday Agreement had a lot of things Mr Trimble did not like, but "it was a question of do you want peace or to continue on, and that's how he saw it."
The former Fianna Fáil leader was speaking as he paid tribute to the Nobel Prize winner and former Stormont first minister, who died yesterday aged 77 following a short illness.
Mr Trimble's funeral will take place in Lisburn on Monday, the UUP has said. The service will be held at Harmony Hill Presbyterian Church at 12.30pm.
"The agreement was four parts - it was loyalism, it was unionism, it was republicanism, it was nationalism and we needed all four of them and unionism was a big part of that," Mr Ahern said.
Speaking on RTÉ's Morning Ireland, Mr Ahern said the whole agreement was based on the principle that "no one could say that they had lost".
He said Mr Trimble faced huge opposition to the Good Friday Agreement, but was brave enough to go forward with it.
Mr Ahern said he and Mr Trimble started off having "feisty" meetings, but ultimately ended up being good friends.
"I admire him for the way he stood up to the pressures and pressures internally, externally, from the wider Unionist community.
"But he stuck by what he negotiated and, as difficult as he was in negotiation, once he signed off to something - he stuck by it," Mr Ahern said.
We need your consent to load this rte-player contentWe use rte-player to manage extra content that can set cookies on your device and collect data about your activity. Please review their details and accept them to load the content.Manage Preferences
"We started off having a lot of feisty, difficult meetings. We ended up being good friends"

Former taoiseach Bertie Ahern says David Trimble stood up to pressures internally and externally in the wider unionist community, and stood by what he negotiated | https://t.co/SRzlUFq80l pic.twitter.com/8M8IbioTgE

— RTÉ News (@rtenews) July 26, 2022
Mr Ahern also said it took huge courage for Mr Trimble to defy Orange Order rules and attend the funerals of three Catholic children who were murdered in the 1998 Omagh bombing.
That was far more than just symbolic, he said, and the Catholic community saw that this took real strength.
He said that he and Mr Trimble "differed hugely" on Brexit, but while Mr Trimble supported leaving the UK, he never changed his position on the need for a power-sharing executive in Northern Ireland.
"So many of the people that were so crucial … are gone now"

Bertie Ahern says it is sad that so many who were crucial to the Good Friday Agreement will not be around for the 25th anniversary, adding that David Trimble's wife was a "tower of strength" | https://t.co/SRzlUFq80l pic.twitter.com/0bKozcuwN6

— RTÉ News (@rtenews) July 26, 2022
Speaking on the same programme, Ulster Unionist Party leader Doug Beattie has said he will remember Mr Trimble as a man of courage and vision, and a man who put his country before his party.
Mr Beattie said there are people alive today because of the decisions Mr Trimble made in 1998.
But above all, he said, he would remember Mr Trimble as a committed family man.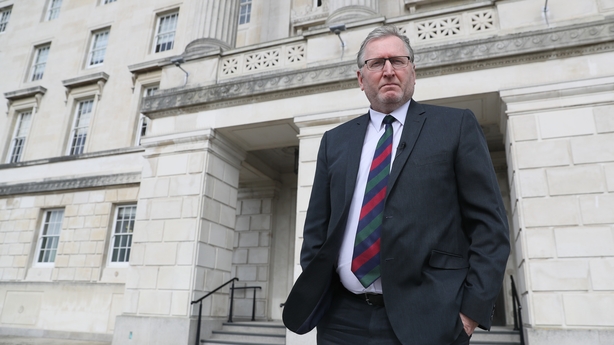 Mr Beattie acknowledged that Mr Trimble's decisions in 1998 had a negative impact on the UUP as a political party, but said he stood by everything he did.
"I mean, what price can you put on peace? What price can you put on a life? What price can you put on communities coming together?
"We have always said, and we continue to say that even today, it's country first before party and we don't just say that as a strap line," Mr Beattie said.
The UUP and the SDLP were the largest political parties in 1998 and Mr Beattie described Mr Trimble and John Hume as "two men of courage", saying they "came at politics through adversity, through strike, through violence".
He said the DUP and Sinn Féin are now the largest parties in Northern Ireland, and he called on them to show the same political courage.
"It is for them now to show that very same courage that happened in 1998 and we implore them to do that because we cannot lose what we gained back," he said.
"We cannot ever go back to the way things were before 1998. And them having the mandate they have comes great responsibility."
---
Read More:
David Trimble: A pragmatist, peacemaker and a leader
Nobel Prize winner David Trimble dies aged 77
Trimble's courage earned him place in history books - President
---
Former Sinn Féin leader Gerry Adams said Mr Trimble was a man who "did the business at the end of the day".
Mr Adams told RTÉ's News at One that there is now a responsibility to continue the work of the peace process in Northern Ireland.
He said: "He did the business at the end of the day and now what we all have to do, those of us that are still alive is make sure that it comes to its conclusion, which obviously is for all of the people of this island, whatever way they want to define themselves, that we can live together in harmony and equality together.
"I would like to see that obviously in a process where we govern ourselves and don't have folks in London doing that who have no interest at all in anything about Ireland."
Mr Adams recalled that Mr Trimble was "all the time under pressure from his own ranks" and people should not underestimate the challenges that he faced.
He said that while he had long held the belief that there would have been a negotiated peace deal of some kind, he agreed with sentiments expressed by others today that the Good Friday Agreement would not have been delivered if David Trimble had not signed up to it.
"It would have not happened on Good Friday 1998 without David Trimble," he said.
US State Dept 'saddened' at death
US State Department spokesperson Ned Price said Mr Trimble personified the "integrity and compromise" needed to help end violence in Northern Ireland.
Mr Price said: "The United States is saddened to learn of the passing of the Former First Minister of Northern Ireland, Lord David Trimble.
"Lord Trimble personified the integrity and compromise necessary to help Northern Ireland transcend its violent past.
"His tenacity during early political negotiations underpinned the strength of his convictions as well as his deep commitment to work across the sectarian divide.
"As a strong advocate of power-sharing and a key architect of the Belfast/Good Friday Agreement, his political legacy is the stability and prosperity that the region enjoys today.
"Our condolences are with his family during this time."
Trimble's commitment to NI never in doubt - Donaldson
DUP leader Jeffrey Donaldson said he never doubted Mr Trimble's commitment to making Northern Ireland work, despite their political differences.
He said: "I think that his contribution will be recorded in history. David will feature prominently in it.
"Despite our differences, David's objective was to deliver political stability in Northern Ireland and he believed in doing so to preserve and protect the union.
"You can differ with someone but admire their courage and determination and their commitment to what they believe in.
"In David I saw someone who was courageous as a leader, who was determined to pursue the path he had chosen.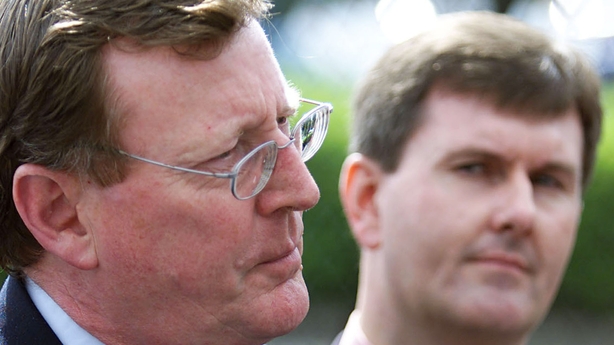 "Leadership is difficult, I suppose I am discovering that at the moment. At times it can be quite a lonely path.
"When I look at David I never doubted his commitment to the union, his commitment to Northern Ireland, his commitment to making this place work."
Mr Donaldson also said that all of unionism must recognise that consensus politics and power-sharing, as supported by Mr Trimble, is the way forward for Northern Ireland.
He said: "Our differences were not on the overall strategic approach, they were on the tactics and the approach that was taken, particularly on the question of (IRA) decommissioning and of getting to a place where we had politics without guns in Northern Ireland.
"What we have is imperfect and we must keep building on it and trying to get stronger and firmer foundations for what we have in Northern Ireland.
"But David fundamentally recognised that the way forward was through consensus, it was through power-sharing, built upon that cross-community consensus.
"That remains my view and unionism must recognise that is the path and the way forward. I think the vast majority of unionists do accept that the way forward is through consensus.
"In the end a Northern Ireland that is at peace with itself is a Northern Ireland in which the union will flourish."
Books of condolence are opening across Northern Ireland today in memory of Mr Trimble.
Lord Mayor of Belfast Tina Black will open a book of condolence at City Hall, while Mayor of Derry and Strabane, Sandra Duffy, is to open a book of condolence in the Guildhall in Derry.
The Lord Mayor of Armagh City, Banbridge and Craigavon, Paul Greenfield, has opened an online book of condolence.
Additional reporting PA