Nobel Prize winner and former Stormont first minister David Trimble has died at the age of 77.
The Ulster Unionist Party has said that "it is with great sadness that the family of Lord Trimble announce that he passed away peacefully earlier today following a short illness".
Mr Trimble and John Hume of the SDLP were the main movers behind the 1998 Good Friday Agreement.
He served as first minister at Stormont from 1998 to 2002, as well as leader of the UUP from 1995 to 2005.
Born in Bangor, Co Down in 1944, Mr Trimble distinguished himself in an academic career in the law faculty at the Queen's University Belfast before moving into politics.
He initially became involved in the unionist offshoot organisation Vanguard in the early 1970s and while he was best known for his involvement with the Good Friday Agreement, in his younger days he had opposed an earlier attempt, the Sunningdale Agreement.
He went on to join the then dominant Ulster Unionist Party in 1978.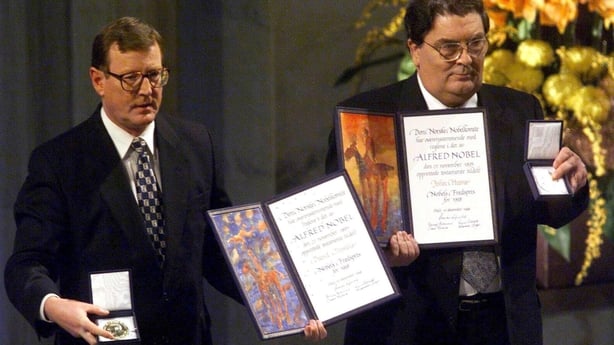 Mr Trimble left academia for politics full time when he was elected as MP for Upper Bann following a by-election in 1990 after the death of the incumbent Harold McCusker.
He rose to prominence partly due to the Drumcree dispute as nationalist residents opposed the procession of an orange parade along the Garvaghy Road.
He led the parade along the road in 1995, famously joining hands with Democratic Unionist Party leader Ian Paisley.
In 2005 Mr Trimble lost his seat in the House of Commons, but was granted a peerage in the upper House of Lords, where he switched allegiance to the Conservative Party in 2006.
Taoiseach Micheál Martin was among many politicians to pay tribute to Mr Trimble, saying he played a "crucial and courageous role in bringing peace to Northern Ireland".
Deeply saddened at the passing of David Trimble, someone who played a crucial and courageous role in bringing peace to Northern Ireland.

My sympathies and condolences to all of his family, friends and colleagues.

— Micheál Martin (@MichealMartinTD) July 25, 2022
Sinn Féin leader Mary Lou McDonald said that his "contribution to building the peace process in Ireland will stand as a proud and living legacy of his political life", while the party's vice president, Michelle O'Neill, said that she had learned of Mr Trimble's death with "genuine regret".
#LordTrimble - A political giant, a courageous politician, a staunch unionist and a friend. pic.twitter.com/RTVWUAWExe

— Doug Beattie (@BeattieDoug) July 25, 2022
Current UUP leader Doug Beattie described Mr Trimble as "a political giant, a courageous politician, a staunch unionist and a friend."
SDLP leader Colum Eastwood has said Mr Trimble "demonstrated immense courage" during the Good Friday Agreement negotiations and has left an "indelible mark on our shared island's story".
DUP leader Jeffrey Donaldson said Mr Trimble made a huge contribution to Northern Ireland, and to political life in the UK.