David Trimble, the unionist leader credited with helping to secure the 1998 Good Friday Agreement which delivered peace in Northern Ireland, has died.
The former Ulster Unionist Party leader had been in failing health for some time.
One of his last public outings was in late June 2022, when he attended the unveiling of a portrait of him by celebrated Northern Ireland artist Colin Davidson.
During the evening, tributes were paid to him by former taoiseach Bertie Ahern, former US president Bill Clinton and former British prime minister Tony Blair, who were all participants in the negotiations that led to the historic agreement.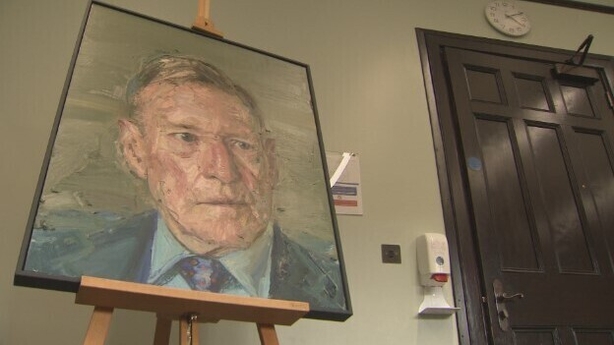 It sought to end three decades of violence in Northern Ireland by agreeing a new power-sharing arrangement for Northern Ireland, as well as a set of cross-border institutions alongside improved British-Irish relationships.
Key to the deal was a change to the Irish Constitution, which removed a constitutional claim to the entirety of the island. It was replaced with an aspiration to unity, but only with the consent of people in Northern Ireland.
Controversially, the agreement also included the release of paramilitary prisoners and proposals for reform and renaming of the then Royal Ulster Constabulary.
On the face of it, Mr Trimble must have appeared an unlikely ally in the search for a political compromise.
A one-time hardliner, in the 70s, he had been a member of the Vanguard movement, which sought to marry unionist politics and loyalist paramilitarism.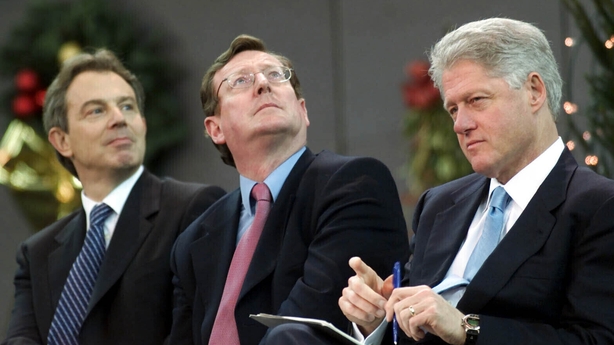 But the former Queen's University law lecturer was also a pragmatist, who at a time favoured voluntary power-sharing with nationalists - something that had ended his earlier political ambitions.
So, he was a surprise choice for leader in 1995 and won with the support of the Orange Order.
The early years of his leadership coincided with the so-called Drumcree Protest, a bitter parading dispute in Portadown, Co Armagh, in which he played a prominent role.
The image of him walking through a phalanx of Orangemen in the town, hand in hand with the then DUP leader Ian Paisley after the parade had been allowed through a nationalist area, hardened residents' attitudes in the difficult years ahead.
We need your consent to load this rte-player contentWe use rte-player to manage extra content that can set cookies on your device and collect data about your activity. Please review their details and accept them to load the content.Manage Preferences
The IRA ceasefires created a momentum for political dialogue and as the leader of the then largest unionist party, Mr Trimble would have had little choice but to engage.
In his final interview, he told how, from his perspective, the Good Friday Agreement - or Belfast Agreement as he preferred to call it - had been cracked in a lengthy meeting with the Irish government, which went on into the early hours.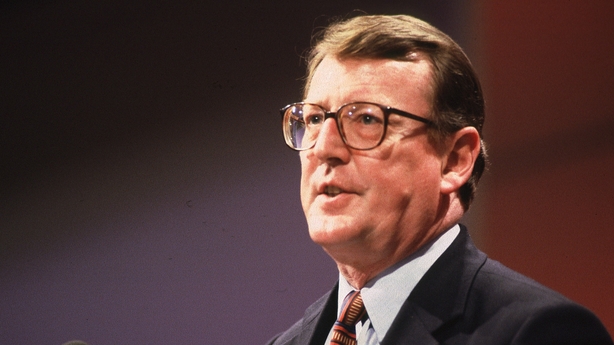 He said he had tried to conceal the fact that the proposals in his offer were his bottom line and he was prepared to sign.
"Thankfully my opposition didn't twig to the fact that this was an agreement which I was quietly buying myself, to stick to," he told RTÉ News.
"I soft-soaped that in case some people grabbed that and started shouting."
The referendum endorsing the Good Friday Agreement was a political highpoint.
Singer Bono famously invited both Mr Trimble and John Hume on stage at a Belfast concert in support of a Yes vote and held their arms aloft.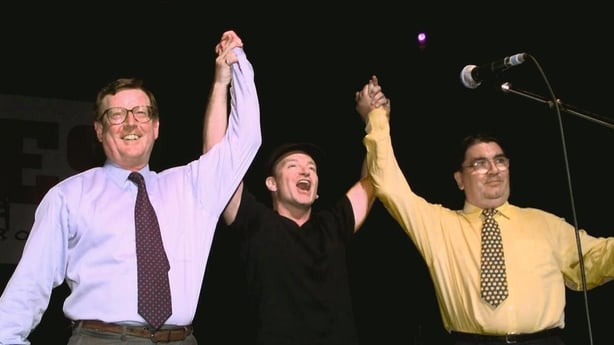 They were awarded the 1998 Nobel Peace Prize for their peace-making.
Both men might have expected to be awarded by the electorate for their efforts.
But the years after the agreement were fraught with controversy over things like IRA decommissioning and RUC reform.
Slowly, the SDLP and Ulster Unionists were overtaken by Sinn Féin and the DUP.
David Trimble's personal political fortunes also began to wane. In 2005, he lost his Upper Bann Westminster seat as support for his party finally collapsed.
It was effectively the end of his political career.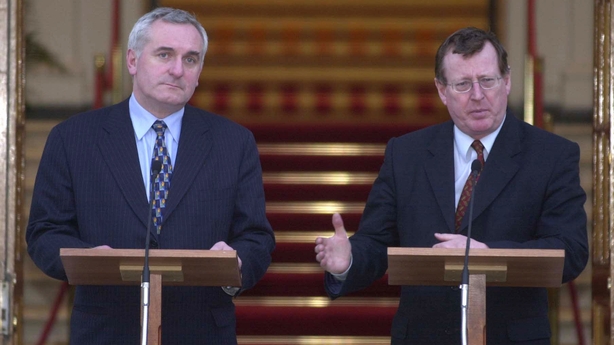 The following year he accepted a peerage, taking the title Lord Trimble of Lisnagarvey.
A shy man with a reputation for being a sometimes-difficult interviewee, he considered the 1998 agreement the pinnacle of his political career.
Asked in his final interview if it was his greatest achievement, he gave a typically phlegmatic answer.
"Well, I can't think of anything better than that," he said.
At the unveiling of his portrait at Queen's University in June, his political peers were much more effusive in their praise.
Bill Clinton sent a video message praising his tenacity in pursuit of peace.
"Of all the tributes that I can pay you, the greatest testament to your work is the fact that today, a whole generation in Belfast and across Northern Ireland is growing up outside the shadow of hatred and violence."
Former taoiseach Bertie Ahern, with whom Mr Trimble had a genuinely warm encounter that night, put it much more simply.
"He never blinked. There were those who were against him. But I admired him."