President Michael D Higgins has led tributes to the Nobel Prize winner and former Stormont first minister David Trimble, who has died at the age of 77.
Mr Trimble's dedication and courage, often during "the most challenging times", has earned him a "distinguished and deserved place in our history books", President Higgins said in a statement.
"His work leaves a true legacy on the necessity and value of peace on our shared island for future generations.
"Sabina joins me in expressing our profound sympathy to Mrs Daphne Trimble and to all of David's family, friends and colleagues."
We need your consent to load this rte-player contentWe use rte-player to manage extra content that can set cookies on your device and collect data about your activity. Please review their details and accept them to load the content.Manage Preferences
Taoiseach Micheál Martin said Mr Trimble played a "crucial and courageous role in bringing peace to Northern Ireland".
"In his speech accepting the Nobel Prize, Trimble spoke about the 'politicians of the possible', a phrase which I think sums up the David Trimble we all knew, and it speaks to his achievements over many decades, often in challenging circumstances," said Mr Martin in a statement.
Mr Martin added that "the work of reconciliation begun in the Good Friday Agreement continues, and he said that as new generations pick up the mantle of this work, it is fitting that we pay tribute to Lord Trimble for his central contribution in setting us on the path to peace and reconciliation".
---
Read more: David Trimble: A pragmatist, peacemaker and a leader
---
Mr Trimble and John Hume of the SDLP were the main movers behind the 1998 Good Friday Agreement.
He served as first minister at Stormont from 1998 to 2002, as well as leader of the UUP from 1995 to 2005.
Former Taoiseach Bertie Ahern described Mr Trimble as "courageous", adding he had great admiration for him.
Speaking on RTÉ News, Mr Ahern said that he was a "courageous" man.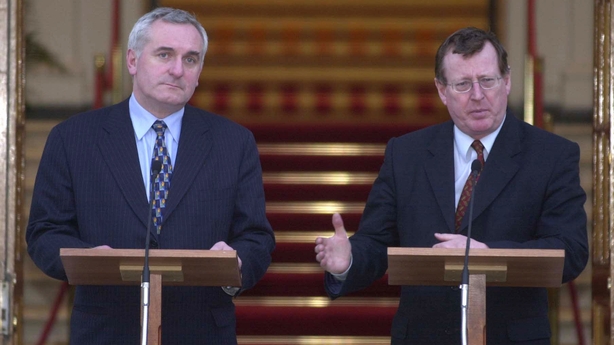 "I had many a row with him and many arguments and in more recent years we've had good laughs about those debates. But he was tough," Mr Ahern said.
"As a good negotiator I think when he made the deal, when he settled something, he stuck by it. Subsequently he paid the price. And in spite of the horrendous problems that he was under from within his own party and from outside the wider Unionist group, in that last week of the Good Friday agreement he stuck by it.
"He got a lot of criticism from the wider unionist family but you know, I have great admiration for him."
Current UUP leader Doug Beattie described Mr Trimble as "a political giant, a courageous politician, a staunch unionist and a friend."
#LordTrimble - A political giant, a courageous politician, a staunch unionist and a friend. pic.twitter.com/RTVWUAWExe

— Doug Beattie (@BeattieDoug) July 25, 2022
"David Trimble was a man of courage and vision. He chose to grasp the opportunity for peace when it presented itself and sought to end the decades of violence that blighted his beloved Northern Ireland," he said.
SDLP leader Colum Eastwood said Mr Trimble "demonstrated immense courage" during the Good Friday Agreement negotiations and has left an "indelible mark on our shared island's story".
In a statement he said that "without David Trimble's fortitude, there would simply have been no agreement".
Minister for Foreign Affairs Simon Coveney said that Mr Trimble showed leadership at a time when Northern Ireland "badly needed it".
"He showed that leadership to end the cycle of violence and create a Northern Ireland where difference was acknowledged and could be overcome through politics and through compromise, instead of through violence and its shadow," Mr Coveney said.
DUP leader Jeffrey Donaldson said Mr Trimble made a huge contribution to Northern Ireland, and to political life in the UK.
Sinn Féin's vice president Michelle O'Neill said: "It is with genuine regret that I have learned of the passing of former First Minister, David Trimble.
"His very significant contribution to the peace process and his courage in helping achieve the Good Friday Agreement leaves a legacy a quarter century on for which he and his family should be rightly proud."
The party's leader, Mary Lou McDonald, said that his "contribution to building the peace process in Ireland will stand as a proud and living legacy of his political life", while her predecessor Gerry Adams said Mr Trimble's "contribution to the Good Friday Agreement and to the quarter century of relative peace that followed cannot be underestimated".
Very saddened to hear of the death of David Trimble. His contribution to building the peace process in Ireland will stand as a proud and living legacy of his political life. Condolences to his wife Daphne and family. Ar dheis De go raibh a anam.

— Mary Lou McDonald (@MaryLouMcDonald) July 25, 2022
Outgoing British Prime Minister Boris Johnson tweeted that he is "deeply saddened" to learn of Mr Trimble's death.
"He was a giant of British and international politics and will be long remembered for his intellect, personal bravery and fierce determination to change politics for the better," Mr Johnson said in a social media post.
Northern Ireland Secretary Shailesh Vara described Mr Trimble as "one of the giants of Northern Irish politics" and said the former first minister's loss would be "felt deeply".
Mr Vara sent his condolences to Mr Trimble's wife and children, who, he said, "I know will draw comfort from the legacy he leaves".
Brandon Lewis, who until recently was Britain's Northern Secretary, called Mr Trimble "a brilliant statesman" and said his legacy as an architect of the Good Friday Agreement will live on forever.
Archbishop Eamon Martin has said he is remembering Mr Trimble's wife and family in prayer.
"Whilst a strong representative of his party, he had courage to lead, and to persuade others to take historic steps forward for peace and reconciliation. For this we owe him a sincere debt of gratitude," Archbishop Martin said on Twitter.
Alliance Leader Naomi Long has said she is saddened by Mr Trimble's death, saying her thoughts were with his friends and family.
Ms Long said his greatest legacy to his political career is the Good Friday Agreement and the "risks he took to both help achieve it, and ensuring the resulting Assembly remained during its unsteady early days. It was at times an unenviable role".
"His contribution to the peace process and the ending of violence in our society helped secure his place in history. My condolences go to Lord Trimble's family," she said.
Former taoiseach John Bruton said Mr Trimble was "one of the bravest and most straight forward people" that he has known.
Dr Seán Farren of the John & Pat Hume Foundation said: "David Trimble demonstrated genuine and courageous leadership during the negotiations that led to the Good Friday Agreement 24 years ago.
"The defining image of the Referendum campaign that followed was the picture of David Trimble, Bono and John Hume together on the stage at the YES gig in the Waterfront Hall, this symbolised hope for the future and a new beginning for everyone.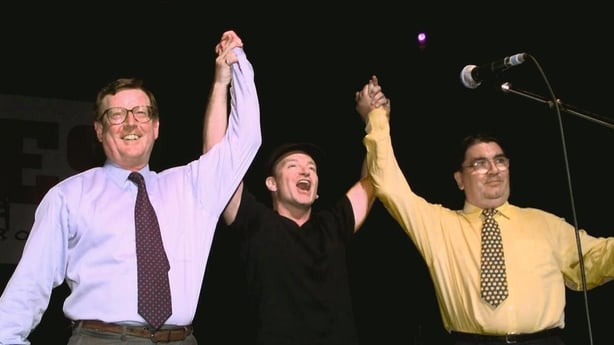 "His leadership was fully acknowledged by the award of the Nobel Peace Prize along with John Hume in 1998."
Former British prime minister Tony Blair described Mr Trimble's contribution as "immense, unforgettable and frankly irreplaceable" and said he will be mourned by friends and foes alike.