The Environmental Protection Agency has found that more than half of domestic septic tank systems, used by households especially in rural areas to treat domestic sewage, failed inspection last year.
Some 29% of those inspected were deemed to be putting human health and the environment at risk.
The EPA is calling on local authorities to increase enforcement to ensure householders fix faulty septic tank systems in a timely manner.
Nearly half a million homes in Ireland use a septic tank, or a similar private domestic waste-water system, to treat their sewage since they are not connected to the public system.
But when those tanks are poorly built, not properly maintained, allow rainwater in, or leak, significant problems can occur including the contamination of private wells with harmful bacteria and viruses, and excessive releases of nitrogen and phosphorus polluting rivers and other waters.
The EPA collated the results of 1,147 septic tanks inspections by local authorities last year and found that 53% failed the inspection.
We need your consent to load this rte-player contentWe use rte-player to manage extra content that can set cookies on your device and collect data about your activity. Please review their details and accept them to load the content.Manage Preferences
In more than half of those failures human health and the environment were put at risk due to sewage ponding in gardens or discharging to ditches or streams.
It also found that in a quarter of cases, householders are taking more than two years to resolve septic tank failures, even after they have been notified.
The EPA says this cannot be allowed to continue and that local authorities must increase their enforcement effort to ensure failed systems are fixed in a timely manner.
Local authorities issue advisory notices requiring householders to fix systems that fail inspection.
Some 75% of systems that failed during 2013–2021 were fixed by the end of 2021.
The EPA found that the resolution of failed systems in counties Roscommon and Leitrim is particularly low, with more than half the failures in these counties still unresolved two years later.
It also said that the failure to resolve older advisory notices has been highlighted in annual reports for some years and is an increasing concern.
The report shows that the number of domestic wastewater treatment system (DWWTS) failures open for more than two years has accumulated year on year to 533 at the end of 2021 - a five-fold increase on the total for 2016.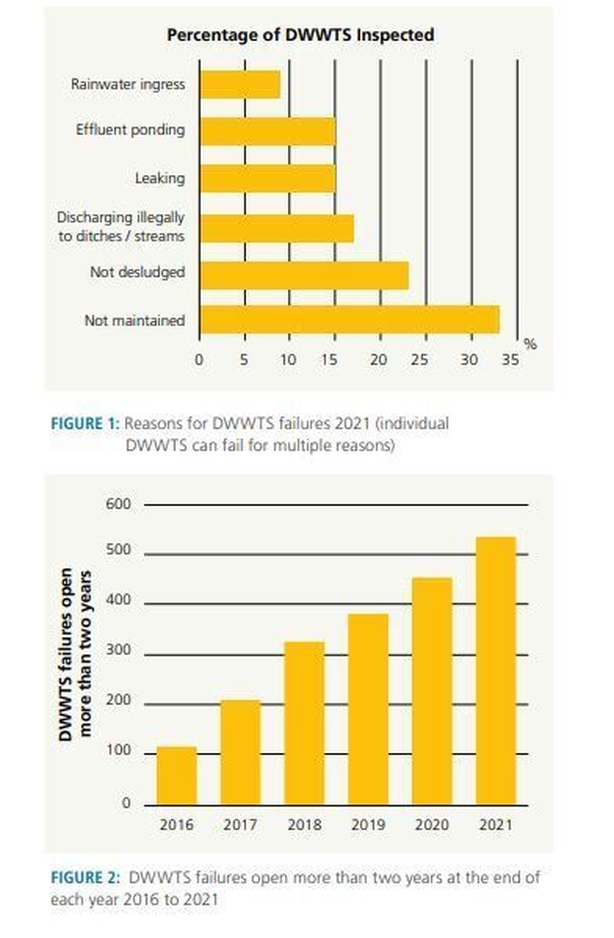 Seven local authorities have taken 36 legal actions for failure to fix septic tank systems since 2013.
Director of the EPA's Office of Environmental Enforcement Dr Tom Ryan said that some of these problems may go unnoticed unless householders check their septic tank and drinking water well.
He said householders should visually check their septic tank and get their well tested at least annually to satisfy themselves that their septic tank is not posing a risk to the health of their families, their neighbours and the environment.
"Where problems are detected, householders need to take the necessary steps to fix their septic tanks," he said.
EPA Programme Manager Noel Byrne said: "It is unacceptable that over 500 failed septic tanks are not fixed more than two years after inspection.
"Over half of these involve sewage ponding in gardens and discharging to ditches and streams, which cannot be allowed to continue.
"Local authorities must increase their enforcement effort to ensure failed systems are fixed."
Speaking on RTÉ's Morning Ireland, he said the onus is on the householder to fix their septic tank but as many are at the bottom of a garden, often "it's out of sight and out of mind and some people don't tend to go look at it and check on it."
He said: "Good maintenance can often prevent any problems. So you should get your tank desludged every three to four years, and that only costs maybe €400."
Mr Byrne said that if a householder does not fix a tank the local authority can take that person to court, and there have been 36 court cases in the past seven years from seven local authorities.
That is "relatively low", he said, which means that some local authorities are not following through on the process where they need to be.
What can householders do?
The failure rate shows that there are many systems that are a risk to people's health and the environment.
This is especially concerning if DWWTS are near household wells or if effluent is ponding in the garden or being discharged to ditches or streams.
Householders should ensure their DWWTS are properly built and maintained and their wells are tested to protect the health of their family.
DWWTS grants up to €5,000 are available to fix DWWTS in certain circumstances.
Details of the eligibility criteria are available on the Department of Housing, Local Government and Heritage website and from the local authorities who administer the grants.
Private well grants may also be available for improvement works to private water supplies.
Guidance is available on the EPA website.