Dublin Airport has installed the outdoor rain covers outside Terminal 1 ahead of some elements of airport management's contingency plans to manage large passenger numbers being trialled this weekend.
Truckloads of material and workers arrived to build the marquees this afternoon.
The road outside the terminal building has been closed to traffic and passenger drop off has moved to Atrium Road.
This change will be in place for the coming weeks.
The covered waiting areas will be available to passengers from the early hours of Friday morning.
Kevin Cullinane, Group Head of Communications for airport operator daa, said that people who arrive within the advised time will be given preferential treatment to enter the terminals and proceed to bag drop and security.
Daa says it is confident the measures it has put in place around staffing, security lanes and queue management will be enough to keep things running smoothly, and it does not anticipate it will have to use these contingency plans this weekend.
"Coming into busy summer months, we may need to deploy those in the weeks ahead," Mr Cullinane said.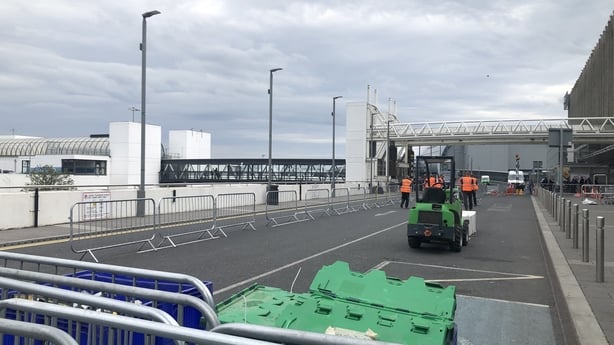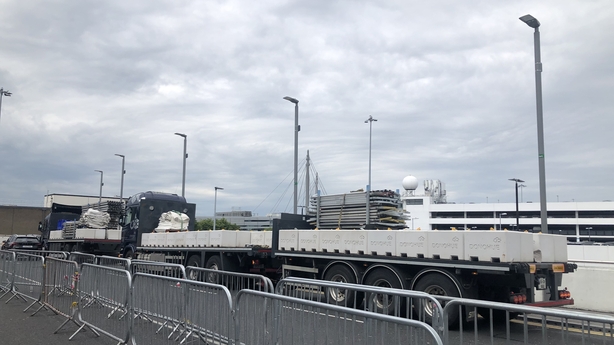 Part of that plan involves setting up holding areas in other parts of the airport. People who arrive outside the advised time could be asked to wait in these designated areas close to the terminal buildings.
"They'll be covered areas like the Atrium building opposite T1, or the multi-story carparks beside T1 and T2. They are both protected from the elements," he said.
Mr Cullinane said work would be undertaken to make these areas comfortable for people.
"They'll have toilet facilities, they'll have refreshment areas."
---
Read more:
What's in Dublin Airport's plan for the Bank Holiday weekend?
---
Mr Cullinane said that daa is trying to "maintain this as a plan C, if we have to extend beyond the structures outside the terminals directly".
He said there are protocols in place to trigger any or all of the above contingency plans. He urged members of the public to follow the advice and not to arrive too early.
Mr Cullinane said that daa is "acutely aware of the reputational damage it caused" last weekend, and that the operator has a key role in fixing that in the weeks ahead.
The airport is due to handle around 100,000 passengers a day over the June bank holiday weekend.
Confident of 'no missed flights'
Meanwhile, a spokesperson for daa said it is confident that the new plan will mean there will be "no missed flights" this weekend.
Graeme McQueen said he wants to put people travelling this weekend "at ease" as he acknowledged that management "fell down" last weekend.
Speaking on RTÉ's Morning Ireland, he said that the advice for those departing on a short haul is to arrive up to 2.5 hours in advance and for long haul to allow 3.5 hours.
He said the "one caveat" is that people checking in a bag should arrive an additional hour earlier.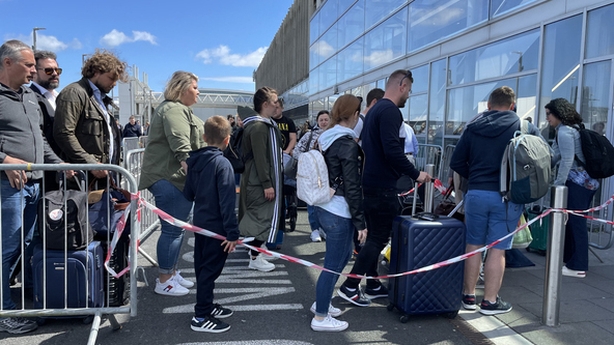 In the lead up to the bank holiday weekend, airport management hopes to prevent a repeat of last Sunday's problems.
Around 1,400 people missed their flights due to long queues that stretched outside of both terminals.
Passengers waiting in queues described management of the airport as disgraceful, ridiculous and a shambles.
The airport operator's plan to improve the situation comes ahead of one of the busiest weekend's for travel, with 100,000 passengers expected each day.
More lanes are being opened to cope with increased numbers of passengers and additional security staff are also being deployed.
Daa said it could still take around an hour for people to get through security, but it was confident the measures being put in place would work.
The plan also includes a "contingency overflow queue" where passengers may have to wait outside the airport terminals in a triage queue system.
Bad weather cover, seating and toilets in the holding area are being set up to accommodate those queuing outside.
Mr McQueen said: "If it gets busy on the ramps and around terminals, we have somewhere for people to go if they are too early. And that is causing a big issue at the moment."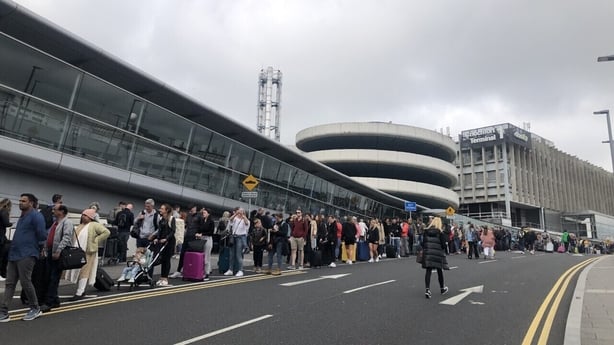 He said while it is understandable that people arrive early as they do not want miss their flights, this has a "knock on impact" on those arriving on time for their flight.
"What we are trying to do is get the flow back to the way we want it so we can get people through in an orderly manner," he added.
Minister of State Hildegarde Naughton said she met daa officials this morning and will meet them again over the weekend to ensure every resource is in place to make sure passengers get their flights on time.
Speaking in Galway, she said there may be delays of up to an hour at peak times, but that passengers will be kept informed at all times so they can move safely and efficiently through the airport.
Meanwhile, Minister for Further and Higher Education Simon Harris said the daa plan needs to work.
Speaking on RTÉ's Today with Claire Byrne, he said: "I think it's important they've published their plan, but at the same time I'm not writing any blank cheques of assurance for daa management.
"They have a job. It's their job to get people on flights and get them to their destinations.
"So, it's really important that the plan that they have in place now is implemented, that it works."
Yesterday, daa Chief Executive Dalton Philips acknowledged that passengers waiting for flights in triage areas this weekend could be left out in the rain.
He told the Oireachtas Committee on Transport that he is "deeply embarrassed" by what happened at Dublin Airport last weekend and apologised "unreservedly" to passengers and staff affected.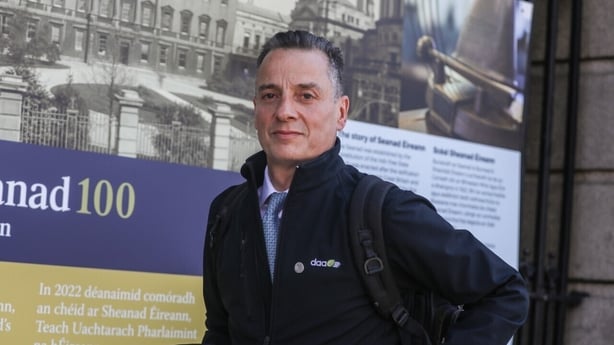 Call for an 'aggressive approach'
Denis Naughten, Independent TD for Roscommon has said that this weekend at Dublin airport "has to go well" and accussed the daa of "abject failure" saying that this issue had gone on for ten weeks.
He said that an "aggressive approach needs to be taken once and for all" by Government, whether it was getting the army involved or using regional airports.
He said that people cannot get a passport, they are missing flights and waiting hours to get their bags.
Mr Naughten also said that people holidaying at home, are being priced gauged, they cannot get a taxi in the city and there is huge frustration.
"Government needs to take a leadership role," he said.
He said the most frustrating thing was that it was flagged months ago and that daily daa briefings were given to Hildegarde Naughton and officials in the Department of Transport but "no one is being held accountable for the mess that was last weekend".
Similar problems in other airports
The Chairperson of the Irish Tourism Industry Confederation said the issues at Dublin Airport reflect what is happening in travel broadly, with similar problems in Manchester, London's Gatwick and Amsterdam's Schiphol.
Ruth Andrews said the announcement by daa is welcome and it affords "an opportunity to redeem the situation and improve the process with advanced communications, which we anticipate will ensure a far better situation this weekend".
Ms Andrews added that it should resolve the problems for the longer term, which is going to be "very important for the remainder of this year in this season, particularly given the levels of demand that have come back so strongly after two devastating years of Covid".
Speaking on RTÉ's Morning Ireland, Ms Andrews, who was Chair of the Tourism Recovery Task Force, said Ireland was subject to the strictest of lockdowns due to Covid and it was hard to see when the tourism sector would be back to pre-pandemic levels.
Additional reporting: Micheál Lehane, Teresa Mannion