Chief Executive of the daa Dalton Philips said he is "deeply embarrassed" by what happened at Dublin Airport last weekend and he apologised "unreservedly" to passengers and staff affected.
He told RTÉ's Drivetime that while he was "confident" they can get through this June Bank Holiday weekend, the airport is about "167 security officers short of where they would normally be".
Earlier today, the operator of Dublin Airport revealed a plan to try and ensure there will be no repeat of last Sunday, when around 1,400 people missed their flights during long queues.
It includes a "contingency overflow triage queuing process" outside the airport terminals.
Mr Philips told the Oireachtas Committee on Transport that passengers waiting for flights in triage areas this weekend could be left out in the rain.
The daa has pledged to put in bad weather cover, seating, and toilets in the holding area "as quickly as possible" in the coming days.
The advice to passengers due to fly out of Dublin Airport over the coming period is to arrive at least two-and-a-half hours before the departure of short-haul flights to Europe and the UK, and at least three-and-a-half hours for long-haul flights.
Daa said when the terminals get particularly busy, it will be triaging access to the terminals and only allowing passengers into the departures level that have flights departing within those time frames.
Access to the appropriate terminals will be controlled and will require proof of the time of flight such as a booking confirmation or boarding card.
Passengers that arrive too early for their flights will be asked to wait in a passenger holding area, with special consideration being given to those requiring special assistance and those Important Flyers travelling with autism.
Appearing before the Oireachtas Committee on Transport and Communications, Dalton Philips "categorically" denied that he used Dublin Airport's VIP Platinum Services at the weekend to avoid airport queues.
He also told TDs and Senators said daa's predictions on the rate of recovery post-pandemic were "wildly wrong".
He said the rate of passenger increases from March "took off" at a level they were "not expecting".
Mr Philips told Committee Chair Kieran O'Donnell that the airport let too many people go during the height of the pandemic.
He later told RTÉ's Six One News that the airport was losing "a million euro a day" in 2020 and was being told by experts and analysts that travel would not return to pre-Covid levels until 2024 or 2025.
"You have to make these difficult decisions," he said about staff being let go, adding that most large European airports are experiencing similar issues to Dublin Airport.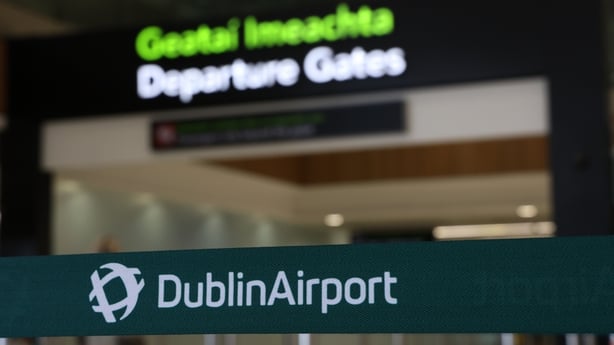 Significant efforts are under way in terms of the recruitment of security workers, he told TDs and Senators at the committee.
Mr Philips explained there were currently 535 workers, to be increased to 702 by the end of June.
Dublin Airport hopes to reach approximately 800 security workers during the summer.
He said 104 are currently in training, with a further 63 "in the pipeline".
---
What's in Dublin Airport's plan for the Bank Holiday weekend?
Dublin Airport chaos 'a reflection of bad management'
---
Asked about diverting routes to different regional airports to help alleviate pressure, Mr Phillips said that this was a matter for the airlines themselves.
He said Shannon Airport has been very generous in terms of offering help to Dublin Airport, however its CEO Mary Considine could not offer security staff as "she needs them all".
The committee has also heard that a mixture of staff absences and a delay in the completed training of new recruits contributed towards security delays at Dublin Airport on Sunday.
The airport was down 37 security officers that day. Of these, 17 were new recruits which the airport had hoped would have completed training to allow them to work on Sunday.
Another 20 officers were absent while 17 unqualified people were on the roster "and should not have been there ... it was a system error," Mr Philips told Six One News.
The impact of this, was that the airport could not open six security lanes, three in each terminal. This led to a processing deficit of 1,200 passengers an hour.
Gary McLean, General Manager of Operations at Dublin Airport, said that daa is "confident" that 12 lanes operating would mean a waiting time of less than an hour.
Mr Philips told Minister for Transport Eamon Ryan yesterday that they cannot guarantee that what happened at the airport last weekend will not happen again.
Mr Ryan said the message to daa is that it has an obligation to do everything in its power to prevent last Sunday's events being repeated and it will get Government backing on this.
He called on daa to very quickly get more staff and to manage the airport to make sure the events of last Sunday "don't happen again at the weekend" or during the summer period.
Additional reporting: Fergal O'Brien, Tommy Meskill