The HSE said that today's industrial action involving members of the Medical Laboratory Scientists Association has led to the cancellation of many services, including some "elective inpatient and day-case procedures, outpatient appointments and GP lab testing services".
In a statement this evening, the HSE said that some emergency departments have been very busy due to "patients presenting with non-urgent care needs" which lead to delays in many hospitals.
It said: "Local strike committees have been established in all hospitals and they are liaising with MLSA representatives locally to manage issues as they arise and to ensure the provision of a limited range of services safely."
The HSE said that lab services will resume as normal tomorrow, but that a backlog of tests "is likely to result in delayed turnaround times for both hospital and GP requested tests throughout tomorrow and Friday".
The HSE said appointments and procedures affected by today's action will be rescheduled and that it is "continuing to engage with all parties" to try avert threatened industrial action "next week and the coming weeks".
We need your consent to load this rte-player contentWe use rte-player to manage extra content that can set cookies on your device and collect data about your activity. Please review their details and accept them to load the content.Manage Preferences
Speaking to RTÉ's Drivetime, the General Secretary of the Medical Laboratory Scientists Association, Terry Casey said that it was "with great regret" that they decided to strike.
He said that the issue at the centre of the dispute goes back 20 years and there hasn't been direct negotiations for over two years.
Mr Casey said: "Unfortunately and regretfully, that is why medical scientists have been on the picket today rather than in the laboratory assisting clinicians with the diagnosis and treatment of patients, which is what they want to be doing, but unfortunately just negotiations have stalled."
Union cites burn-out and recruitment issues
Medical scientists carry out critical diagnostic testing of patient samples with the majority of them working at laboratories in public hospitals.
The trade union that represents medical scientists, the Medical Laboratory Scientists Association (MLSA), announced the strike action over long-standing pay and career development issues.
Routine laboratory services are withdrawn from 8am-8pm today and the MLSA warned that if no progress is made, a further two days of action are planned for 24 May and 25 May, with three further strikes planned for 31 May, 1 June and 2 June.
Chairperson of the MLSA Kevin O'Boyle said there is huge frustration and burn-out among medical scientists because of a severe recruitment and retention problem.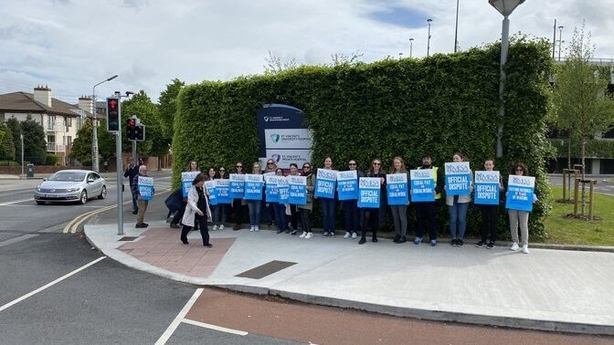 "Up to 20% of approved medical scientist posts are unfilled in hospitals," Mr O'Boyle said.
"Medical scientists carry out identical work to other colleagues in hospital laboratories, yet are paid on average 8% less."
The MLSA said it has made every effort to avoid disruption to patients and fellow healthcare workers, but has been left with no alternative.
The union represents more than 2,100 medical scientists employed in public voluntary hospitals, HSE hospitals, private hospitals and the Irish Blood Transfusion Service.
On the picket line outside St Vincent's Hospital. I've been speaking to medical scientists striking over long-standing pay + development issues. HSE warns of significant disruption + delays in hospitals. Coming up 8.20am @morningireland pic.twitter.com/Ws599GjECd

— Una Kelly (@UnaKelly3) May 18, 2022
'Significant disruption' expected
The HSE's National Director of Acute Services said "the majority" of the approximately 14,000 daily outpatient attendances at hospitals would be affected by the industrial action.
Speaking on RTÉ's Morning Ireland, Liam Woods said where services had been deferred, patients have already been contacted over the past two days.
"Unfortunately the action will cause widespread disruption, because lab services are critical to the effective and safe running of hospitals," he said, adding that "much" planned work would be deferred.
"The impact is significant. In terms of planned surgery, there will be significant cancellations, all bar very urgent cancer and transplant surgeries and 1-2 other exceptions will go ahead," he said.
Mr Woods said there would be some laboratory services available for emergency departments "with some agreed parameters" with scientists.
"There will be a slowing down of service available through emergency departments, so it will be slower to get into a hospital, and may be slower to get out. There are services available, but they will be somewhat restricted," he said.
Mr Woods said the net effect of the action would include longer waiting times in emergency departments, as well as moving from emergency departments further up the hospital, adding that trolley numbers will be higher today.
He said if patients have not been notified that their procedures are cancelled, they should show up as normal.
HSE chief Paul Reid has said that medical scientists did phenomenal work during the Covid-19 pandemic.
Asked at the Oireachtas Committee on Health today about the strike, he said that there were legacy issues and the HSE's commitment in relation to the industrial relations issue is to stay in the room and try to resolve it.
Patient group concerned
The Irish Patients' Association has called on Minister for Health Stephen Donnelly to personally intervene with all the parties involved in the dispute and ask them to stand down and not put patients' lives at risk.
"Patients must not be used as pawns in any industrial dispute, it's never too late for common sense to prevail," said IPA Director Stephen McMahon.
The Department of Health said it was disappointed that industrial action has been initiated and that it remains open to engagement with medical scientists.
The department also said that the strike action is a breach of the current public sector pay deal 'Building Momentum'.
"The current public service agreement, Building Momentum, includes the process of sectoral bargaining, to address outstanding claims such as this one," it said in a statement.
"The Public Service Agreement Group (PSAG), comprised of union and civil service representatives with an independent chair, met on 11 May to consider this matter. They recommended that the matter be immediately referred to the Workplace Relations Committee and that industrial peace be maintained in the meantime.
"While the MLSA have agreed to engage at the WRC, they have not agreed to lift their strike action which is a breach of Building Momentum."
The department also said that it acknowledges and pays tribute to the dedication, professionalism and commitment of all medical scientists throughout the country.