Minister for the Environment Eamon Ryan has said he is confident the Government will get new turf legislation right and that it will be introduced later this year.
Speaking in Brussels, Mr Ryan said there was agreement among coalition partners on the public health side of the debate.
"There's agreement we need to deliver the public health benefit [with]1,300 lives being lost each year prematurely. We're all agreed that that has to be something we tackle and we don't ignore.
"To do that also in a way that protects people from fuel poverty. That's what we need to get right.
"And I believe we will be able to do that as part of a wider picture [and] a wider change we need to make for the better, where we save bills, protect people's health and ultimately make the energy switch to our own more sustainable systems."
Mr Ryan was attending an emergency meeting of EU energy ministers in Brussels to discuss a possible oil embargo on Russia.
He said Ireland was in the middle of a three month consultation with the European Commission which was due to conclude at the end of May.
"We don't have to immediately address this but we do want to do it quickly because we don't want uncertainty.
"I want people to know what the situation is, come what may, even under the existing arrangements.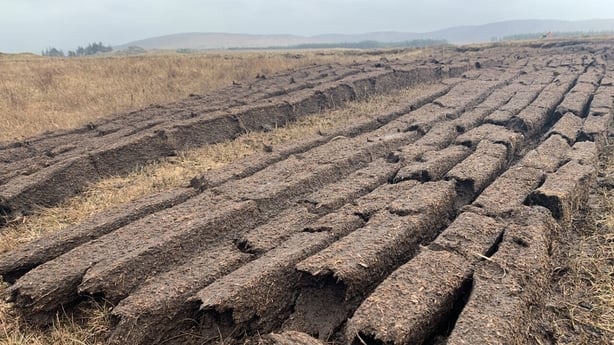 He said most of the turf that will be cut this summer will be saved and used over the winter.
"As the Taoiseach said last week, this is not something which would immediately kick in. It's about starting to switch towards a cleaner, healthier, better direction on how we heat our homes," he said.
The minister said the Government had signalled its intentions 16 months ago and had launched a public consultation in September.
"That ongoing consultation process is important. It's important that we do get it right and I'm confident we will and we will introduce it later this year."
Mr Ryan said the EU should take the strongest possible approach to energy sanctions but he said it had to be done by agreement.
"A united Europe will be far stronger, so how far the sanctions are done and can be developed," he said.
Mr Ryan said ministers would not agree the full list of energy sanctions today. It was an evolving process, he said.
"As this war worsens, deepens, lengthens, I think we're going to have to go stronger… recognising that colleagues have for a variety of reasons difficulties over sanctions.
"So it's a combination of keeping united and being strong and firm on what we need to."
Ireland was not immediately exposed to an embargo on Russian oil and gas, but would be affected by higher prices, he said.
"Our position is probably different than most others. Being the furthest west we're less exposed to both gas and oil shortages coming from Russia, but we're fully exposed in terms of the high prices it's bringing, so it's in our interest to get those prices down.
"One of the projects that is discussed at the meeting today and the one that we're very much pushing, is efficiency measures and the development of renewables," he said.
"That's an alternative, that's the best way of weaning ourselves off Russian coal, oil and gas," Mr Ryan added.