A respite centre called 'The Bird's Nest' is among the projects being considered after over €2 million was raised when thousands of people took park in a charity climb over the weekend to support former RTÉ broadcaster Charlie Bird.
Mr Bird's wife, Claire Mould, said the event was the "the most beautiful, emotional, and inspiring day I've ever experienced".
Speaking on RTÉ's Morning Ireland, she said: "I've never experienced anything like this, the people that helped us and supported us, it was just absolutely wonderful. The money we have raised has been above and beyond expectations, I think we've raised over €2 million and the target had been €1 million."
Mr Bird was diagnosed with motor neurone disease last year and set himself the goal of hiking to the top of Croagh Patrick in Co Mayo.
His challenge caught the imagination of the public and thousands of people completed their own 'Climb with Charlie' events all over Ireland and further afield on Saturday.
Climbs were organised as far away as the US, Australia, South Africa and Spain.
He described Saturday as a remarkable day and said he is still coming to terms with it.
Speaking through his voice app, he told Morning Ireland that the love, kindness and joy was unbelievable and he was still "pinching himself" watching Daniel O'Donnell sing at the top of the Reek.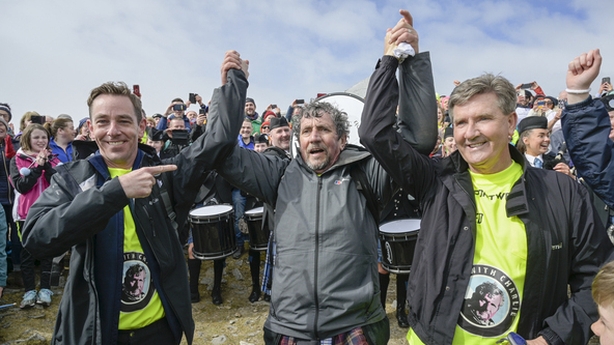 Although I was seen crying a lot, they were tears of joy, he said.
His wife said he had "not a bother on him" getting to the top of the Reek, adding that he was "fit as a fiddle".
"He didn't struggle as his mobility is perfect … his form of motor neuron effects his speech, so he's fit as a fiddle"
Asked what she believed got people to turn out in such high numbers, she said people "just loved" Charlie, and wanted to support the initiative.
"For the last nine weeks he has promoted this campaign to get people to promote such a great cause. I don't know what it is about Charlie, people just wanted to be there for him. If you were there on Croagh Patrick, the amount of people who just cheered him along to get him to the top. He was crying but there was just tears of joy from the support of people," she said.
"We cannot believe we have raised so much money. The nation are just so generous and kind. Its been unbelievable," she added.
Asked what they hope to do with the money, Ms Mould said they hope to build a respite centre, but also said they need to put together a plan given they exceeded the funding target by so much.
"We want to have a respite centre built and call it The Bird's Nest, and have this place near Beaumont Hospital, because a lot of people when they travel to Beaumont, they travel miles, it could take a couple of hours. We want to have a place they can go to and stay while waiting for their appointments.
"But because there was so much money raised, we need to put a better plan in place.
"We need to sit down and develop a plan about how the money is spent."
Mr Bird also passed on his condolences to the family and friends of Cora O'Grady who became ill and later died during a climb in Co Tipperary.
Her family and friends are in my thoughts and prayers this morning, he said.