Ukrainians living in Ireland have staged a protest at the Dublin headquarters of Meta, the parent company of Facebook.
They are calling on the social media giant to remove Russian state-backed accounts in order to stop the spread of disinformation.
Among those taking part in today's demonstration was Ukrainian man Artem Nedostup.
"War starts in the mind and Russia has been spreading warmongering propaganda for years if not decades and big platforms enable this," he said.
"Platforms already label content as being Russian sponsored, but it should be removed altogether. It also needs to happen worldwide, not just within the EU," he added.
Meta said it is restricting access to Russian state media outlets as well as demoting content and labelling posts.
"Globally, we are demoting content from Facebook pages and Instagram accounts from Russian state-controlled media outlets, and we are making them harder to find across our platforms," according to Nick Clegg, President of Global Affairs at Meta
"We will continue to work closely with Governments on this issue." he added.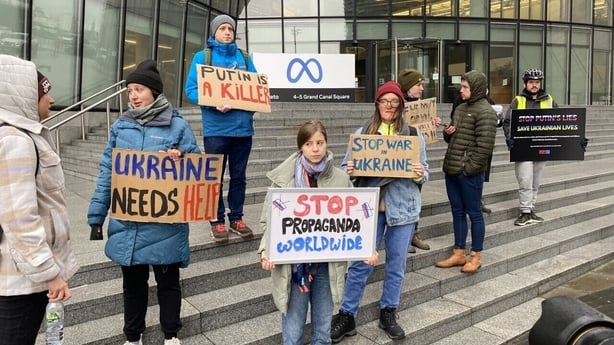 Following today's demonstration at Meta, protesters marched to the Dublin headquarters of Google calling on the tech giant to do more to tackle Russian disinformation.
Layla Wade is a campaigner with Uplift and helped organise today's protests.
"Russian disinformation operations and this web of influence has been allowed to grow for years," she said.
"We need to see a worldwide removal of these accounts."
We need your consent to load this rte-player contentWe use rte-player to manage extra content that can set cookies on your device and collect data about your activity. Please review their details and accept them to load the content.Manage Preferences
Google said it is blocking YouTube channels connected to Russian state media outlets RT and Sputnik across Europe.
"We have also significantly limited recommendations globally for a number of Russian state-funded media outlets across our platforms," according to Kent Walker President of Global Affairs at Google.
"And in the past few days, YouTube has removed hundreds of channels and thousands of videos for violating its Community Guidelines, including a number of channels engaging in coordinated deceptive practices," he added.