Russia's Ambassador to Ireland has said that the controversy about the Russian military exercise that is due to take place in waters off the Irish coast next month is "hugely overblown".
In a press conference in the Russian Embassy in Dublin, Yury Filatov said the exercise was "not in any way a threat to Ireland or anybody else" and he said no harm is intended by it.
He said the issue was a "non-story" and exercises like this were conducted for many years on a regular basis by Russia and other countries. He said that this had been communicated to the Irish Department of Foreign Affairs.
The Russian Ambassador to Ireland has said the planned exercises by Russian naval vessels off the southwest Irish coast "is not in any way a threat to Ireland" | https://t.co/mFITGLwXxm pic.twitter.com/DmENlOSrgI

— RTÉ News (@rtenews) January 24, 2022
Ambassador Filatov said the story was part of a "propaganda campaign" about a Russian threat to Europe and he said there are no plans for Russia to attack Ukraine or anybody else.
"It looks like the topic of the exercises fits in the ongoing propaganda campaign led by the US and its NATO to create an illusion over Russian threats to Europe."
He said: "Instead of wasting effort searching for a response to the non-existent Russian invasion, Europe would be better off with the responsible, mature response to the aggression proposals on security guarantees in Europe. I believe many know the reasons for the proposal in the first place is a profound concern about the steady advance by NATO towards the western borders of Russia. The advance of troops, the advance on military infrastructure.
"I don't think any country would ignore that."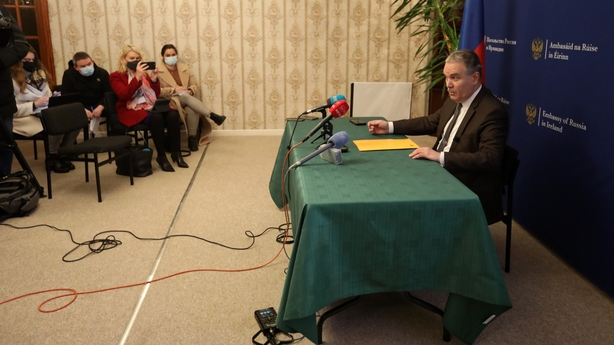 He said he would expect Ireland and other European countries would seriously look into ways the EU could help with dialogue between Russia, the US and NATO on this issue, "rather than whipping up tensions in the region with the irresponsible and alarmist rhetoric".
Asked if Russia would consider stepping back from the military exercise given the attention is has received, he replied: "Why would we do so?"
"Attention is something that will pass but plans for military training, it takes much time to put together and I don't see any reason for changing that because there are no problems.
"There is nothing surprising, nothing sensational and it will be carried out in transparent and safe manner."
He said there was "no Irish connection" to the exercise as the region of the northeastern Atlantic that is being used is a "usual place" for military training for many navies in the world, Russia included.
He said it was a small military exercise with three or four ships, but he said he did not know if missiles or submarines would be used as part of the exercise.
"There is nothing to be disturbed concerned or anguished about and I have extensively explained that to our Irish colleagues."
The Ambassador also said all rules pertaining to the safety of maritime traffic will be strictly followed and the exercise would pose no threat to marine life or to other infrastructure such as under-sea cables.
He also said the media was playing a part in the controversy around the training because of what he described as the "almost apocalyptic overtones" which he said contributes to a "mistaken perception".
He also said he had communicated the Irish concerns about the operation to the highest levels of the Russian government.
Earlier, Tánaiste Leo Varadkar said he expected he would be briefed on the situation regarding Russia by Minister for Foreign Affairs Simon Coveney, and that the minister will also brief the Cabinet tomorrow.
It comes as Mr Coveney briefed his EU counterparts on Russia's plans to hold naval exercises 240km off the southwest coast of Ireland.
Mr Varadkar said: "While the Russian military can within the law carry out these exercises off our waters and in our economic zone, they are certainly unwelcome and that has been communicated to the authorities."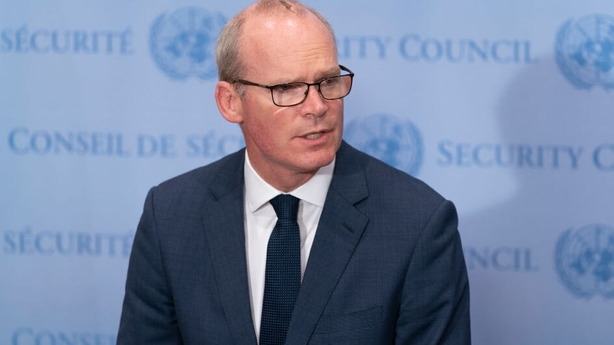 Mr Coveney told reporters in Brussels he had made it clear to the Russian ambassador that the Government did not welcome the move.
He was speaking ahead of a meeting of EU foreign ministers which was due to be dominated by escalating tensions over Ukraine.
Mr Coveney said the planned Russian naval exercises were in international waters, "but it is also part of the exclusive economic zone of Ireland".
He told reporters: "We don't have power to prevent this happening. But certainly, I've made it clear to the Russian ambassador in Ireland that it's not welcome.
"This isn't the time to increase military activity and tension in the context of what's happening with Ukraine at the moment, and so I think it's important that I brief my colleagues on those intentions.
"Russia, under the International Law of the Sea, can of course undertake military exercises in international waters, but the fact that they're choosing to do it on the western borders, if you like, of the EU off the Irish coast, is something that in our view is simply not welcome and not wanted right now, particularly in the coming weeks."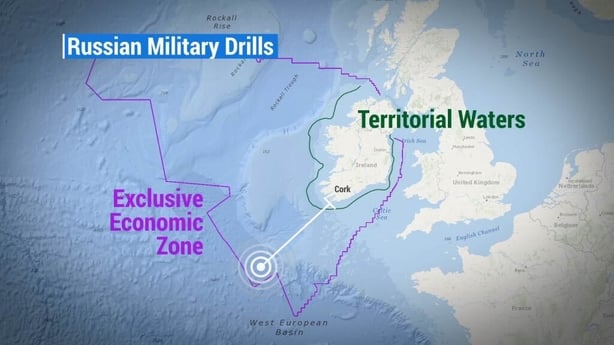 Mr Coveney said the EU was ready to impose the "most comprehensive" and "severe" range of sanctions and restrictions on Russia "in many, many decades" should Moscow invade Ukraine.
He said today's meeting of EU foreign ministers, which was joined by US Secretary of State Antony Blinken via video conference, would see a call on Russia to defuse tensions, and to demonstrate EU unity should Russia invade.
Mr Coveney said there would be "a strong message of unity from the EU that should Russia decide to invade Ukraine militarily, that there would be very severe consequences of that action from an EU perspective in terms of sanctions and restrictions that will follow very quickly, that I think would be the most comprehensive that the EU has put together in many, many decades".
Asked about reports of EU disunity, especially with Germany's decisions not to permit the sale of weapons to Ukraine, Mr Coveney said that at a recent informal meeting of EU defence ministers in Brest, ministers had "put their scripts aside" and spoke "in very blunt terms" to each other about the need for unity.
"I think there will be a very strong resolve to act in a very decisive and united manner. And I think that will be reinforced today," he said.
Separately, the Department of Foreign Affairs said it has "no plans" to withdraw any staff or their dependents from the Irish Embassy in Kyiv.
Additional reporting Tony Connelly